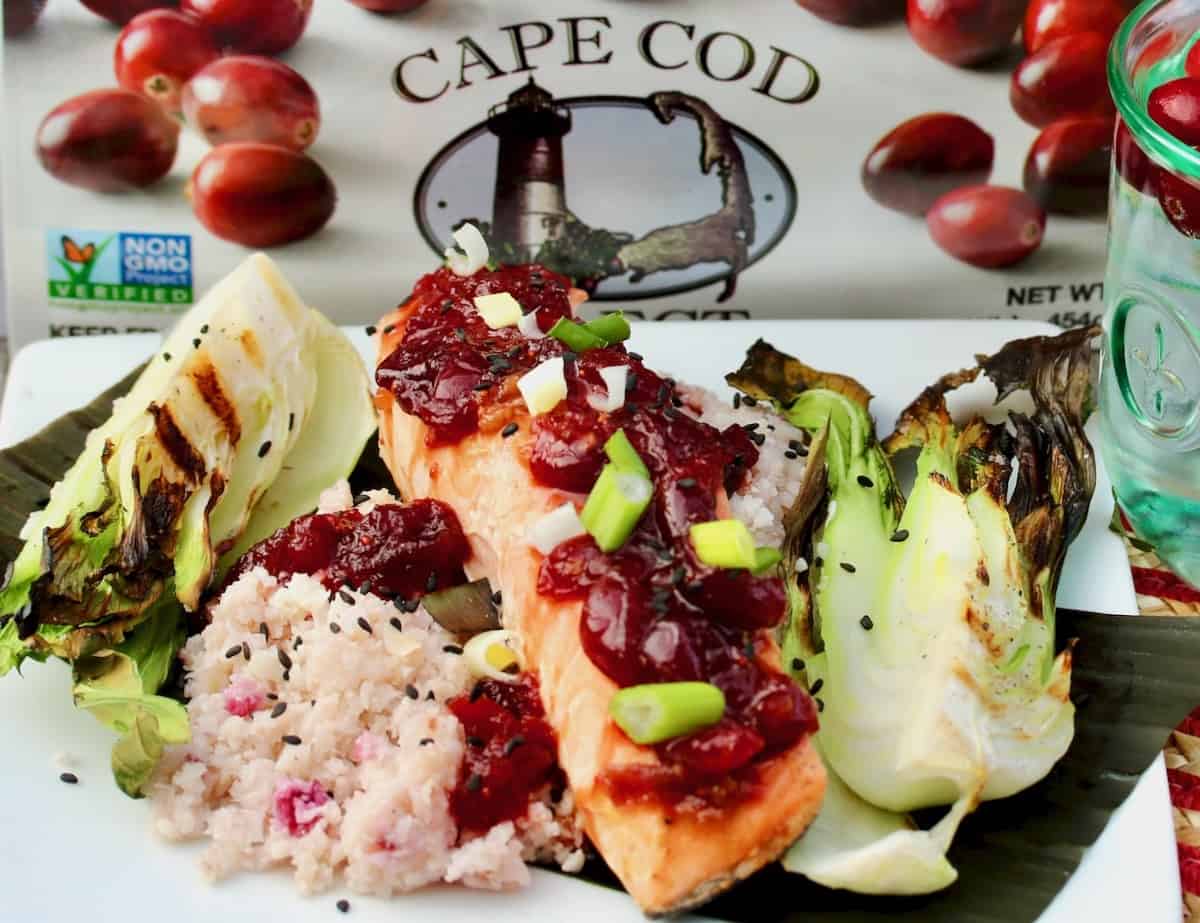 Typically, cranberries are associated with autumn and holiday recipes. It's April, so why am I cooking with cranberries? First, I love them. Second, it's because premium frozen cranberries are available all year long and mingle well with the BBQ lifestyle. Inspired by spring and the opening day of fishing season cranberries make the most fantastic, tangy BBQ glaze for grilling all kinds of seafood. They also brighten up easy side dishes with their superfruit flavor. Today, I share a fun family dinner with a bit of cranberry flare as part of the Cape Cod Select Blogger Recipe Contest.
Cranberries add the most incredible layer of flavor and tang to my Asian inspired BBQ sauce plus a breath of freshness to cauliflower rice. It's all so pretty, light and healthy.
And don't be afraid of that banana leaf. It's readily available in your frozen food section, too. It helps seal in all the moist goodness and flavors so lovingly wrapped up inside it. In a pinch you can substitute aluminum foil, but you will miss the subtle flavor infused by the charred leaf.
Can I double dog dare you to step outside of your cranberry comfort zone now that spring has sprung? Get to your grocery store and grab a bag of Cape Cod Select Premium Farm Fresh Cranberries and try my recipe. For sure you will be thanking me. And BTW, this cranberry glaze is equally delicious on chicken, pork and burgers, so get grilling and enjoy being outside.
[recipe title= "Grilled Cranberry Glazed Salmon in Banana Leaf with Cranberry Cauliflower Rice" servings = "4"]
1 ¼ cups Cape Cod Select Premium Farm Fresh Cranberries, divided
3 tablespoons fresh tangerine or orange juice
1 tablespoon lite rice wine vinegar
¼ cup lightly packed light brown sugar
2 tablespoons soy sauce
1 teaspoon toasted sesame oil
1 teaspoon Asian chili garlic sauce
4 (3 to 4 oz) skin-on salmon fillets
Kosher salt and freshly ground pepper
4 pieces (12-inch square) banana leaf, thawed, if frozen
½ large cauliflower, cored and separated into florets
1 ½ teaspoons sugar
1 teaspoon water
Garnish: sliced green onions and toasted black or white sesame seeds
Side dish recommendation: grilled bok choy
In small saucepan, over medium-high heat, combine 1 cup cranberries, juice, vinegar, brown sugar, soy sauce, sesame oil and chili garlic sauce; bring to a boil. Reduce heat, simmer and stir 3-5 minutes, or until cranberries burst and mixture thickens. Heat grill to medium-high. Season each salmon fillet with salt and pepper. Place 1 fillet, skin side down, on one end of banana leaf. Spoon a good tablespoon of cranberry glaze over top of fillet. Fold banana leaf over fish, fold in sides, and continue folding to opposite side. Place packets, skin side down on hot grill. Grill for 8 to 10 minutes, or until banana leaf is charred, turning, during last 2 minutes of grilling time. Meanwhile, pulse cauliflower and remaining ¼ cup of cranberries in food processor to form rice-sized pieces. In a large skillet over medium-high heat combine cranberry-cauliflower mixture, sugar, 1 teaspoon of salt, a few grinds of pepper and I-teaspoon of water. Cover and cook for 5 minutes, stirring occasionally. To serve: spoon some cranberry-cauliflower rice on each serving plate. Carefully unwrap salmon packets and place fillet on top. Spoon additional warm cranberry glaze over salmon. Sprinkle with green onions and sesame seeds. Makes 4 servings.
Notes: you can also present the dish on the opened banana leaf, if desired[/recipe]
For more great recipes and cranberry information follow these social media links:
Facebook: https://www.facebook.com/capecodselect/#
Twitter: https://twitter.com/CapeCodSelect
Instagram: https://www.instagram.com/capecodselect/
Pinterest: https://www.pinterest.com/capecodselect/
And to find a store near you: http://www.capecodselect.com/store-locator/
Dedicated to the best fisherman I ever knew. Thanks to all who reached out this week.