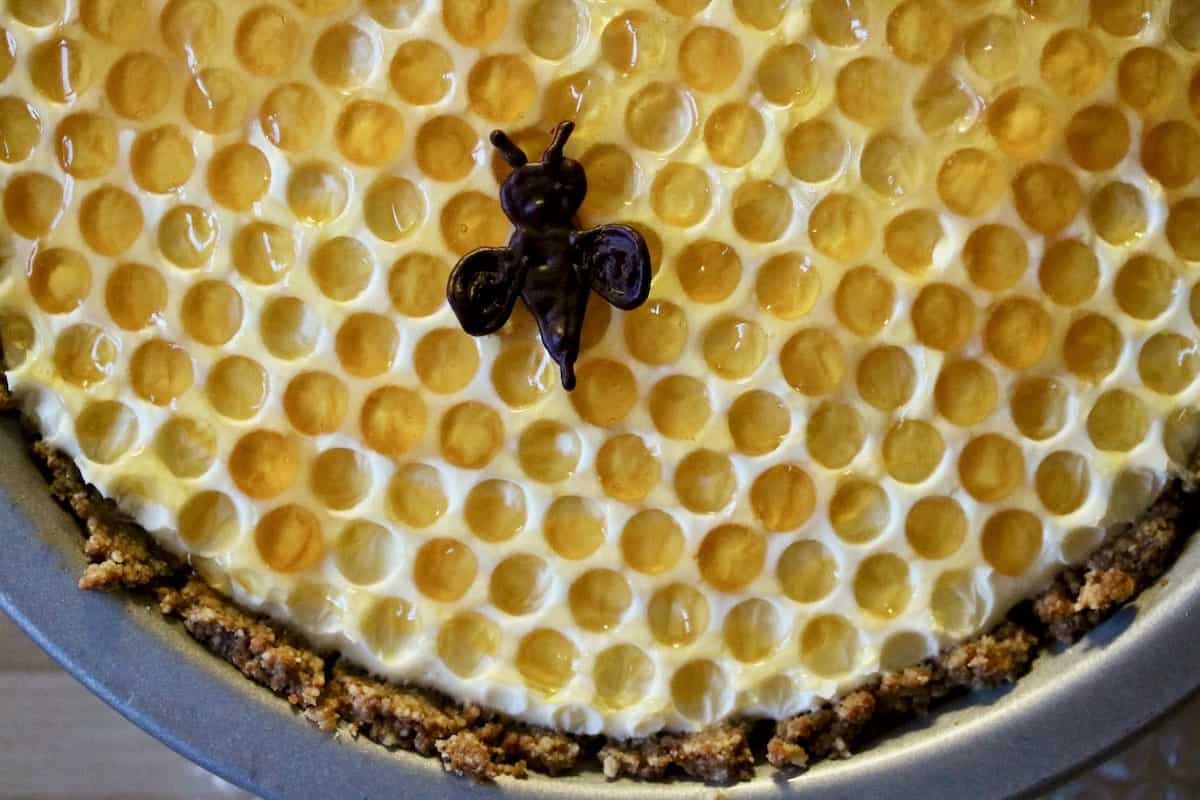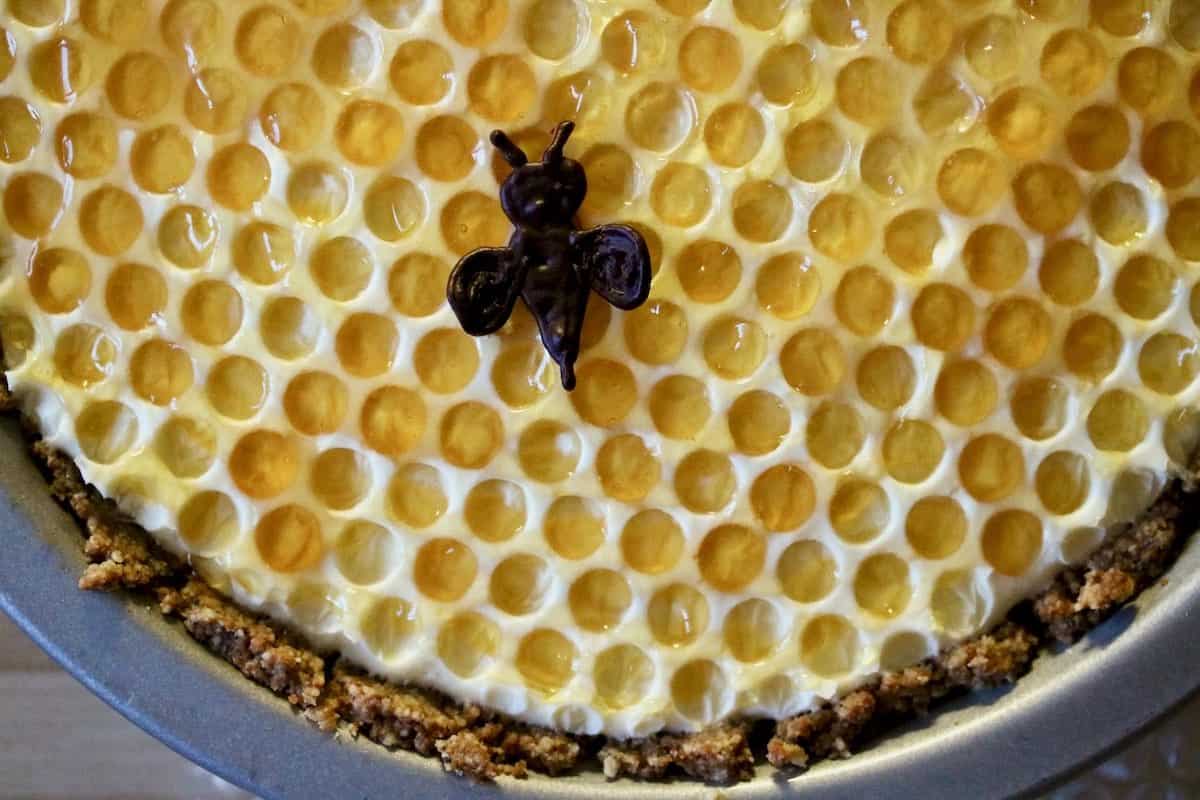 Before we bake this most unusual elderberry honeycomb cream pie...
It's that time of year when I look forward to getting my hands into the dirt. Seed and garden catalogs pile up on the coffee table with dog-eared pages and the outdoor thermometer is the first thing I check upon rising every morning. I long for the final frost of the season and dream of a healthy, productive garden.
A flock of red wing black birds took a break in the backyard today. It's exciting to see the promise of spring in this way. The bluebirds are very busy making nests and it's clear among the deer herd who will be giving birth in a couple of months. With snow still on the ground it is hard to imagine that there will be flowers blooming any time soon, but sure as the day is long, the bees will come and pollinate it all. It helps that I don't use any chemicals in my yard. The bees and the butterflies flourish. We all benefit.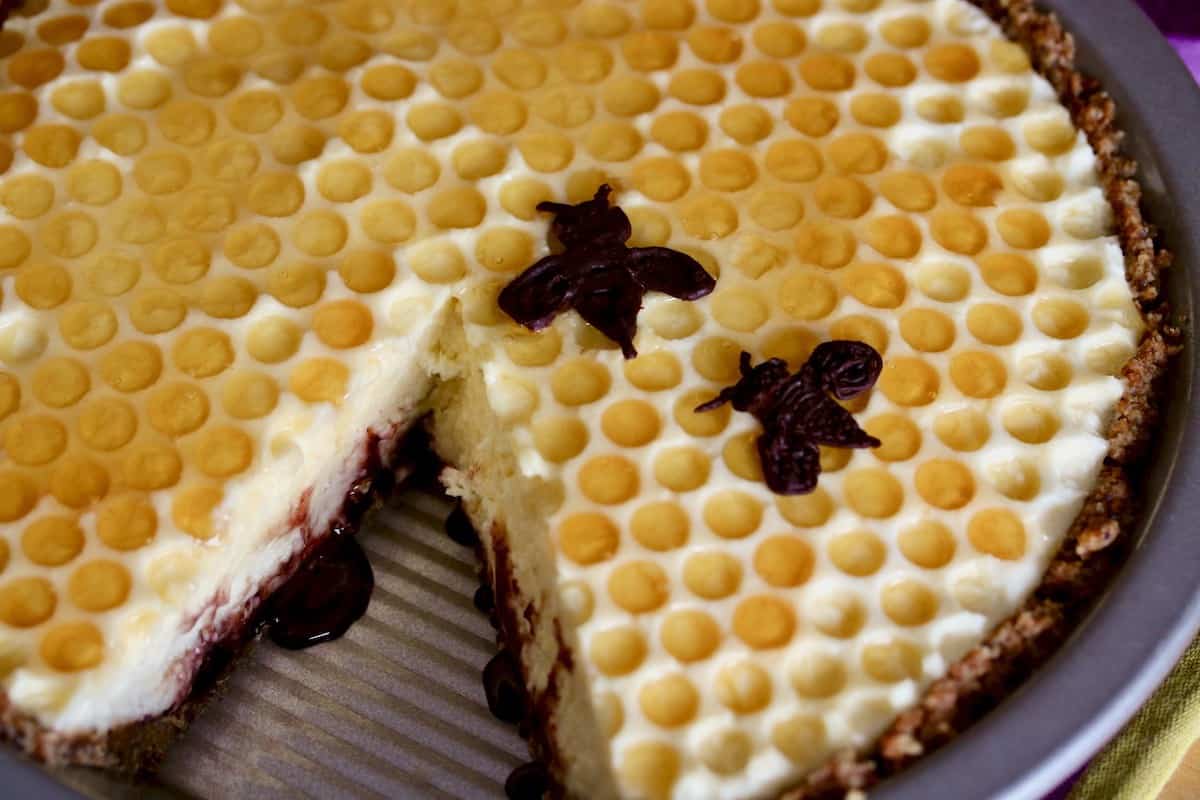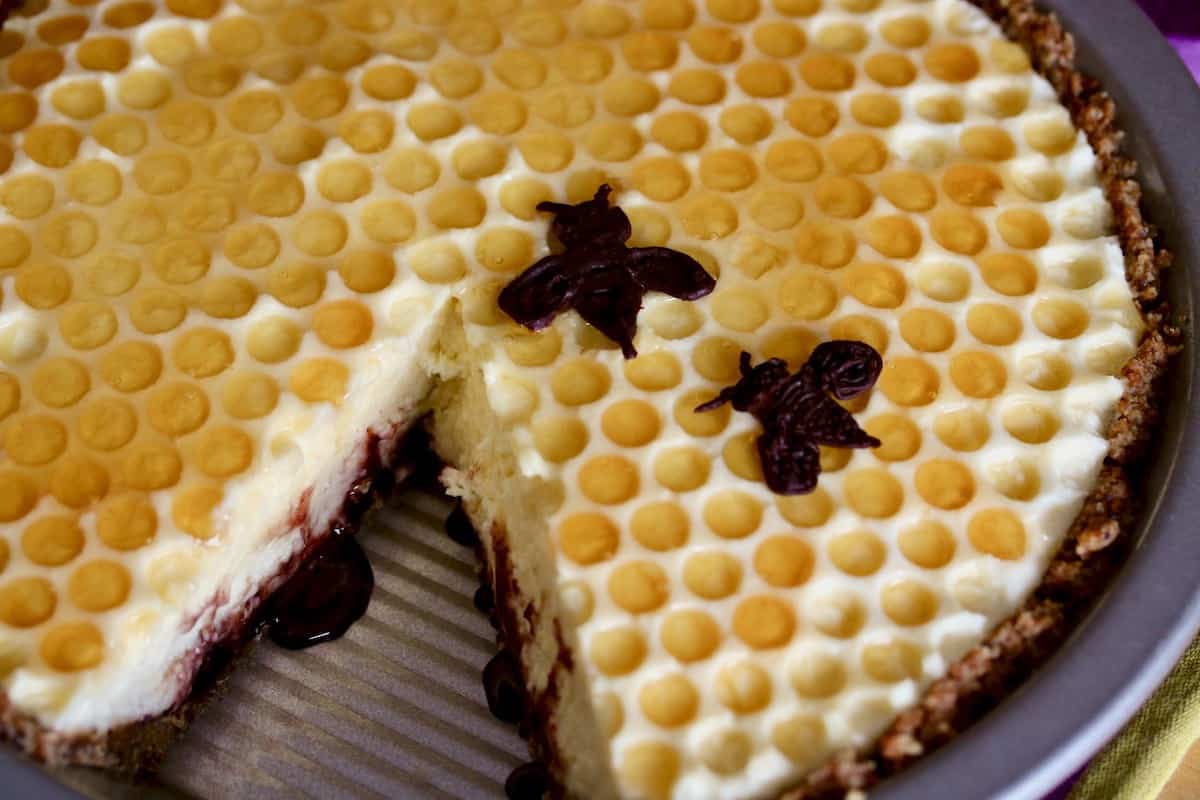 This pie is inspired by a recipe I saw in a book written by my all time favorite baker, Rose Levy Beranbaum. If I had a girl crush it would be on her. One of the first cookbooks I ever owned was her Cake Bible and I still treasure that book today. Rose's version of this Bavarian cream pie naturally highlights honey, but I chose to change it up a bit with some blueberry elderberry preserves and elderflower syrup from Norm's Farms. A baked cookie crust holds all the buzz worthy goodness. Isn't it amazing what one can do with bubble wrap!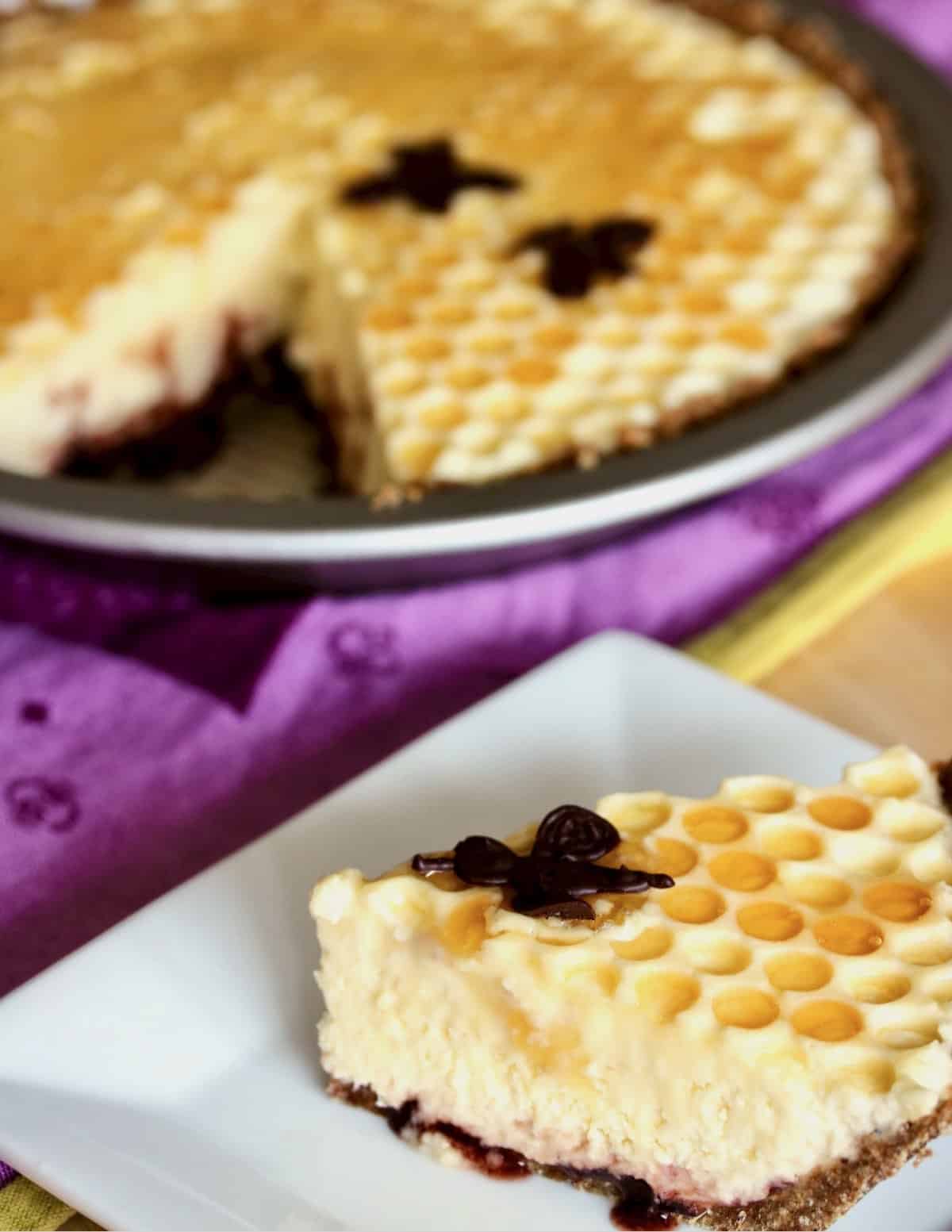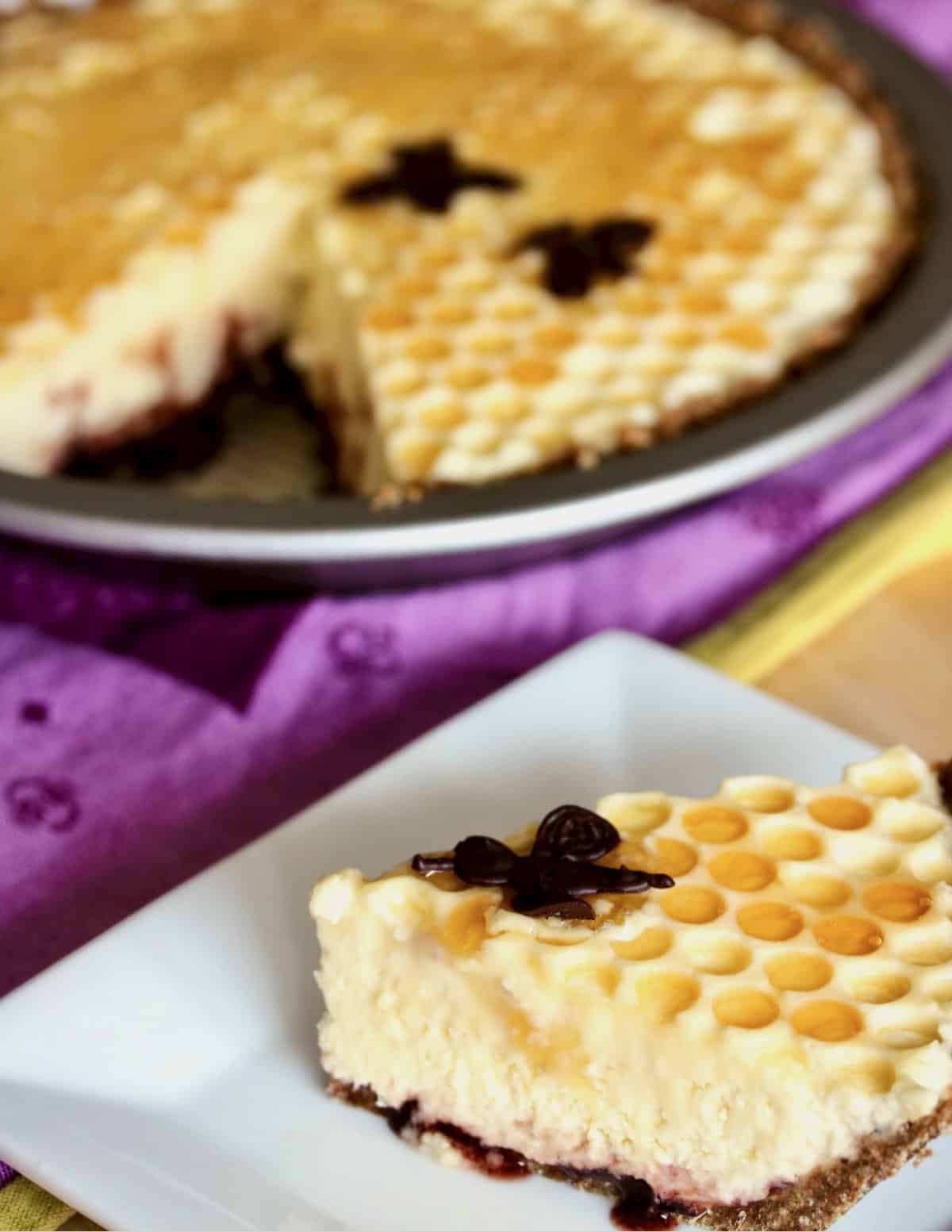 Print
Elderberry Honeycomb Cream Pie
---
Author:

Total Time:

40 minutes

Yield:

Serves 8.
Description
Elderberry Honeycomb Cream Pie is visual wonder that is so delicious.
---
1 (9-inch) shortbread or graham cracker crust)
½ cup Norm's Farms Blueberry Elderberry Preserves
4 egg yolks plus 1 egg white
⅓ cup plus ½ cup Norm's Farms Elderflower Syrup
2 ¼ teaspoons plain gelatin
⅛ teaspoon salt
1 cup milk
⅛ teaspoon lemon juice
½ cup heavy cream
Edible candy bees, optional (I piped mine with melted dark chocolate)
1 (9-inch circle) bubble wrap with small size bubbles 
---
Instructions
If not using a store-bought crust, prepare, bake and cool homemade cookie crust.

Spread preserves over bottom of crust.

In small saucepan, whisk egg yolks, ⅓ cup elderflower syrup, gelatin and salt.

In microwave safe measure, heat milk to just a simmer.

Whisking constantly, very gradually add hot milk to egg yolk mixture until fully blended.

Place saucepan over medium heat. Whisking constantly bring mixture just to a simmer. Do not boil. It should be slightly thickened.

Strain custard through a sieve into a small metal bowl. To speed chilling, place bowl in another bowl of ice water; set aside.

Meanwhile, in another small bowl, beat egg white and lemon juice to stiff peaks.

Using same beaters, in another bowl, beat heavy cream to soft peaks.

Stir elderflower mixture until it is cool and thick enough to slightly mound when small amount is dropped from spoon. Fold in egg white and whipped cream. Pour into pie crust; smooth top.

Press bubble wrap, bubble side down, over cream filling. Freeze at least 3 hours or as long as overnight.

In small saucepan, bring remaining ½ cup of elderflower syrup to a low boil. Simmer syrup until reduced and just turns a shade darker amber color. Let cool slightly, but still fluid.

Carefully remove bubble wrap from frozen pie. Drizzle syrup over pie. Place pie in refrigerator to thaw at least 1 hour before serving. Garnish as desired. 
Prep Time:

20 minutes

Cook Time:

20 minutes

Category:

dessert

Method:

stove top

Cuisine:

American
Keywords: elderberry, pie, honey comb, custard, Norm's Farm
Happy Spring