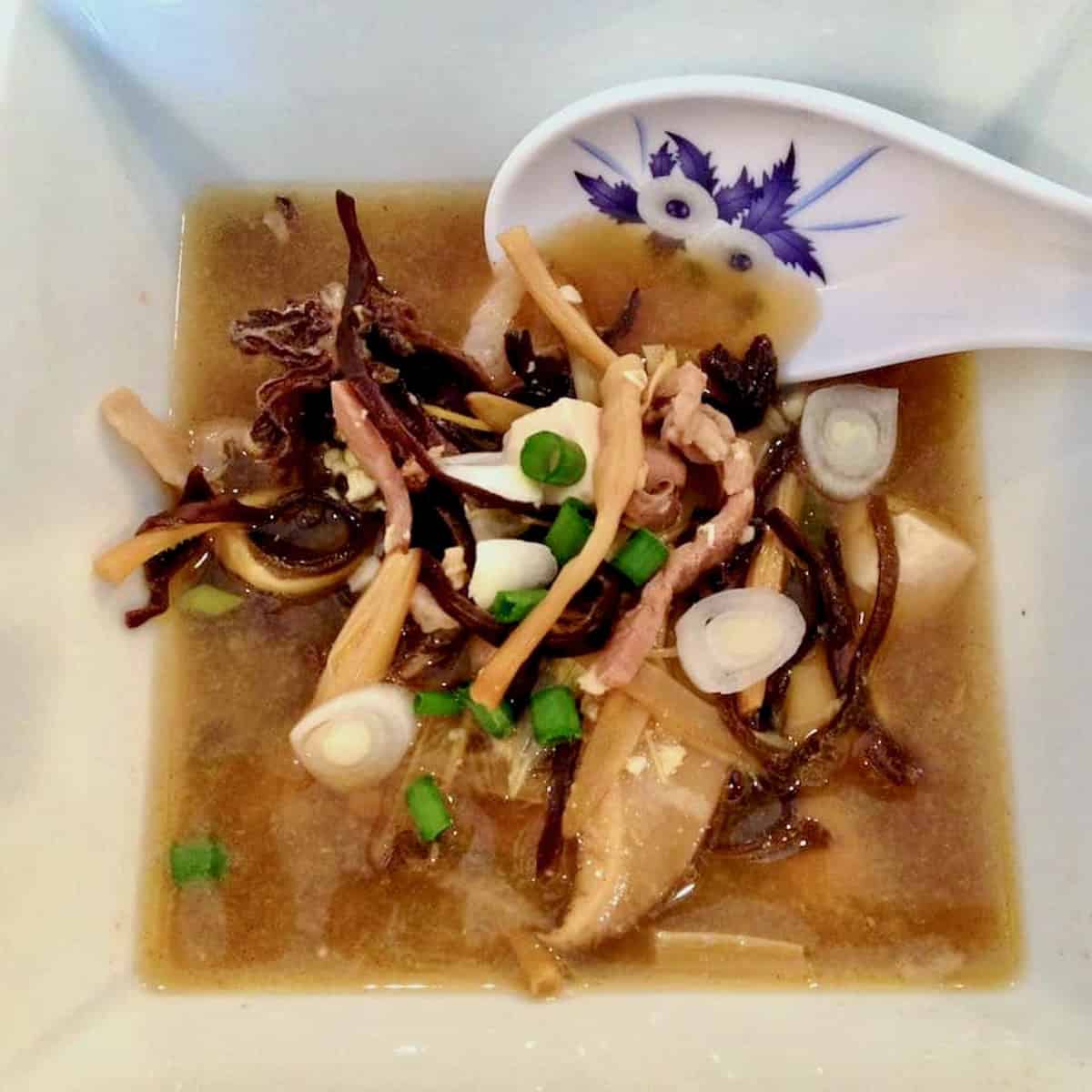 hot and sour soup
If you have been following this blog from the beginning you already know it is about me stepping out of my comfort zone. Being such a private person exposing myself in a blog is a huge jump into a world I consider uncomfortable. Both my kids made stepping outside the comfort zone seem easy. They relished life off the beaten path venturing into worlds of unchartered territory. My goodness they both swam with sharks. William in the Pacific doing some night spear fishing (yikes) and Caitlin in the Caribbean collecting data for a coral reef project. Suffice to say their brave bones did not come from me.
They both have adventurous palates, too. While I easily forego dishes like balut (A balut or balot is a developing duck embryo that is boiled alive and eaten in the shell. ), cow tongue and snails my children dive right in. They will try anything at least once. For the competitive cook in me these children are a blessing testing my experiments in the kitchen.
This week begins the Chinese New Year. It's snowing like nobody's business in my neck of the woods and my husband has been working the snow blower. To warm him up I made his favorite hot & sour soup. We love Asian food and often judge a restaurant by how well the chef prepares this dish. It's tricky business to get a balance of flavors and a good broth consistency.
Print
Hot and Sour Soup
---
Author:

Total Time:

40 minutes

Yield:

Serves 4 to 6
Description
my favorite Asian inspired soup
---
6 ounces thinly sliced pork, cut into slivers ( boneless pork chop works)
3 tablespoons low sodium soy sauce, divided
2 tablespoons toasted sesame oil, divided
1 teaspoon corn starch, divided
1 ounce dried shitake mushrooms
1 ounce dried wood ear mushrooms
1 ounce dried lily buds, cut into 2-inch lengths
4 green onions, white and green parts, chopped
1 clove garlic, minced
1 tablespoon grated ginger
½ teaspoon Asian 5 spice powder
6 cups chicken broth, home made or store-bought
1 (12 oz) package extra-firm tofu, diced
¼ cup Chinkiang vinegar (black vinegar)
½ to 1 tablespoon Sriracha sauce 
1 teaspoon white pepper
1 egg
chopped fresh cilantro, optional
---
Instructions
In bowl, marinate pork in 1 tablespoon soy sauce, 1 tablespoon sesame oil and ½ teaspoon cornstarch for 30 minutes.

In large bowl, rehydrate mushrooms and lily buds in hot water (just enough to cover them) for 30 minutes.

In saucepan, over medium high heat, cook pork, green onions, garlic and ginger, stirring, for 1 minute. Stir in 5-spice. Add broth; bring to a simmer.

Add tofu, mushrooms, lily buds, vinegar, sriracha, white pepper, remaining 2 tablespoons of soy sauce and 1 tablespoon of sesame oil. Bring to a simmer and adjust seasoning to your taste with vinegar and sriracha. (if you find the vinegar to harsh you can balance out the flavor with 1 or 2 teaspoons of sugar).  

Beat the egg with the remaining ½ teaspoon of cornstarch. With the soup at a simmer slowly pour the egg in a thin steady stream. Let set 10 to 15 seconds to cook before stirring.

Season with kosher salt, if necessary and serve topped with additional chopped scallions and cilantro. 
Notes
Note: if you don't have an Asian market where all these ingredients can be found substitute fresh mushrooms, canned bamboo shoots, and a mix of equal parts rice and red wine vinegar for the black vinegar
Prep Time:

30 minutes

Cook Time:

10 minutes

Category:

soups and stews

Method:

stovetop

Cuisine:

Asian
Keywords: Asian, Chinese, hot and sour, spicy