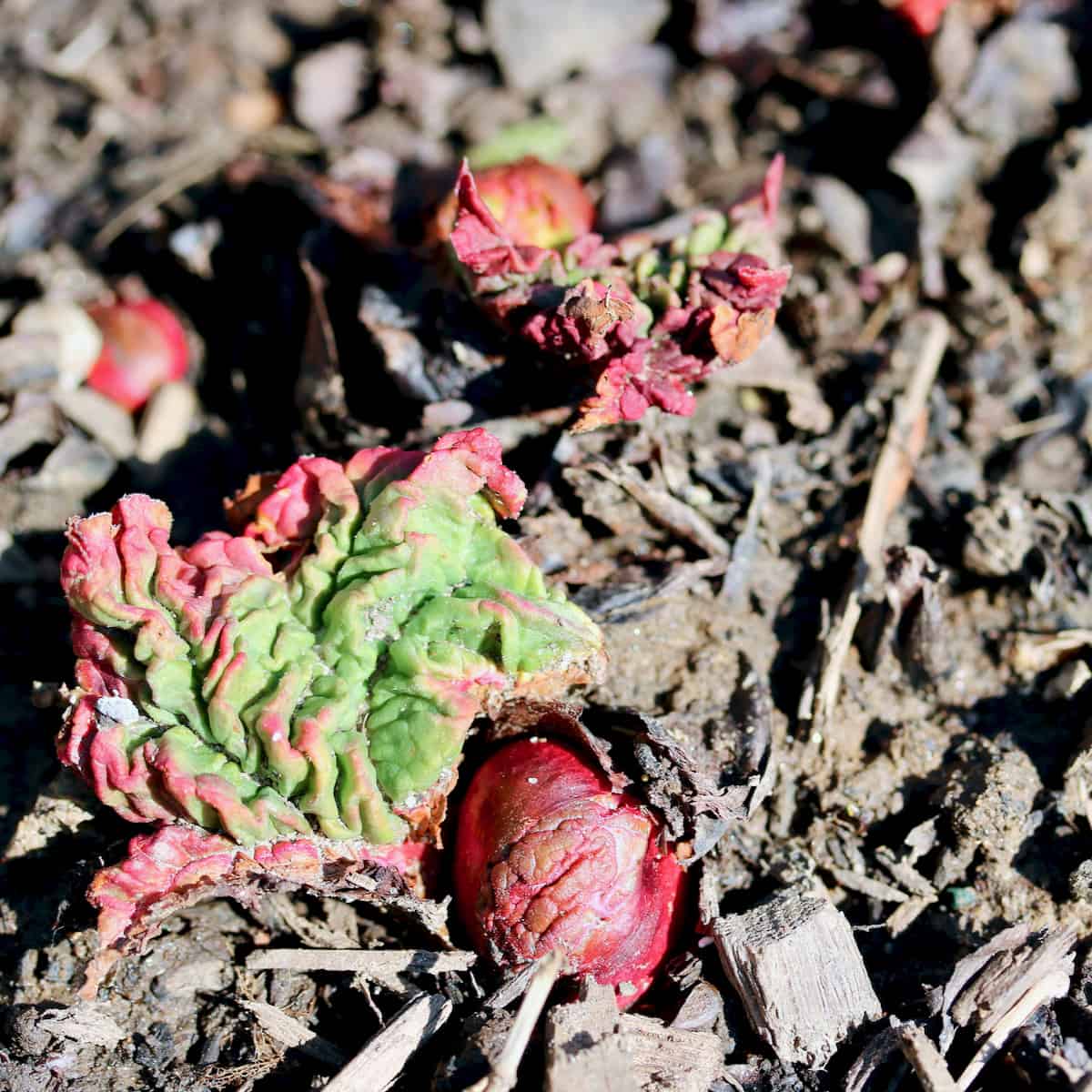 I stepped outside to do some yard clean up to find that Spring has sprung. It's an unusually warm February. Much to my surprise daffodils are in bloom and the rhubarb has poked its rosy cheeks thru the cold hard dirt. It reminded me that I still have last seasons rhubarb vacuum sealed in the freezer along with blackberries, cranberries and blueberries. Back in the kitchen, it's time to spring clean out the freezer, so I created this frozen fruit oatmeal cookie crumble.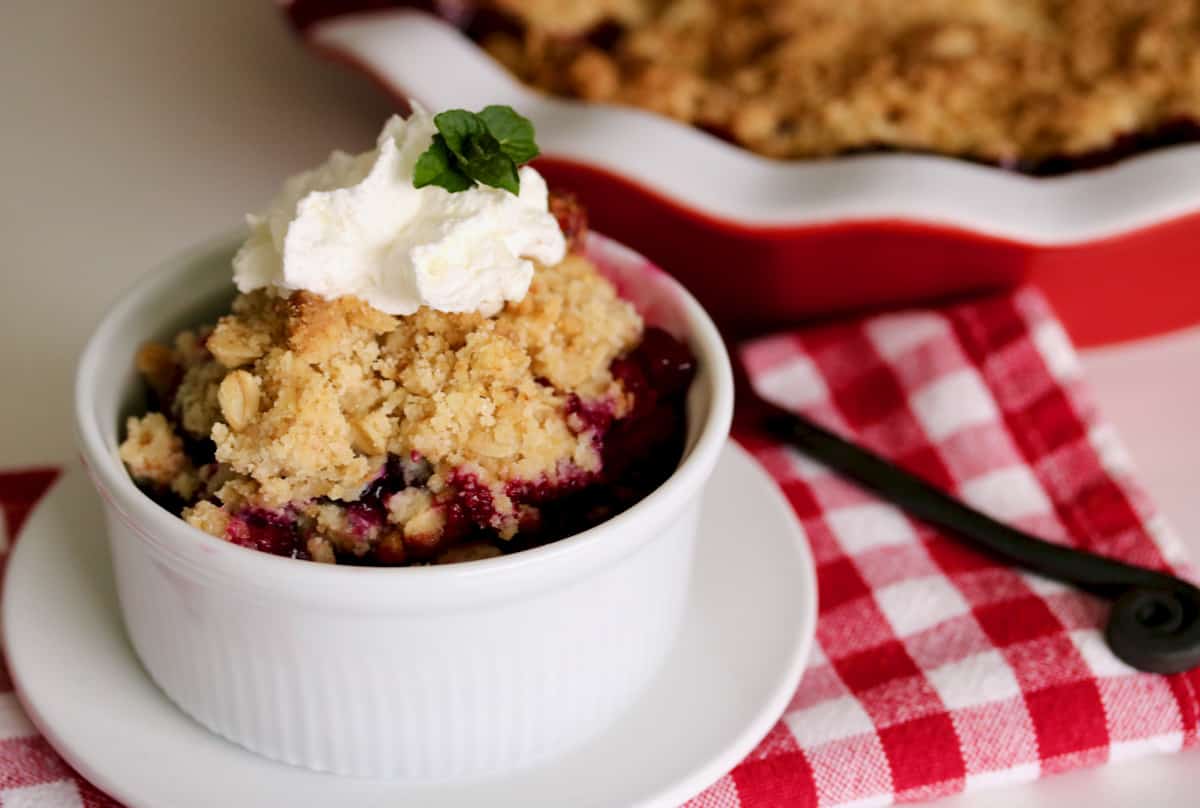 What fruit do you have buried in your freezer? I used rhubarb, blackberries (both from last years garden harvest) plus blueberries and cranberries leftover from Thanksgiving. You will need about 7 to 8 cups of fruit to make the base of this dessert. Then, I made an oatmeal cookie crumble to top it all off.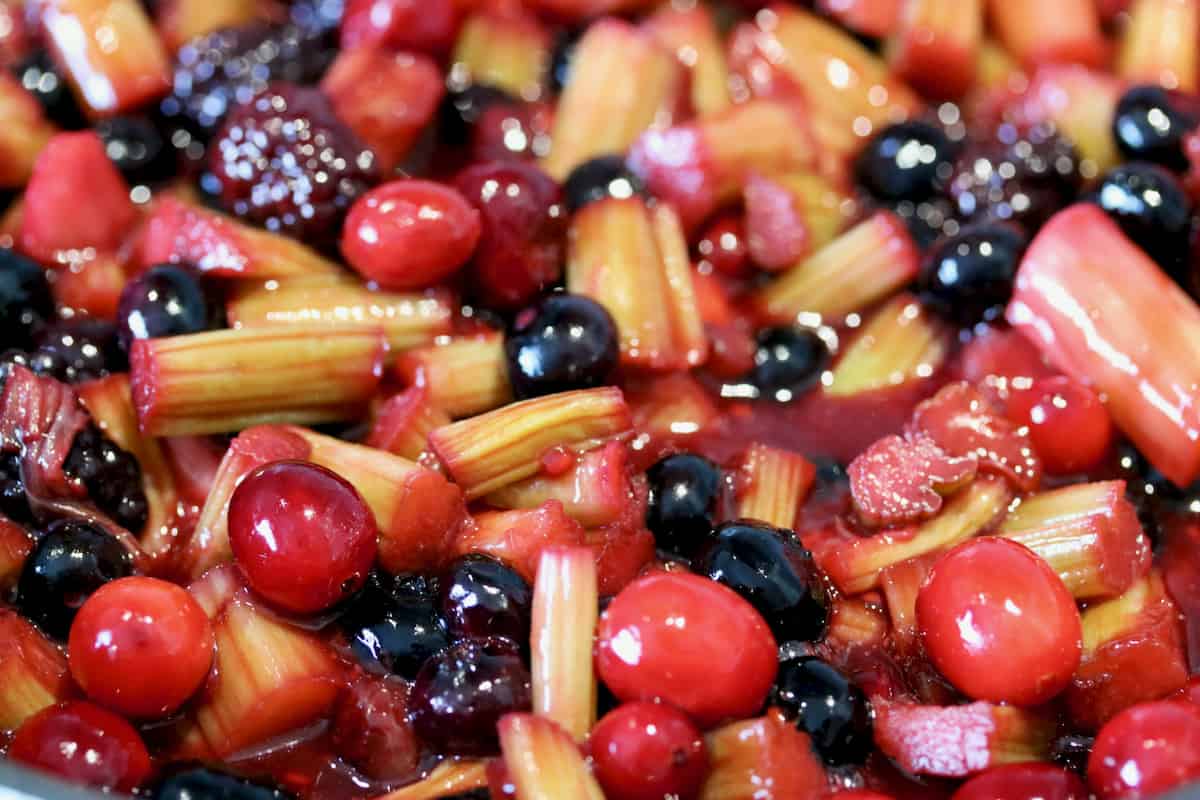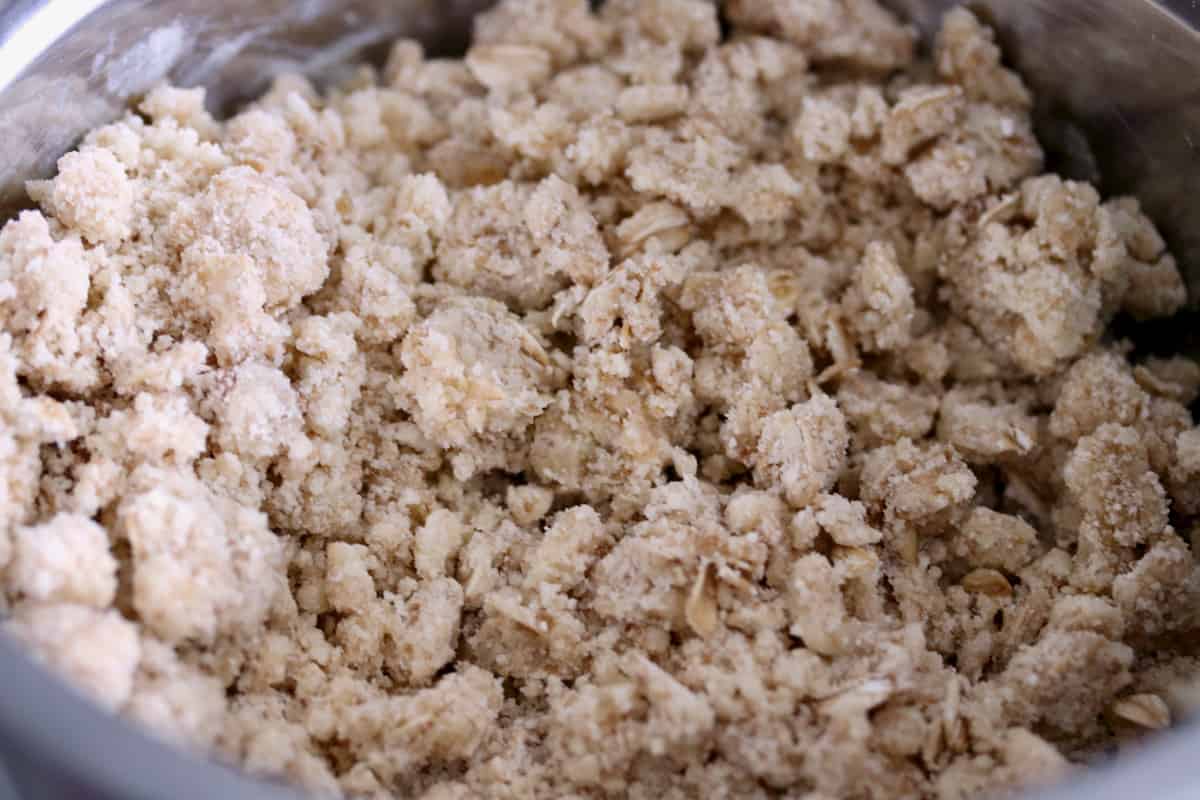 What is a frozen fruit oatmeal cookie crumble?
Are you wondering exactly what is a frozen fruit oatmeal cookie crumble. Well, a crumble is cooked fruit baked with a crumbly or streusel-like topping. A cobbler has a biscuit topping and a crisp by any other name is a crumble. You can read more about the specifics of crumbles, cobblers and crisps on The Kitchen web site. But before you do that check out my recipe and turn on your oven because it still is technically winter.
Print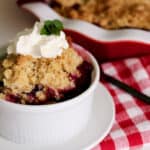 Frozen Fruit Oatmeal Cookie Crumble
---
Author:

Total Time:

45 minutes

Yield:

serves8
Description
This dessert is a great recipe for cleaning out all the frozen fruit still stored in your freezer. Serve it warm with a dollop of yogurt, whipped cream or ice cream.
---
1 ¼ cups all-purpose flour
1 tablespoon dry milk powder
1 teaspoon baking powder
½ teaspoon hibiscus infused salt or plain sea salt, divided
10 tablespoons unsalted butter, divided
3 tablespoons sugar plus ½ cup
3 tablespoons brown sugar
½ teaspoon vanilla extract
½ cup old-fashioned oats
3 cups rhubarb, defrosted, drained
2 cups frozen blueberries
1 ½ cups frozen blackberries
½ cup frozen cranberries
½ cup sugar (or more to taste)
1 tablespoon cornstarch
---
Instructions
Heat oven to 375F.

For the oatmeal cookie crumble, whisk flour, milk powder, baking powder and ¼ teaspoon of salt in a medium bowl. Using a pastry blender or your fingers, cut in 6 tablespoons of butter until mixture is crumbly. Stir in 3 tablespoons sugar and brown sugar.

Melt 2 tablespoons of butter. In a small bowl, toss melted butter and vanilla with the oats. Add oat mixture to crumbly mixture and mix to form small clumps; set aside in the refrigerator.

In a skillet, over medium heat, melt two tablespoons of butter. Add all the fruit, sugar, cornstarch and remaining ¼ teaspoon of salt. Stir mixture with a heat proof spatula and bring to boil.

Simmer for about 5 minutes or until liquid is thickened and no longer cloudy. The fruit should hold its shape.

Pour fruit mixture into a deep 9-inch pie plate.

Sprinkle oatmeal cookie crumbles evenly over top covering fruit completely.

Place pie plate on a foil lined baking sheet to catch drips. Bake for 30 minutes or until bubbling and golden brown. 
Notes
Depending upon the sweetness or tartness of your chosen fruits you may need to make sugar adjustments.
Prep Time:

15 minutes

Cook Time:

30 minutes

Category:

dessert

Method:

stovetop/oven

Cuisine:

american
Keywords: crumble, oatmeal cookie, frozen fruit
Looking ahead to St. Patty's Day? Do try my Guinness beef stew and boxty recipe.