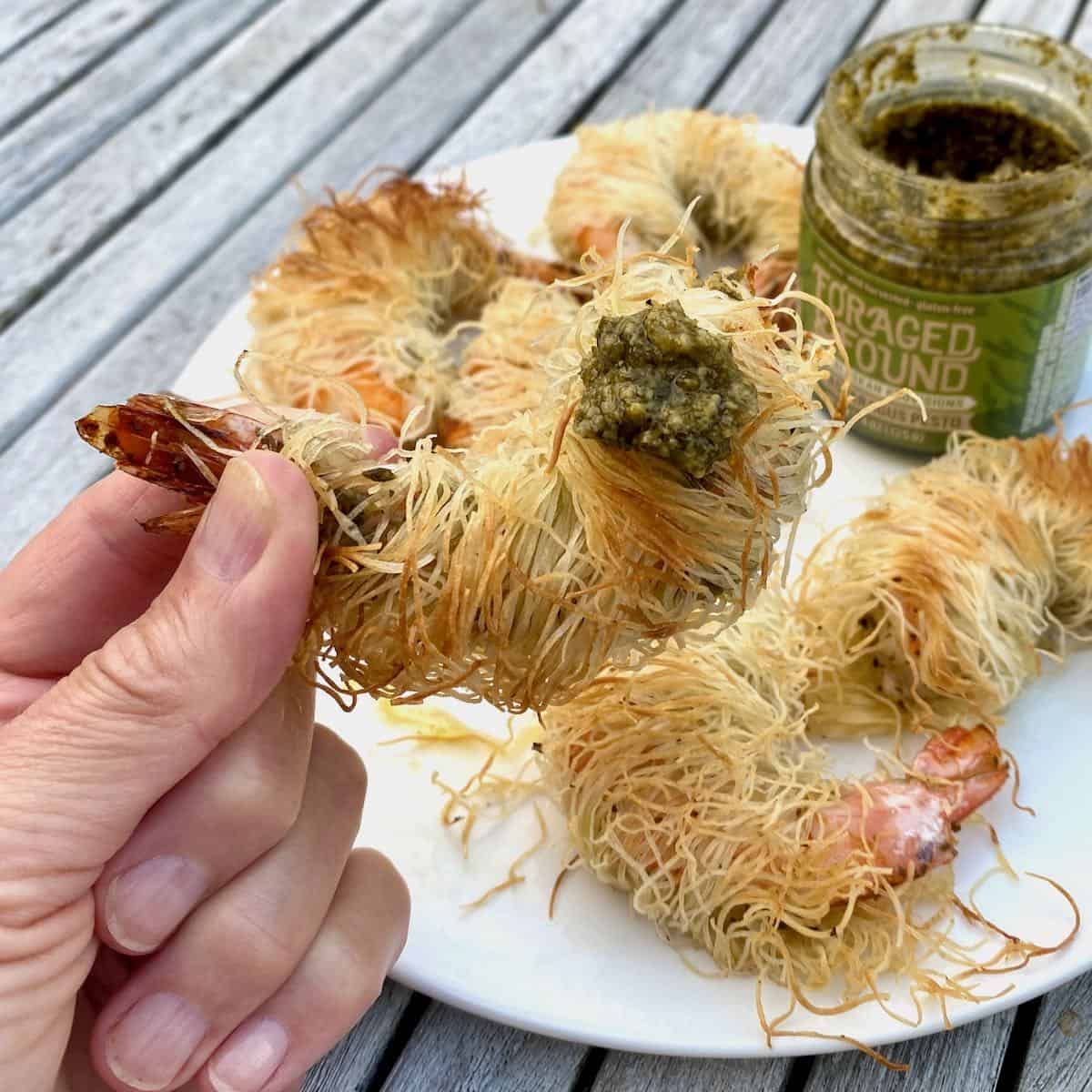 Once in a blue moon a product comes along and completely blows my mind. Have you tried Foraged & Found Sea Asparagus Pesto? Made in Alaska, this unique pesto packs an antioxidant-rich dose of superfood kelp and sea asparagus blended with lemon and herbs. Bright and nutrient-dense it is foraged from untouched beaches and makes for some fabulous easy showstopper pesto appetizers. This Italian girl may never make pesto again.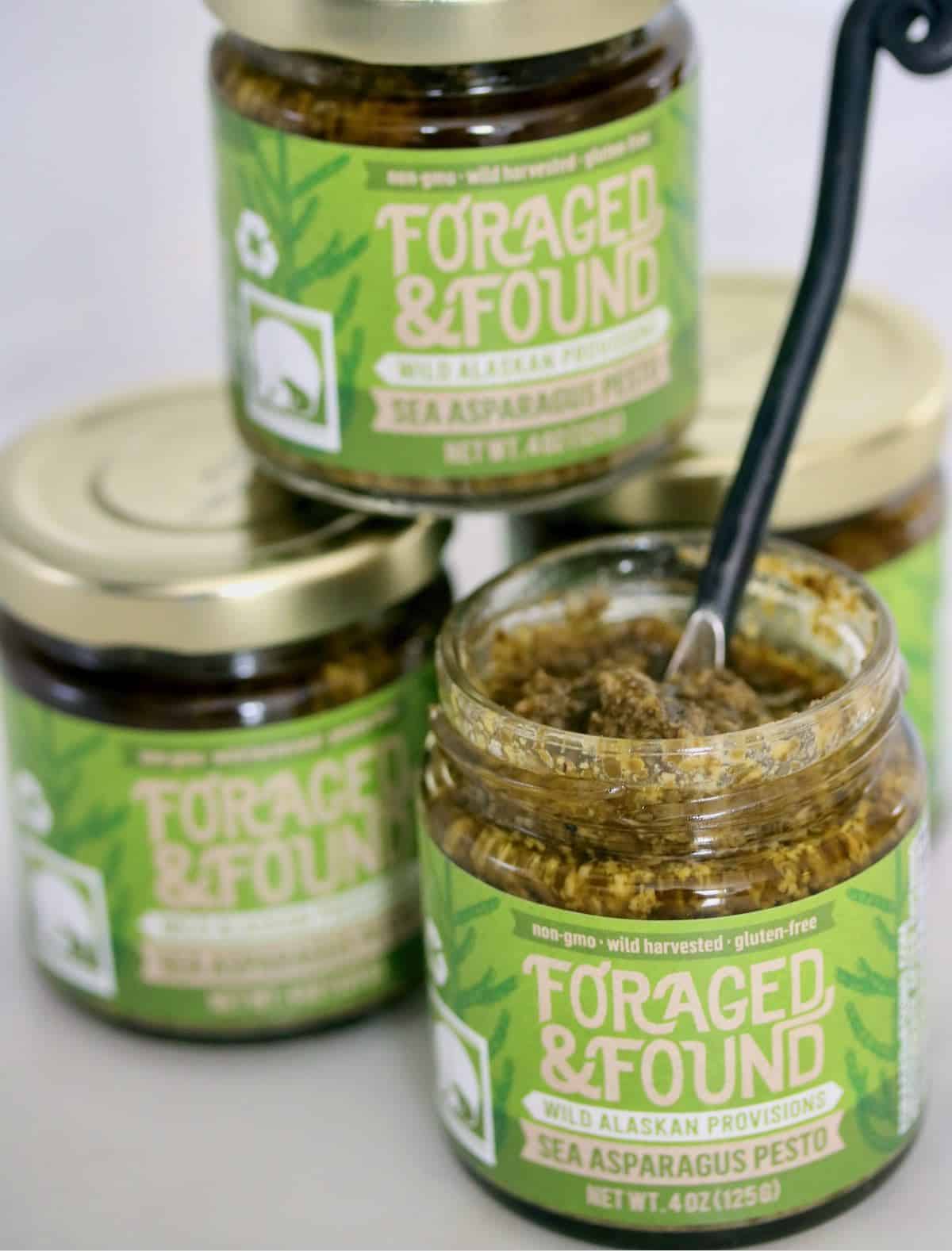 As a forager myself, I am completely smitten with this product. Not only is it delicious, but it is also non-GMO and gluten-free. Further, this women-owned business is committed to sustainability and environmental stewardship. All their pickles and pesto are packaged in recyclable glass jars.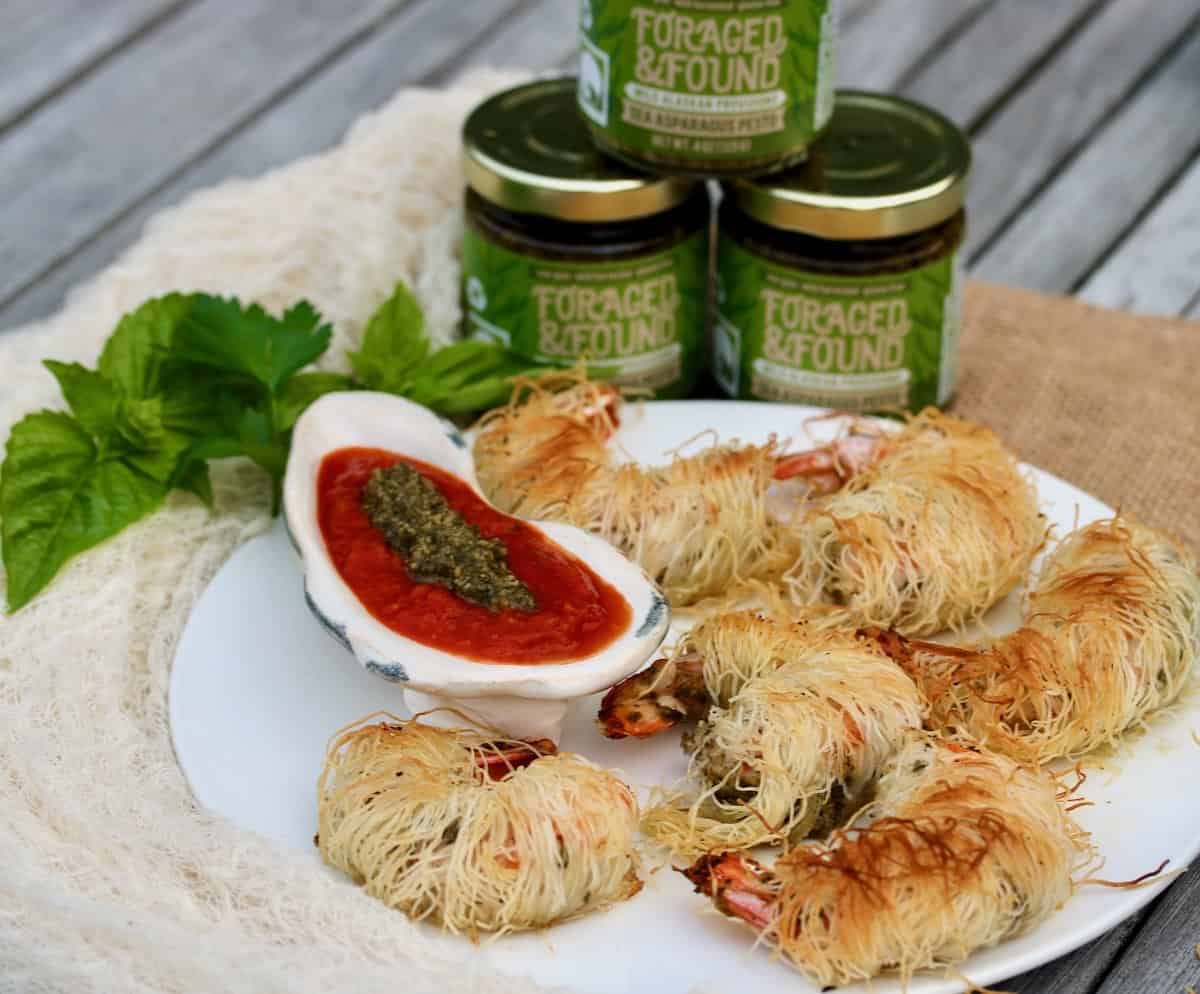 So, let's get this party started with not just 1, but 2 easy showstopper pesto appetizers. First up is my Crispy Wrapped Pesto Shrimp. With only 5 ingredients, a simple 10 minute prep and 11 minutes of baking time this flavorful succulent shrimp is guaranteed rave reviews. Plus you can prepare the shrimp in advance and bake just before your guests arrive. You are welcome.
Showstopper Appetizers with Kataifi (shredded phyllo dough)
Kataifi is found in the frozen food section of grocery store including Indian and Greek specialty stores
Thaw overnight in the refrigerator
Remove from package and spread strands out
Brush strands with ghee or melted butter
Wrap and roll shrimp
Keep unused portion covered with damp towel or plastic wrap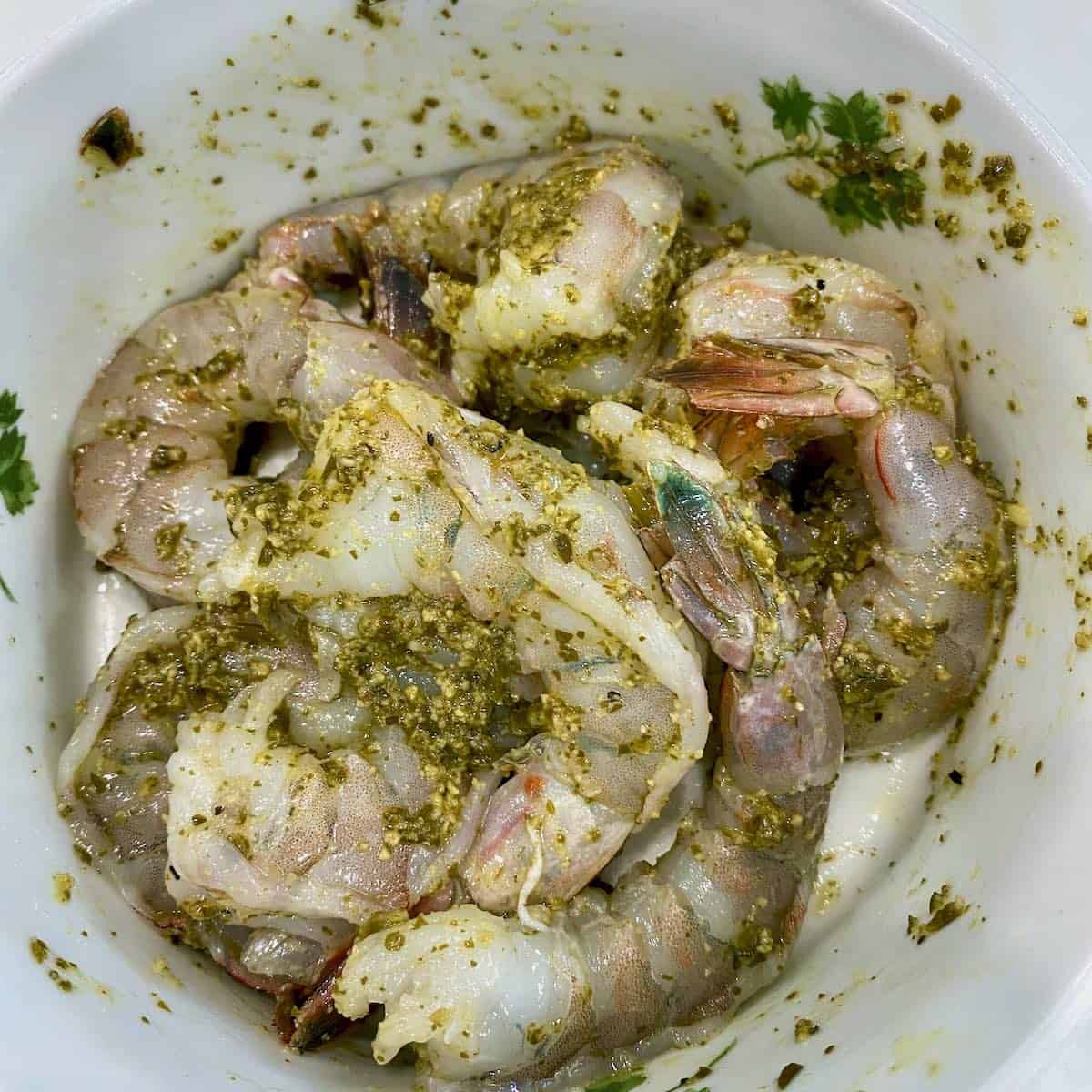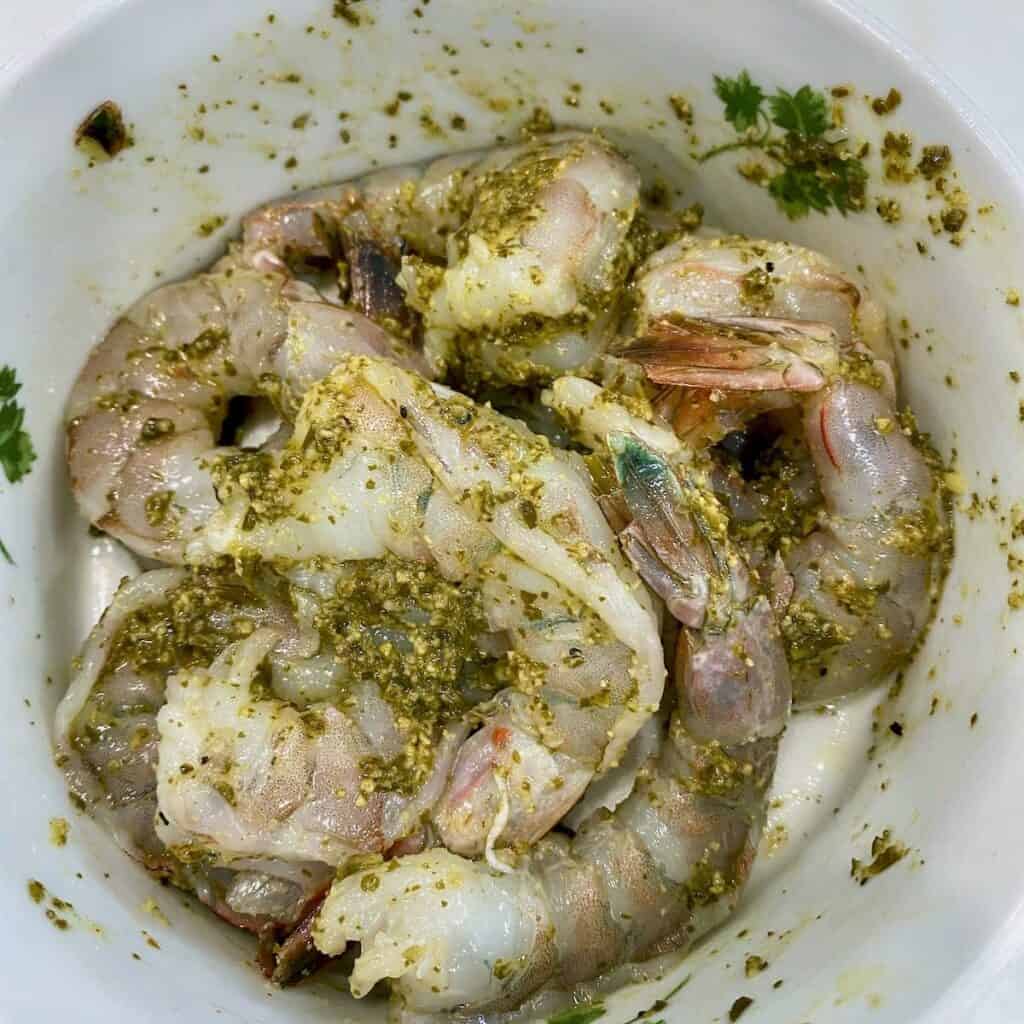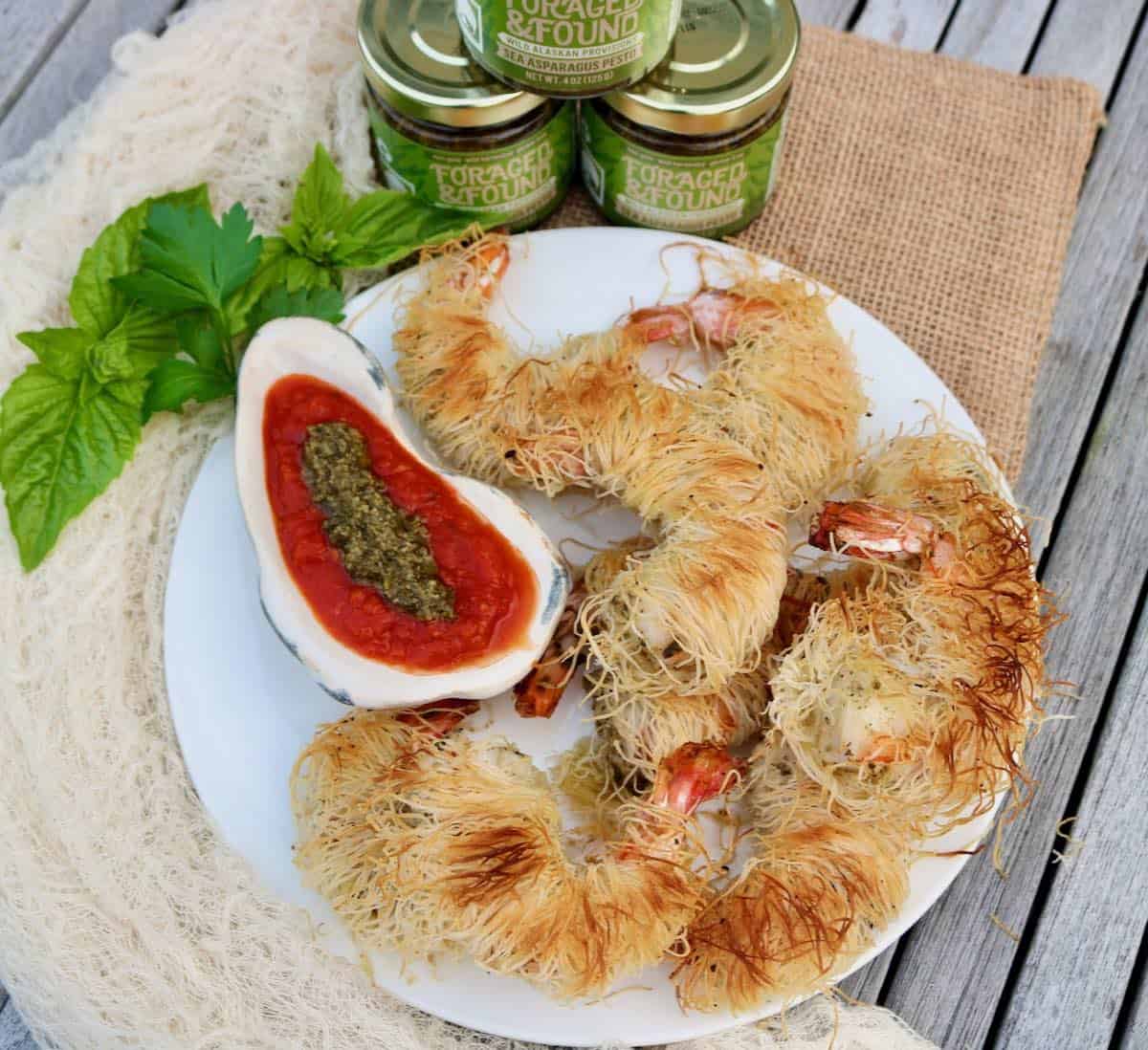 Crispy Wrapped Pesto Shrimp
1 pound (u-15) shrimp, cleaned with tails intact
1 jar (4 oz.) Foraged & Found Sea Asparagus Pesto
1 box (16 oz.) kataifi (shredded phyllo dough), thawed
¼ cup ghee
1 cup prepared marinara sauce, warm
Heat oven 350F. Line baking sheet with parchment paper. Toss shrimp with 3 to 4 tablespoons of pesto making sure they are evenly coated. Following package directions, lay out kataifi dough on work surface, into 9-inch strands that are 1 ½-inches wide. Brush strands lightly with ghee. Working with 1 shrimp at a time, leaving tail end free, wrap kataifi around shrimp and place on baking sheet. Repeat with remaining shrimp and dough. Drizzle tops with ghee. Bake 10 minutes. Turn on broiler to high and broil just until tops are golden brown and crisp, 30 seconds to 1 minute. Transfer shrimp to serving platter. Place marinara in a dipping bowl. Top with dollops of pesto and serve along side shrimp. Serves 6 to 8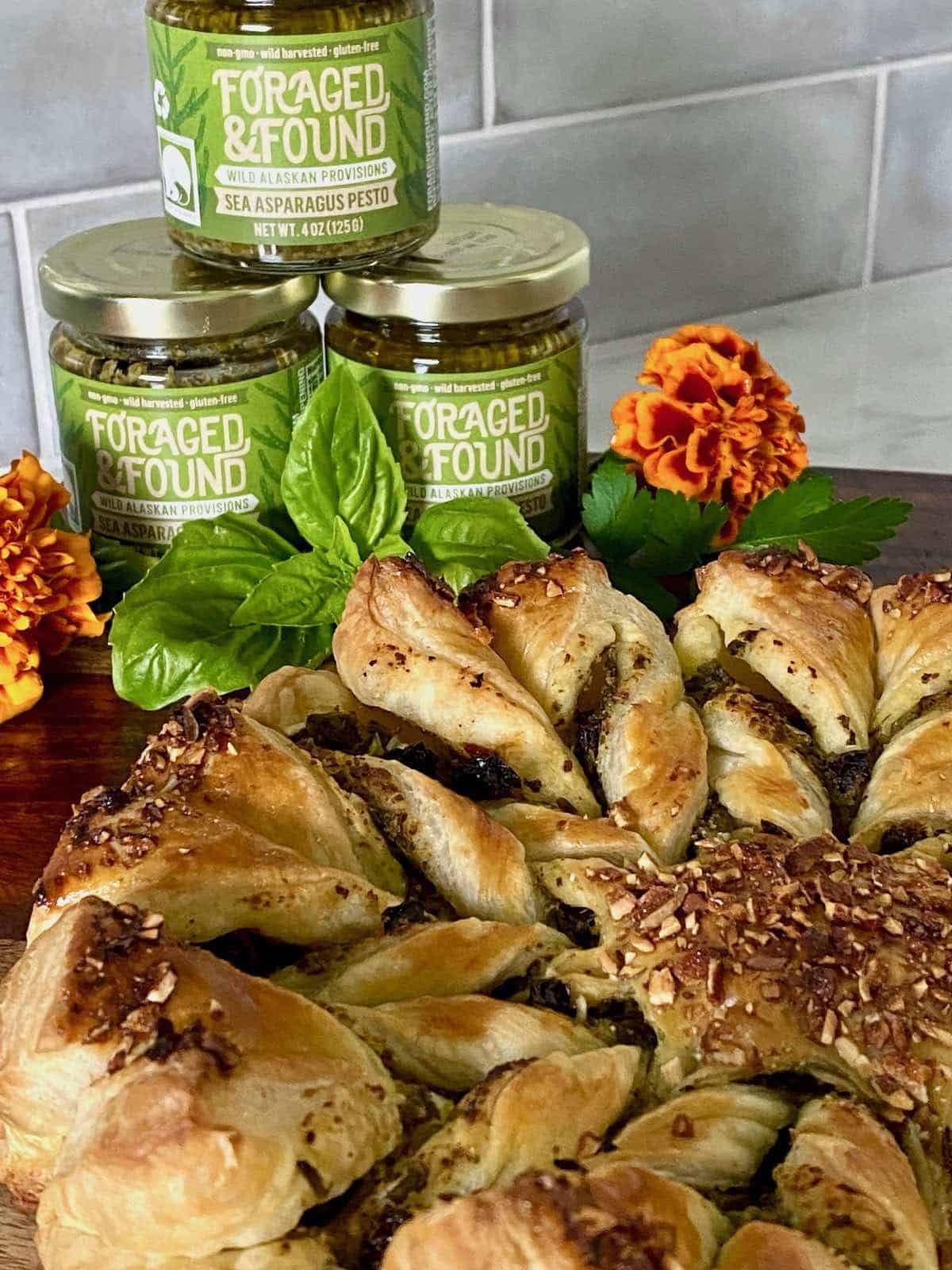 My second easy showstopper pesto appetizer is this gorgeous Twisted Pesto Pull-a-Part. Not only is it full of Mediterranean flavors, but such a fun and interactive way for party guests to eat. Just pull and twist a warm slice and enjoy with your favorite festive beverage. I vote for a chilled glass of prosecco!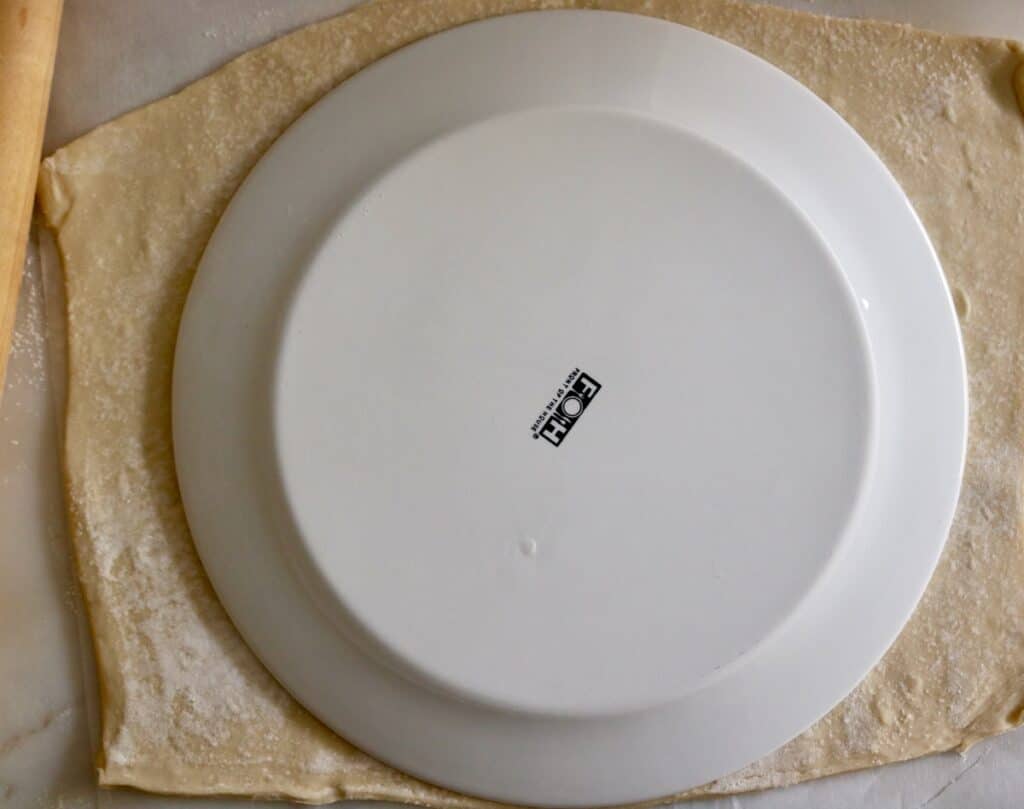 This impressive recipe is so simple to assemble, too.
Just roll out some pre-made puff pastry.
Using an inverted dinner plate as a template, cut two circles.
Spread 1 round with pesto and sprinkle with sun-dried tomatoes and green onions.
Top with remaining pastry.
Cut, twist and brush with egg wash.
For extra crunch with a sprinkle of almonds.
Pop in the oven just before your guests arrive. Enjoy!
Print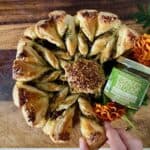 Twisted Pesto Pull A-Part
---
Author:

Total Time:

35 minutes

Yield:

serves 8
Description
a unique Italian twist on a star shaped puff pastry appetizer
---
2 sheets puff pastry, thawed
3 tablespoons Foraged & Found Sea Asparagus Pesto
4 marinated sun-dried tomato halves, finely chopped (about 2 tablespoons)
1 green onion, chopped (about 1 tablespoon)
1 egg, lightly beaten
2 tablespoons chopped honey glazed almonds or plain sliced almonds
---
Instructions
Heat oven to 400F. Line a baking sheet with parchment paper.
On lightly floured work surface, roll out puff pastry just enough to fit an inverted 10-inch dinner plate on top. Using the tip of a sharp knife and dinner plate as a template cut out a circle. Transfer circle to prepared baking sheet.
Spread pesto over the pastry leaving a 1-inch border around the edge. Sprinkle evenly with sun-dried tomatoes and green onions.
Place second circle on top to cover. Using a small glass (about 3-inch diameter) gently press the rim into the center of the pastry circle to form an indentation (do not cut through the pastry). Using a sharp knife, cut pastry just up to the edge of the indent, into 4 quarters, keeping the center intact as a circle. Then, cut each quadrant into 4 slices. Twist each slice with 2-turns allowing the tail to lay flat.
Place tray in freezer for 10 minutes to firm up.
Brush tart with egg wash. Sprinkle center and edges with almonds.
Bake 15 to 20 minutes or until puffed and golden brown.
Transfer to cutting board. Serve warm and invite guests to twist off a slice.
Notes
The tart can be prepared in advance. Cover unbaked, assembled tart with parchment paper and store in the refrigerator or freezer. Bake just prior to serving. No need to thaw it.
Prep Time:

15 minutes

Cook Time:

20 minutes

Category:

appetizers

Method:

baking

Cuisine:

Italian
Keywords: sea asparagus, pesto, foraging, wild alaska
Thank you to Foraged & Found for inviting me to participate in this Recipe Challenge and for the amazing jars of Sea Asparagus Pesto to create my delicious appetizers.