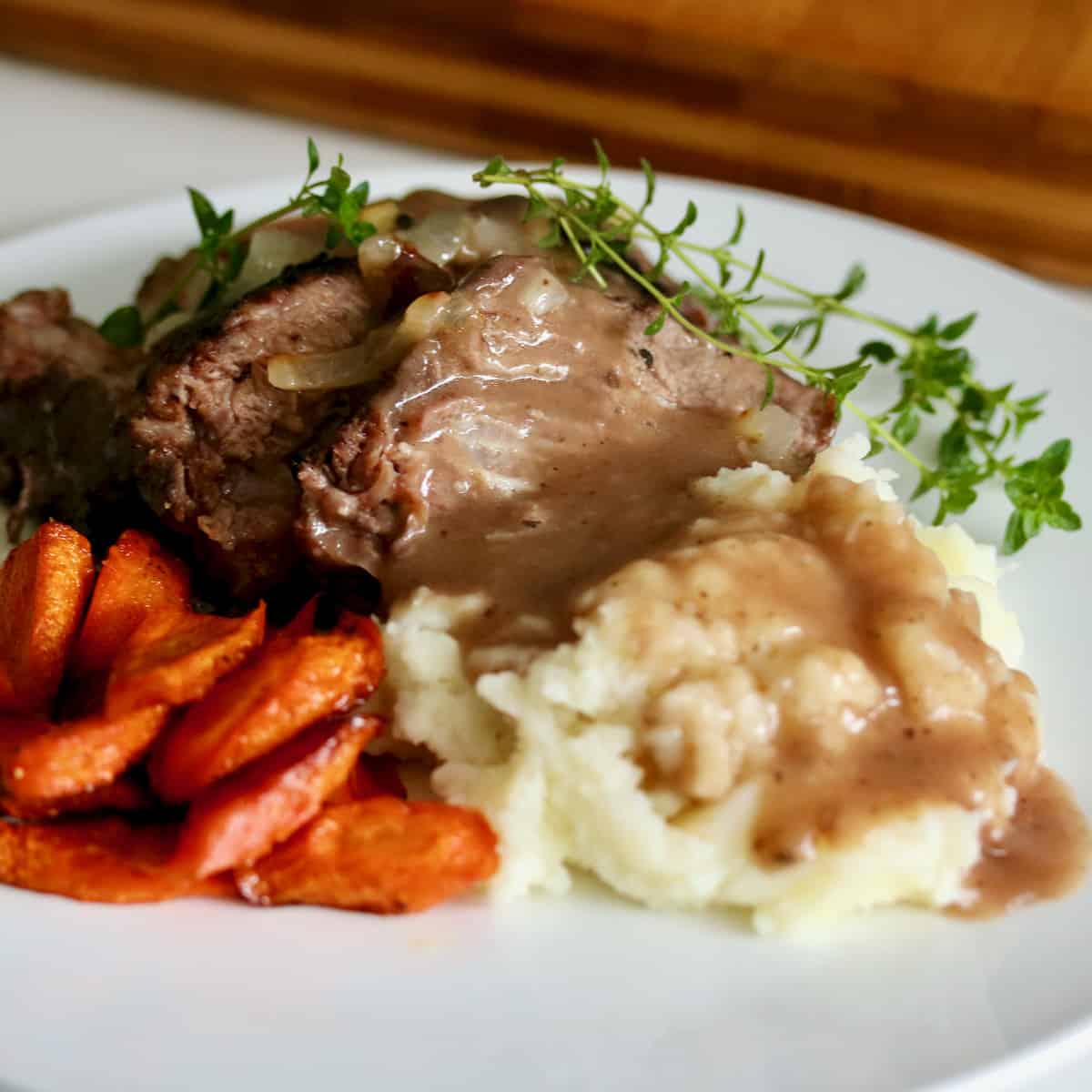 A sous vide pot roast is the answer to your summer time cravings for a flavorful beef dinner that won't break the bank or heat up the kitchen. When it comes to preparing a fork-tender cheap cut of meat like a chuck roast, I find using the traditional slow cooker method less than efficient or fool-proof. The sous vide cooking method using an immersion circulator is the way to turn an inexpensive cut of meat into prime-rib tenderness and flavor.
Sous Vide Pot Roast 5 Minute Prep
Set immersion circulator with lid to 152 degrees for 30 hours
Trim excess fat from a 3 pound chuck roast
Season the beef roast with salt (no pepper) and favorite fresh green herbs
Tie roast to hold shape is optional, but recommended
Vacuum seal in heavy duty sous vide bag or double bag using the water displacement method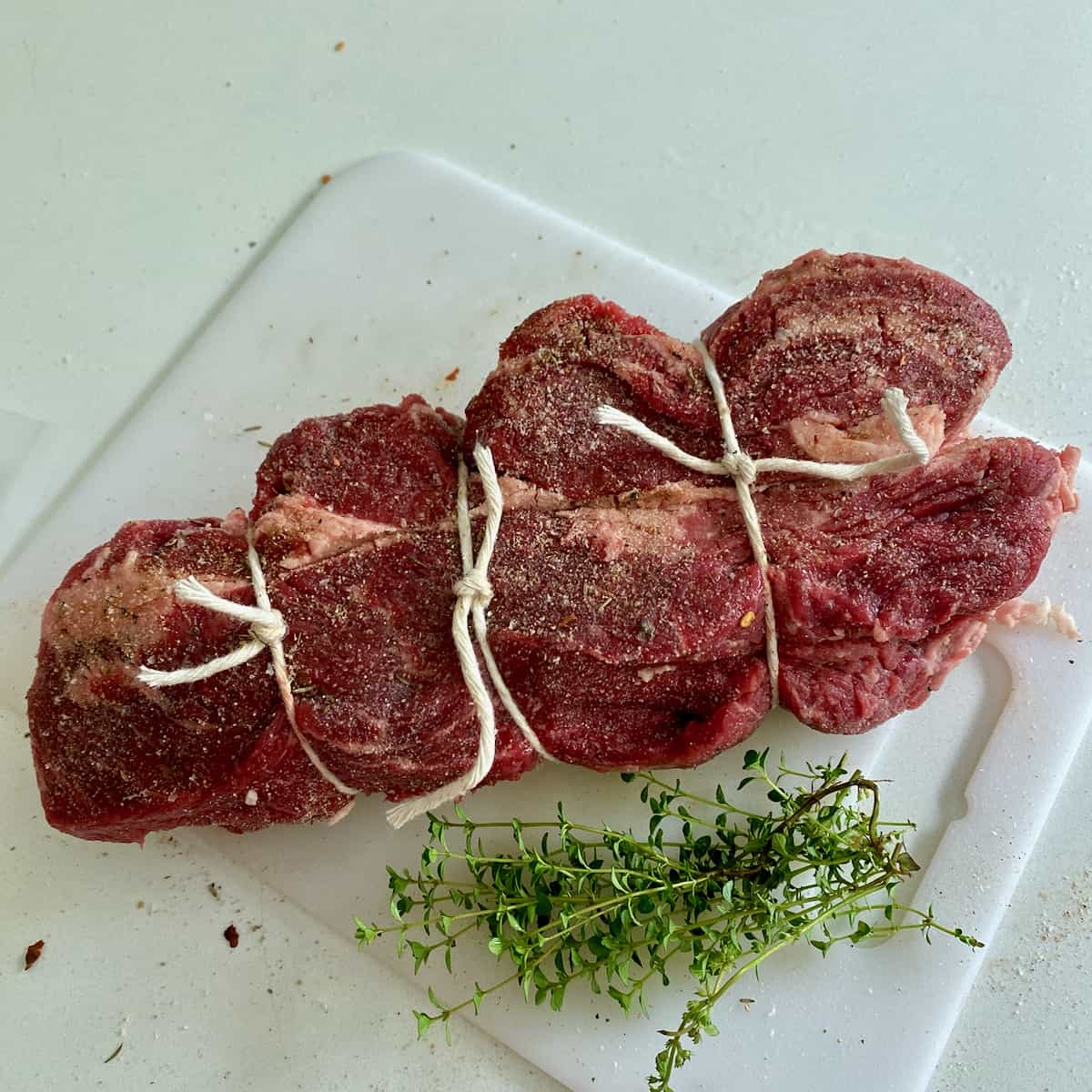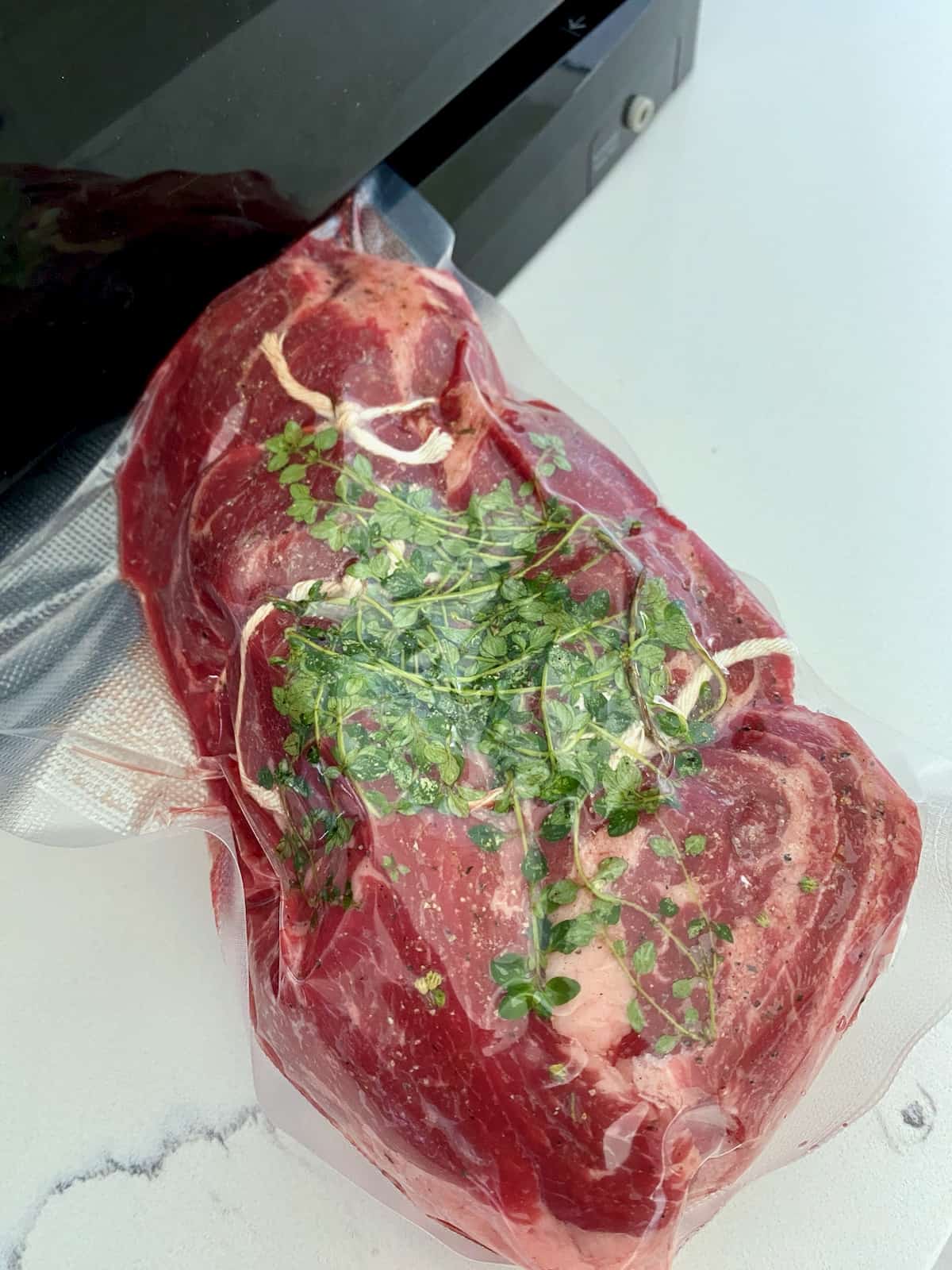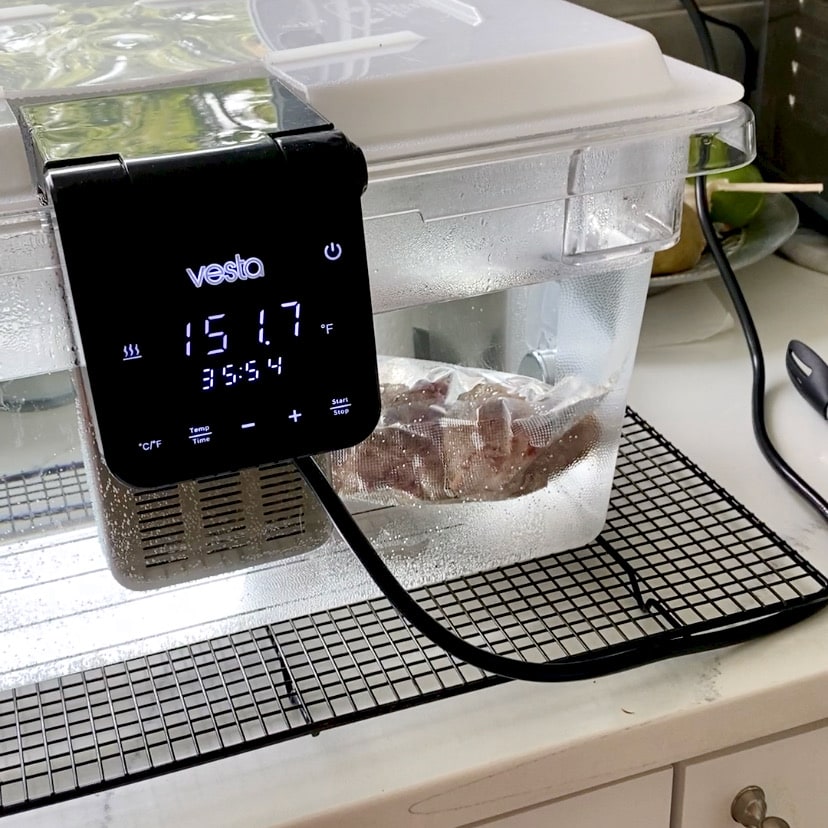 I'm thankful for my introduction into sous vide cooking. If this method is new to you it can be a bit confusing. Ask 10 different people how to sous vide pot roast and you will get 10 different answers. You will note cooking temperatures from 133F to 175F and times ranging from 18 to 36 hours and everything in between.
The reason for that is that we all seek different tastes and tenderness from this roast beef. Cooking under vacuum in precise temperature controlled conditions allows you the versatility to cook this tough cut of meat to either a steak-like texture (133F), a juicy braise (152F) or even shreddable meat that you might wrap in a tortilla (175F).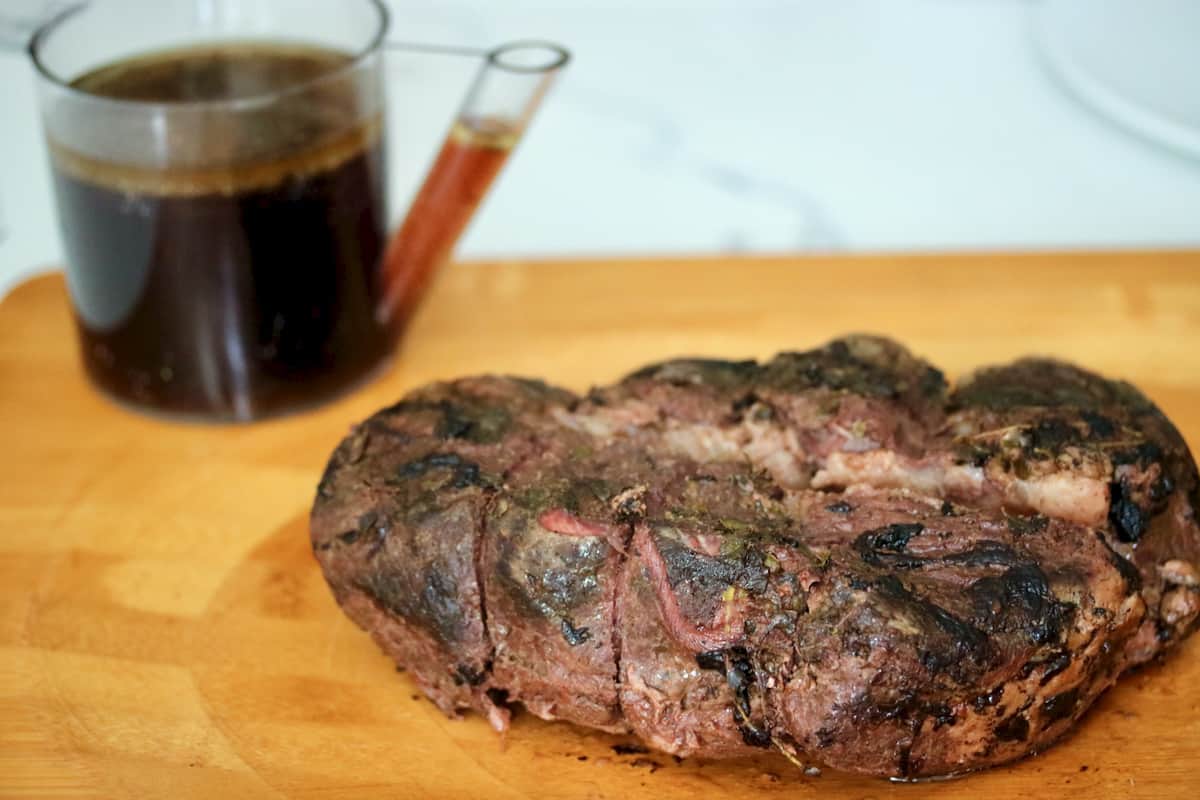 My preference leans to the juicy braise, so I am following the advice of Jason Logsdon from amazing food made easy blog. I am cooking at 152F for 30 to 36 hours. My 5 minute preparation is quite simple. I trim the excess fat. Then, I season the roast all over with kosher salt and dried spices. Just before vacuum sealing add a healthy dose of fresh herbs from my garden. I like lemon thyme.
Place the bag in the water bath making sure it is completely submerged. Cover the vessel with a lid or plastic wrap to prevent evaporation and that is it until dinner the next day.
Sous vide pot roast cooking tips
avoid adding black pepper and fresh garlic to cooking bag as these flavors don't do well over long cook times
do not add oil or butter to the bag as they pull flavor from the meat
let the meat rest before slicing
use the bag juices to make a pan sauce or gravy
searing the meat is an unnecessary step, but you do you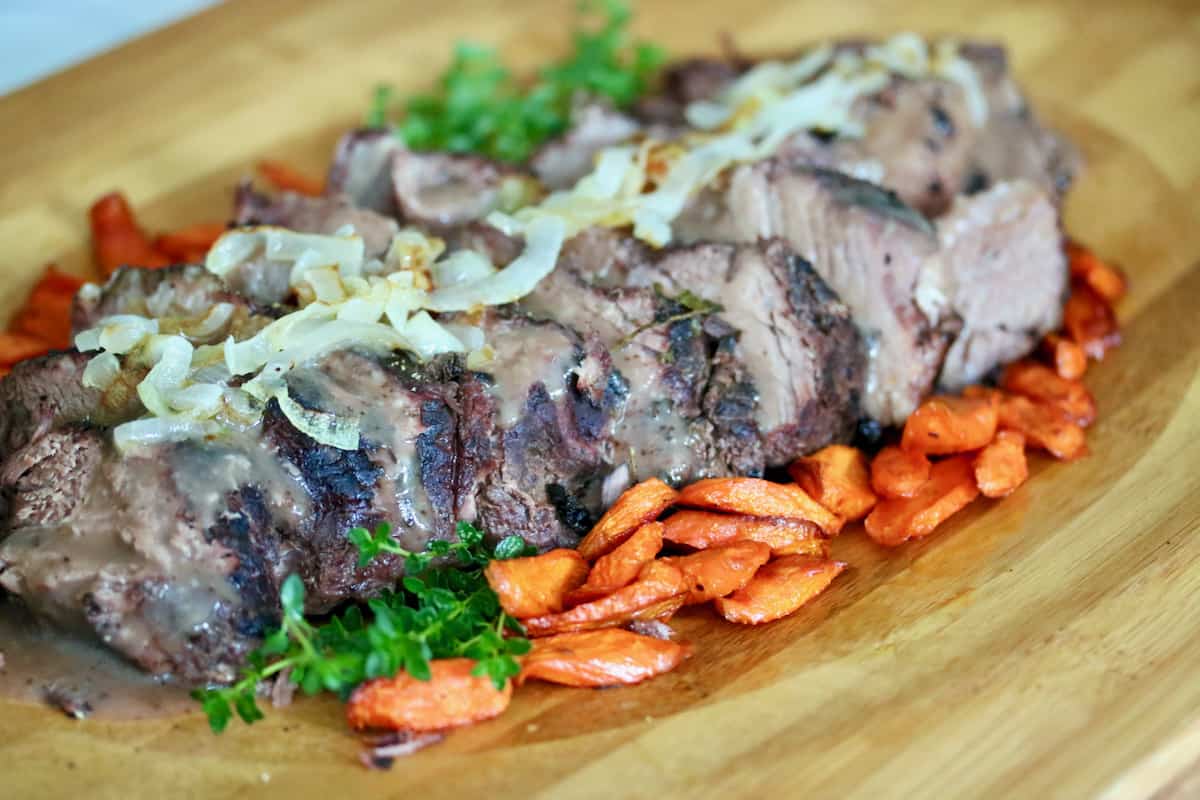 How long to cook sous vide pot roast
At 30 hours of cooking time I decided to give the meat a little pinch. It felt quite tender, so I pulled it out of the water bath. It rested for about 5 to 10 minutes minutes in the bag. Then, I suspended the bag over a bowl, cut a slit in the corner and let all the accumulated juices drain into the bowl. I used the juices to make a beefy pan gravy thickening it with a flour-butter roux. I highly recommend making the gravy and adding a side of mashed potatoes.
Print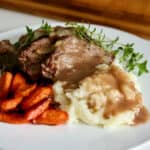 The Best Sous Vide Pot Roast Braised Tender With Gravy
---
Author:

Total Time:

30 hours 5 minutes

Yield:

serves 4
Description
Slow cook a chuck roast sous-vide style for the most tender and flavorful Sunday supper.
---
1 (3-pound) chuck roast
1 ½ teaspoons kosher salt
1 teaspoon mixed dried spices of your choice (garlic powder, onion powder, dried herbs)*
few sprigs fresh herbs like thyme, parsley, rosemary
2 tablespoons butter
2 tablespoons of flour
---
Instructions
Heat water bath to 152F.
Trim excess fat from chuck roast.
Season meat all over with salt and spices
Tie meat with butchers twine to hold shape
Place roast in sous vide bag or double up ziplock bag if using water displacement method
Add fresh herbs
Vacuum seal bag or seal using water displacement method
Place bag in water bath making sure it is completely submerged.
Set timer for 30 hours and cover water bath vessel to prevent evaporation**
When timer goes off, remove bag from water bath and let meat rest in the bag for 10 minutes
Remove the roast from the bag reserving the cooking juices (pour the juice into a fat separator measuring cup)
Melt butter in a pan until it bubbles and releases its water. Whisk in flour and cook until lightly browned. Whisk in the reserved bag juices and bring to a boil. Taste and season. Cook to desired gravy thickness.
Slice pot roast and serve with a side of mashed potatoes, gravy, roasted carrots and caramelized onions.
Notes
Avoid black pepper and fresh garlic
Check water level from time to time and top it off it necessary
Prep Time:

5 minutes

Cook Time:

30 hours

Category:

beef

Method:

sous vide

Cuisine:

American
Keywords: sous vide, chuck roast, pot roast, immersion circulator, Sunday supper, sous vide pot roast, braise