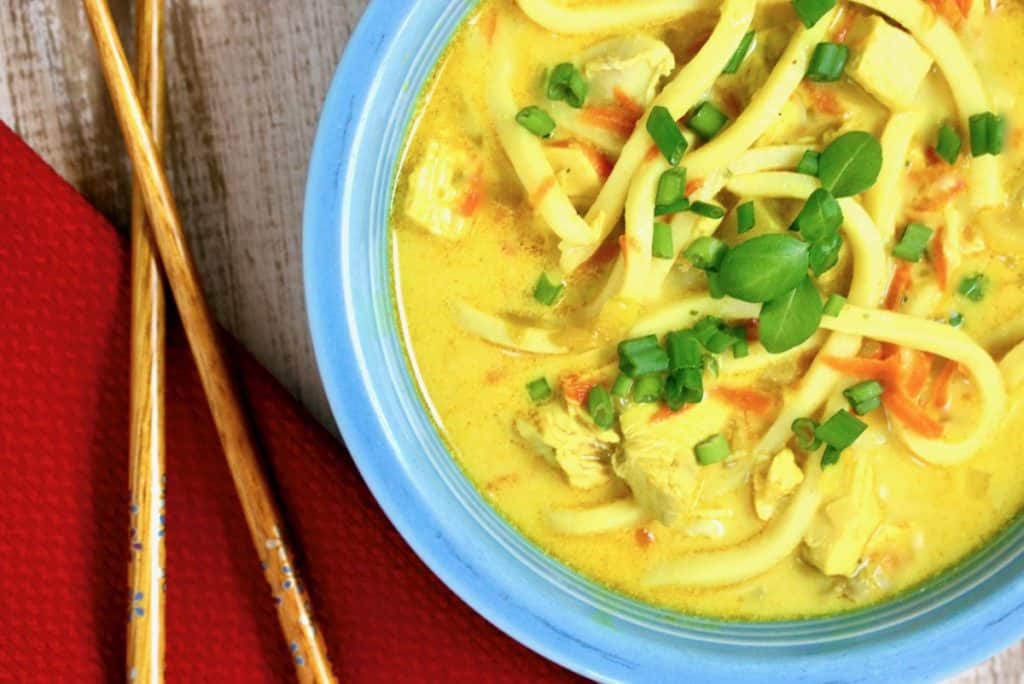 Want to know what a no-brainer is? It's me participating in the JSL Foods Fortune Noodle Blogger Recipe Challenge. Already a lover and consumer of Chef Yaki's healthy wholesome products it just makes sense to be in the mix stirring the pot. Plus the challenge involves noodles and soup. After my husband and my children and my grandchildren…noodles and soup are next in line of things that I love.
<3
Fortune Noodle products are developed with a focus on flavor, noodle texture, 4 simple ingredients and convenience. They are sure to inspire both authentic Asian and fusion recipes. Today, I am featuring a nutritious, winter-warmer-upper soup made easy with these versatile noodles.
Indian in origin, Mulligatawny soup is a creamy chicken soup flavored with curry and apples. Traditionally it calls for rice, but I switch out the rice for wholesome udon noodles and boost the healthfulness and spice with a bit of turmeric. Husband, daughter and son-in-law approved I like to call it my Souper Bowl of soup.
This soup could not be easier to prepare. Simply chop, sauté and simmer and you will have the most delicious and healthy bowl of soup in about 20 minutes. Yes, you can use lite coconut milk, if you prefer, and yes I use leftover cooked chicken or pick the meat from a deli roasted chicken for extra easy prep.
Print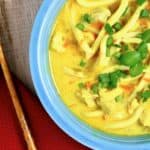 A Super Bowl of Comfort Mulligatawny Noodle Soup
---
[recipe title= "Mulligatawny Noodle Soup" servings= "6"]
1 tablespoon butter or coconut oil
1 cup chopped onion (1 medium)
1 cup shredded carrots (2 carrots)
2 stalks celery, chopped (include the leaves)
1 (7.27 oz) package Fortune Udon Noodles Chicken
2 teaspoons curry powder
1 teaspoon ground turmeric
¼ teaspoon ground black pepper
2-3 cups diced cooked chicken
1 crisp apple, peeled and diced
4 cups (32 oz. carton) low sodium chicken broth
1 cup unsweetened coconut milk
2 tablespoons chopped fresh basil or cilantro
2 green onions, thinly sliced
In a large pot or Dutch oven melt butter or coconut oil over medium heat. Add onion, carrots and celery; stir and cook 3 to 5 minutes or until onions begin to soften. Stir in Fortune flavor packet, curry powder, turmeric and black pepper. Add chicken, apples and broth. Turn up heat to medium-high and bring to a simmer. Add udon noodles and coconut milk. Cook, stirring to separate noodles, for 3 to 4 minutes or until heated through. Ladle into serving bowls. Garnish each serving with a sprinkle of herbs and green onions. Serves 6[/recipe]
For more product information and delicious healthy recipes check these out.
Website: http://www.jslfoods.com/
Facebook: https://www.facebook.com/JSLFoods/
Twitter: https://twitter.com/JSL_Foods
Instagram: https://www.instagram.com/jslfoods/
All Fortune noodle products can be found in the produce department in the tofu section at Safeway and ShopRite grocery stores. Want a free package?
I encourage you to join the Fortune Noodle Club here www.jslfoods.com. As part of belonging, you will receive a coupon for a free package of Fortune Udon Noodles. That's a Super Win!