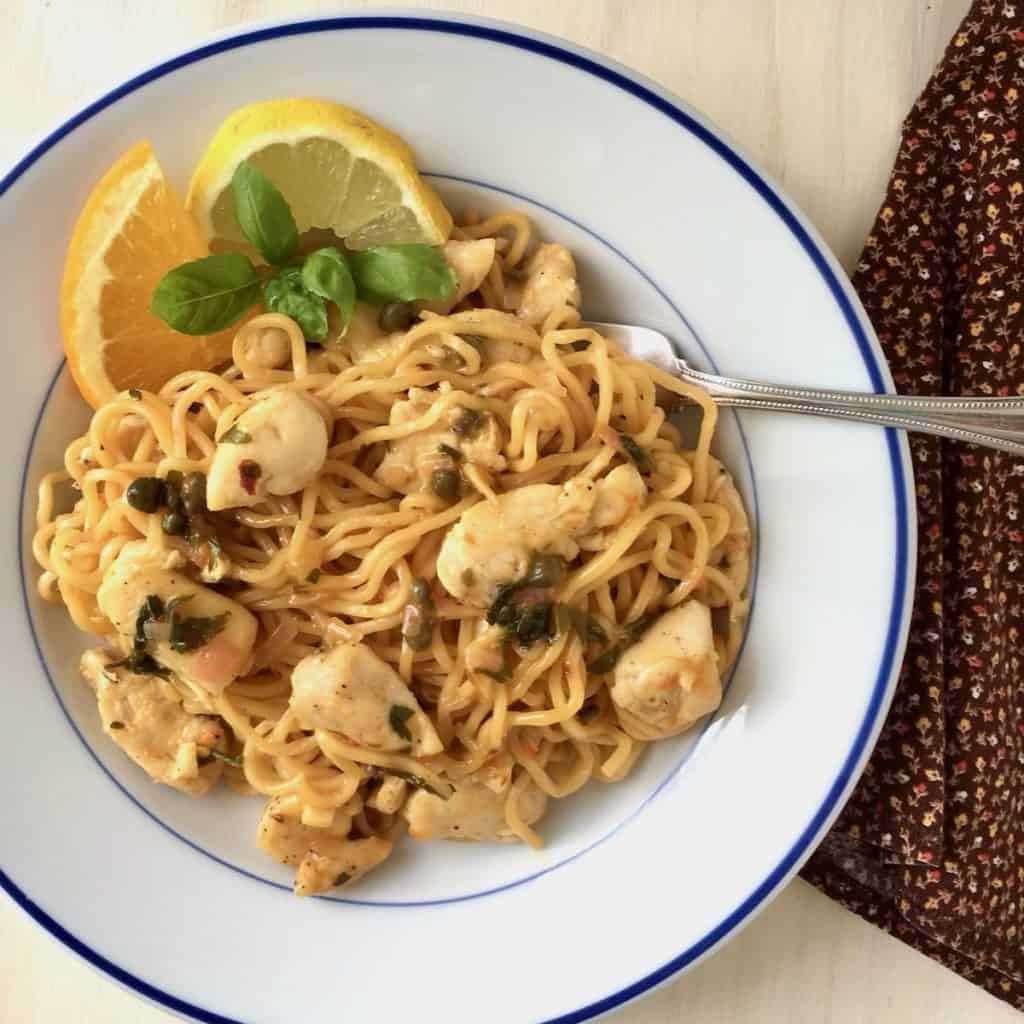 Time to share a recipe with yakisoba. Two roads and a recipe is always a fun challenge especially when fusion of foreign cuisines is involved. It's a wonderful creative distraction that I get to share with all of you in this blogger's challenge contest. It makes me smile. I hope you like what I prepared with Fortune Brand Yakisoba Noodles. Coming in a variety of flavors check the refrigerated section of your grocery store (Von's, Pavilions and Safeway in Pennsylvania) for this easy to prepare product that inspired so many other recipes that I had to share at least two of these new family favorites. Today, it's Asian gone Italian in two tasty noodle dishes. First up is a mandarin orange stir-fry twist on chicken picatta. Enjoy the harmony.
Print
Citrus Chicken Picatta Noodle Stir-Fry
---
Author:

Total Time:

20 minutes

Yield:

serves 2
---
1 Package Fortune Brand Yakisoba Noodles with Mandarin Orange Flavor Packet
2 cups diced boneless, skinless chicken breast or thighs
½ teaspoon kosher salt
¼ teaspoon black pepper
1 tablespoon all purpose flour
2 tablespoons olive oil
1 large clove garlic, minced
2 tablespoons finely chopped shallot
⅛ teaspoon crushed red pepper flakes
¼ cup dry white wine or chicken broth*
½ cup chicken broth
1-tablespoon fresh lemon juice
1-tablespoon small capers, rinsed
2 tablespoons chopped fresh flat leaf parsley
Garnish: fresh lemon and oranges slices and fresh herbs, optional
---
Instructions
Puncture inner bag of noodles a few times with the tip of a sharp knife to allow steam to escape.
Microwave noodles on HIGH for 1 minute; set aside.
Season chicken with salt and pepper and toss with flour to coat.
Heat olive oil over medium-high.
Add chicken; stir-fry 3 to 4 minutes or until no longer pink. Add garlic, shallots and pepper flakes; stir-fry for 1 minute.
Add wine; cook for 2 minutes or until reduced by half stirring to loosen browned bits from bottom of skillet.
Add loosened noodles, Mandarin Orange flavor packet, chicken broth, lemon juice and capers; stirring for 1 to 2 minutes.
Sprinkle with fresh parsley. Garnish with lemon and orange slices and fresh herbs, if desired.
Notes
*Note: If you prefer not to use wine use additional chicken broth as a substitute
Prep Time:

10 minutes

Cook Time:

10 minutes

Category:

main dish

Method:

stovetop/microwave

Cuisine:

Italian
Keywords: dinner in less than 30 minutes, chicken, noodles, quick and easy, yakisoba, piccata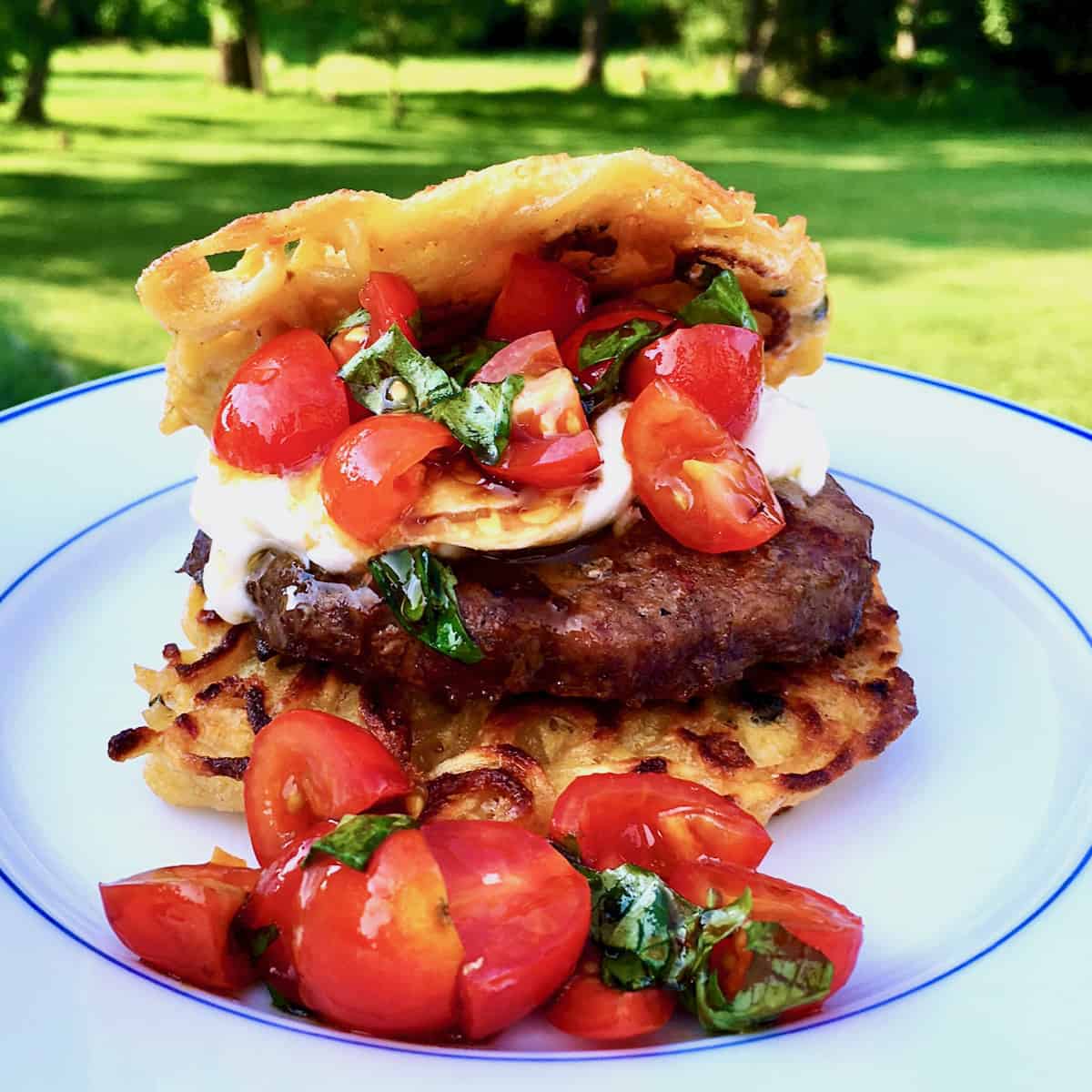 My second recipe includes a classic summer Italian salad topping your favorite burger on a most surprising noodle bun. The bun is a play on an omelet my mom used to make with leftover spaghetti. They not only make a great burger bun, but also delicious as the base for an opened-faced sandwich, too. The noodle buns can even be made ahead and re-warmed on the grill, stove-top or in the microwave.
Print
Caprese Noodle Burger
---
Author:

Total Time:

40 minutes

Yield:

serves 2
Description
noodle bun burger is a fun twist
---
1 package Fortune Brand Yokisoba Stir Fry Noodle Mandarin Orange
¼ cup water
2 eggs, lightly beaten
2 tablespoons grated parmesan cheese
8 leaves shredded fresh basil
½ cup diced vine ripened tomatoes
2 teaspoons plus 2 tablespoons extra virgin olive oil
1-teaspoon balsamic syrup
2 hamburger patties
4 slices fresh mozzarella
---
Instructions
Place the noodles, water and half the sauce base in a microwave safe dish. Cover and microwave on HIGH for 3 minutes. Mix well and spread out on a plate to cool.
When noodles are cool mix with eggs, parmesan and 2 leaves of shredded basil.
Divide noodles into 4 portions and shape each portion into a 4-inch "bun" on plastic wrap lined plates.
Bring plastic wrap up and over the buns to cover.
Weight down with another plate and chill in the refrigerator for 20 minutes.
Meanwhile, combine tomatoes, basil, 2 teaspoons olive oil and balsamic syrup in a bowl; mix well.
Sprinkle hamburger patties evenly with remaining sauce mix; grill or pan-fry to desired doneness topping with mozzarella during last few minutes of cooking time.
In a large skillet, heat remaining 2 tablespoons olive oil over medium heat.
Unwrap noodle buns and add to skillet. Cook, 2 to 3 minutes per side or until golden brown and cooked through.
Arrange a noodle bun on each plate. Top with a burger and some tomato-basil salad. Cover with remaining noodle buns.
Prep Time:

20 minutes

Cook Time:

20 minutes

Category:

main dish

Method:

stove top
Keywords: burger, noodle bun, cypress, quick dinner
For more delicious yakisoba noodle ideas check out JSL Foods.