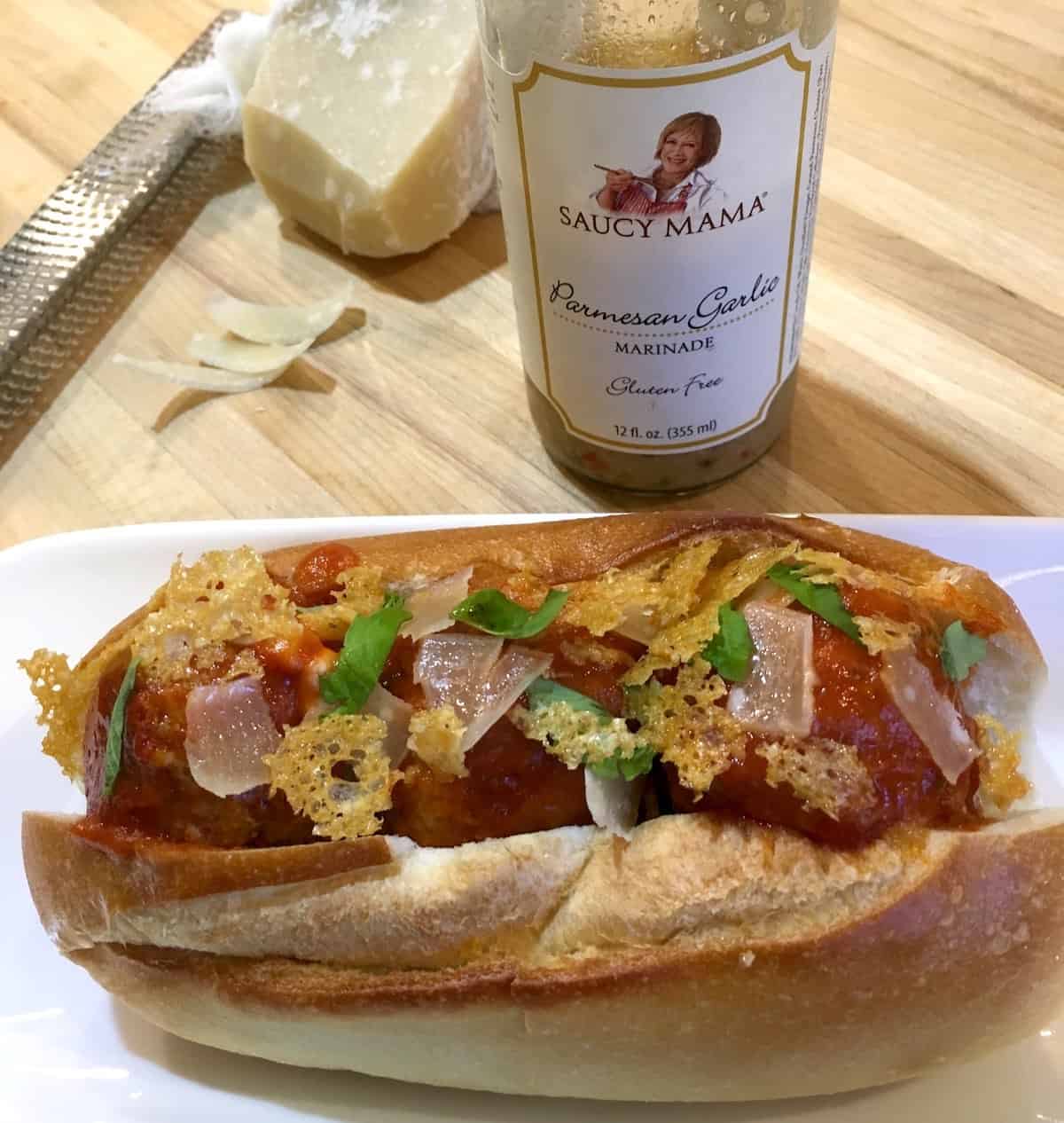 blended mushroom meatball sub
A couple of weeks ago I shared some of the World Food Championship experience here. Today I want to share one of the recipes I prepared in the kitchen arena. This Blended Mushroom Meatball sandwich is a tribute to my home town of Kennett Square (AKA mushroom capital of the world) and my Italian roots. It's a bit of a twist on a chicken parmigiana sandwich and filled with flavor thanks to Saucy Mama.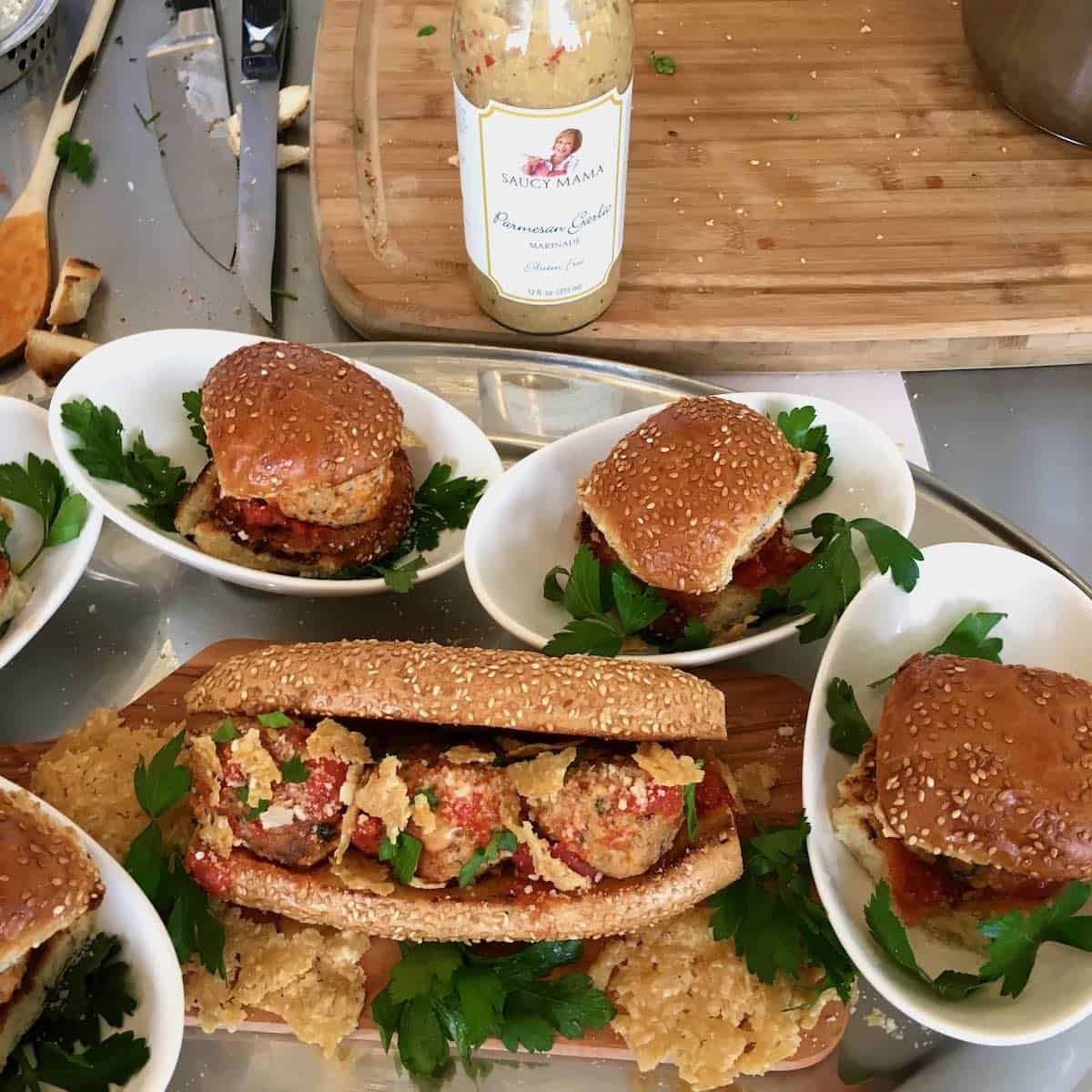 Print
Fontina Stuffed Chicken Mushroom Meatball Sub with Crispy Cheese Frico
---
Author:

Total Time:

1 hour 20 minutes

Yield:

serves 4
---
1 (28 oz.) can whole peeled tomatoes
1 shallot, peeled, halved
4 tablespoons unsalted butter
1-teaspoon kosher salt
¼ teaspoon sugar
parmesan cheese rind
4 ounces cremini mushrooms, very finely chopped
1-tablespoon extra virgin olive oil plus additional for sautéing meatballs
1 pound boneless, skinless chicken thighs, trimmed of excess fat, ground
2 links Italian sausage, casings removed
2 tablespoons parmesan garlic marinade
½ cup day old Italian bread crumbs
¼ cup finely grated Parmesan cheese plus ½ cup coarsely grated
1 egg
¼ teaspoon freshly ground pepper
8 fresh basil leaves, chopped plus additional for garnish
2 tablespoons chopped fresh flat leaf Italian parsley, plus for garnish
12 (½-inch) pieces fontina cheese
Italian seeded or plain rolls, sliced through top and opened like a boat
---
Instructions
Pour tomatoes and juice into a medium saucepan. With hand, crush each tomato.
Add shallot, butter, salt, sugar and cheese rind; bring just to a boil. Reduce heat to simmer; cook uncovered, stirring occasionally for 45 minutes.
Meanwhile, prepare meatballs. Brown mushrooms in olive oil until they have released their liquid; cool slightly. Gently, but thoroughly, combine mushrooms, chicken, sausage, marinade, breadcrumbs, ¼ cup finely grated parmesan, egg, pepper, basil and parsley.
Using an ice cream scoop, scoop out 12 leveled portions of meat mixture.
Dampen hands with water and form each portion into a meatball pressing one piece of fontina into the center wrapping the meat around the cheese.
Heat olive oil in large skillet over medium heat.
Sear meatballs to a golden brown, turning as needed. Add browned meatballs to sauce. Cover and simmer for 10 to 20 minutes or until fully cooked.
Heat oven 350F. Crisp rolls on sheet pan in oven for 6 to 8 minutes.
Prepare parmesan cheese frico. Pour a heaping tablespoon of Parmesan onto a silicone or parchment lined baking sheet and lightly pat down. Repeat with the remaining cheese, spacing the spoonfuls about a ½-inch apart. Bake for 3 to 5 minutes or until golden and crisp. Cool.
To assemble sandwiches: fill rolls with meatballs. Sprinkle with herbs and crumbled parmesan frico.
Prep Time:

20 minutes

Cook Time:

60 minutes

Category:

sandwich

Method:

stovetop

Cuisine:

Italian
Keywords: meatballs, chicken, main dish, lunch, blended mushrooms, recipe contest, cheese