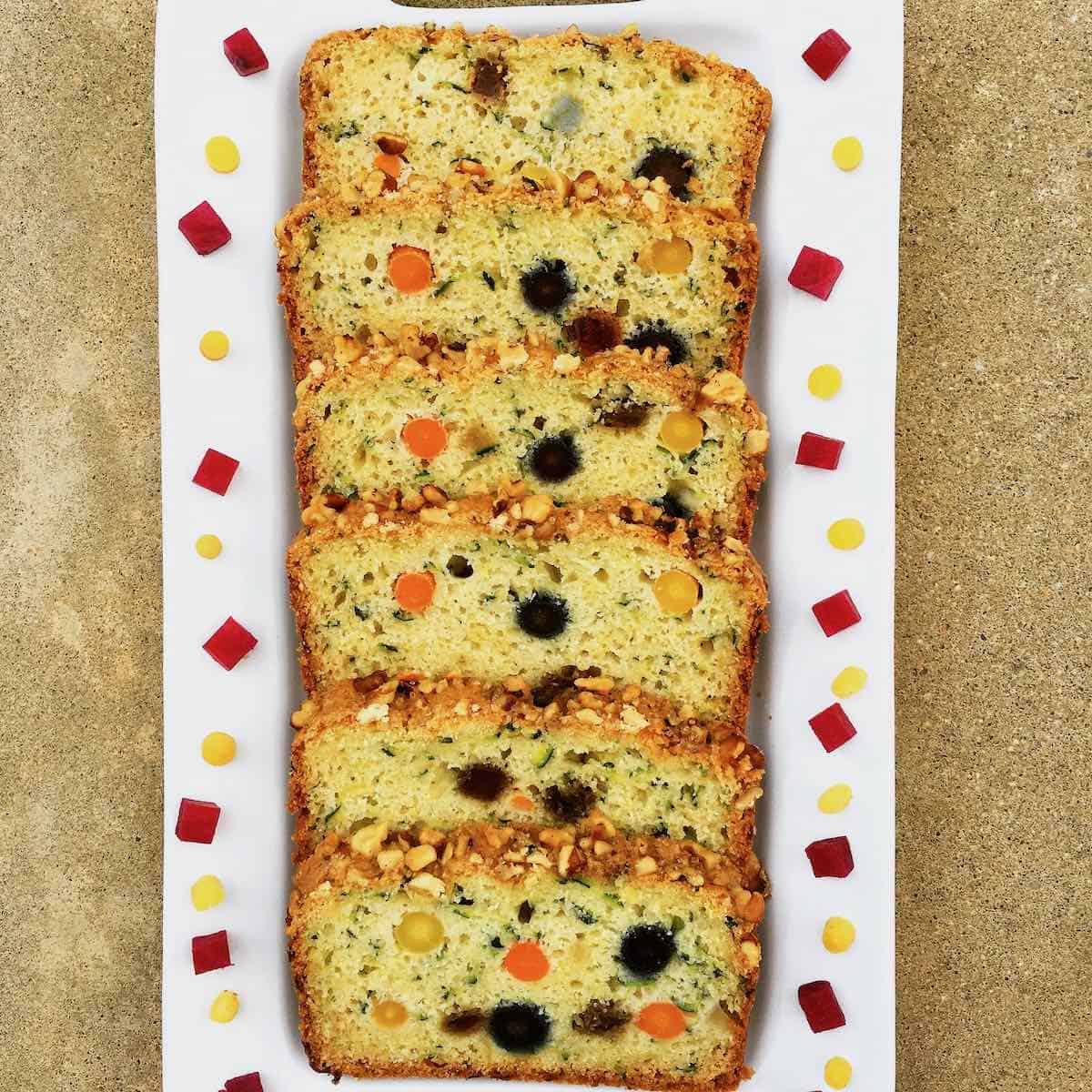 The best funfetti zucchini bread
No sugary sprinkles here. Even as a child I did not like what we referred to as "jimmies". While visually lovely, sprinkles have a weird waxy texture that turns me off and easily ruins a perfectly delicious creamy bowl of ice cream or icing on the cake. So, I created a fresh from the garden "funfetti" with an array of colorful carrots, beets and dark green zucchini. These beautiful vegetables are being harvested from my garden right now. Following a cue from Mother Nature, it just seems right to join them in a moist and not too sweet quick bread with a crunchy walnut topping.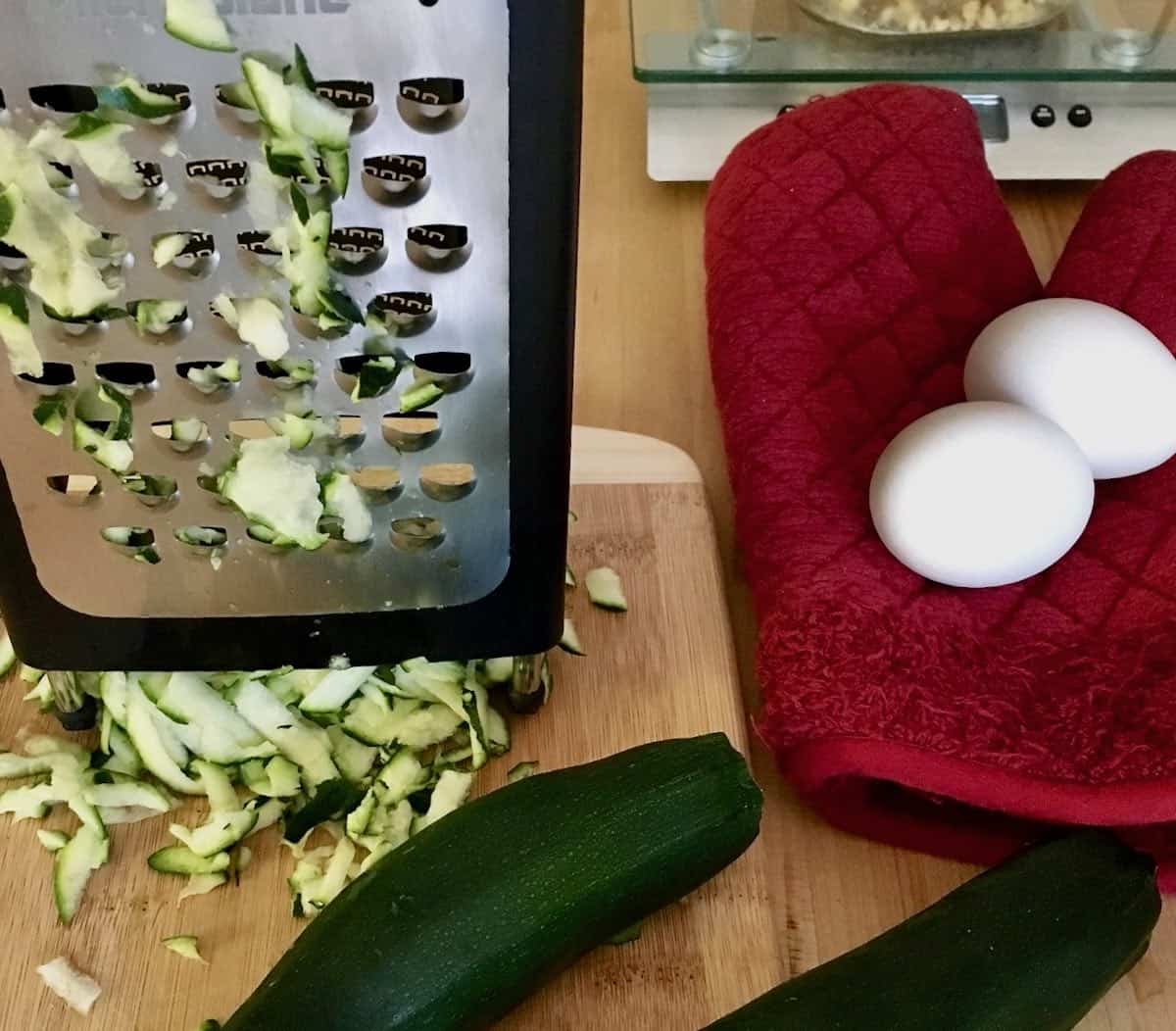 Start by trimming the ends off of dark green zucchini; grate on that large hole of your box grater. Toss the shreds with a little sugar and salt, weight it down in a sieve and let it drain. Then squeeze it. I ended up with ½ cup of slightly salty, sweet zucchini water that got tossed into a gazpacho. It would probably be good in a smoothie, but if your not feeling the goodness just dump it in the sink.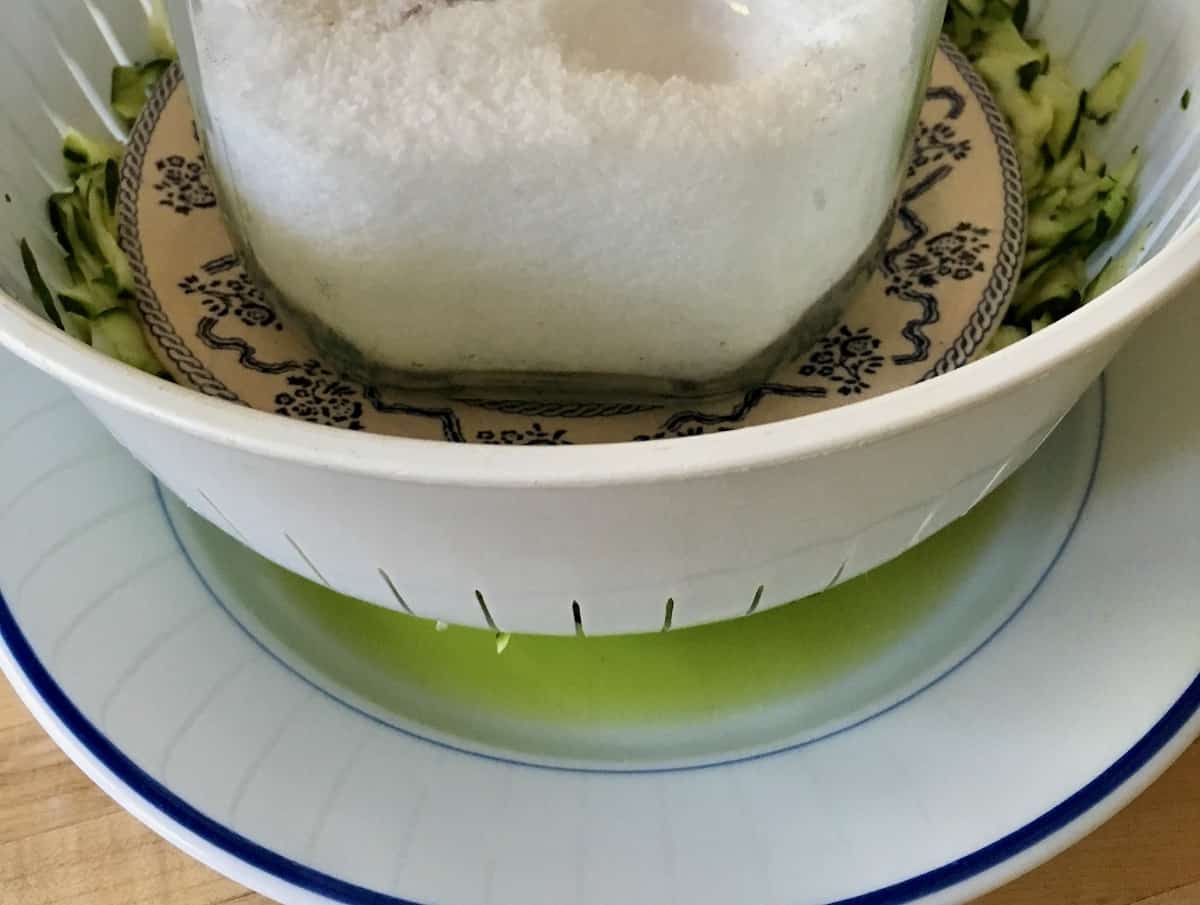 Next, cut the carrots to size and blanch for 2 minutes in boiling water. The beets get cooked, too, but in retrospect, I think I would skip them entirely as they don't look as pretty as the carrots after baking. They bleed a bit. Maybe golden or white beets next time.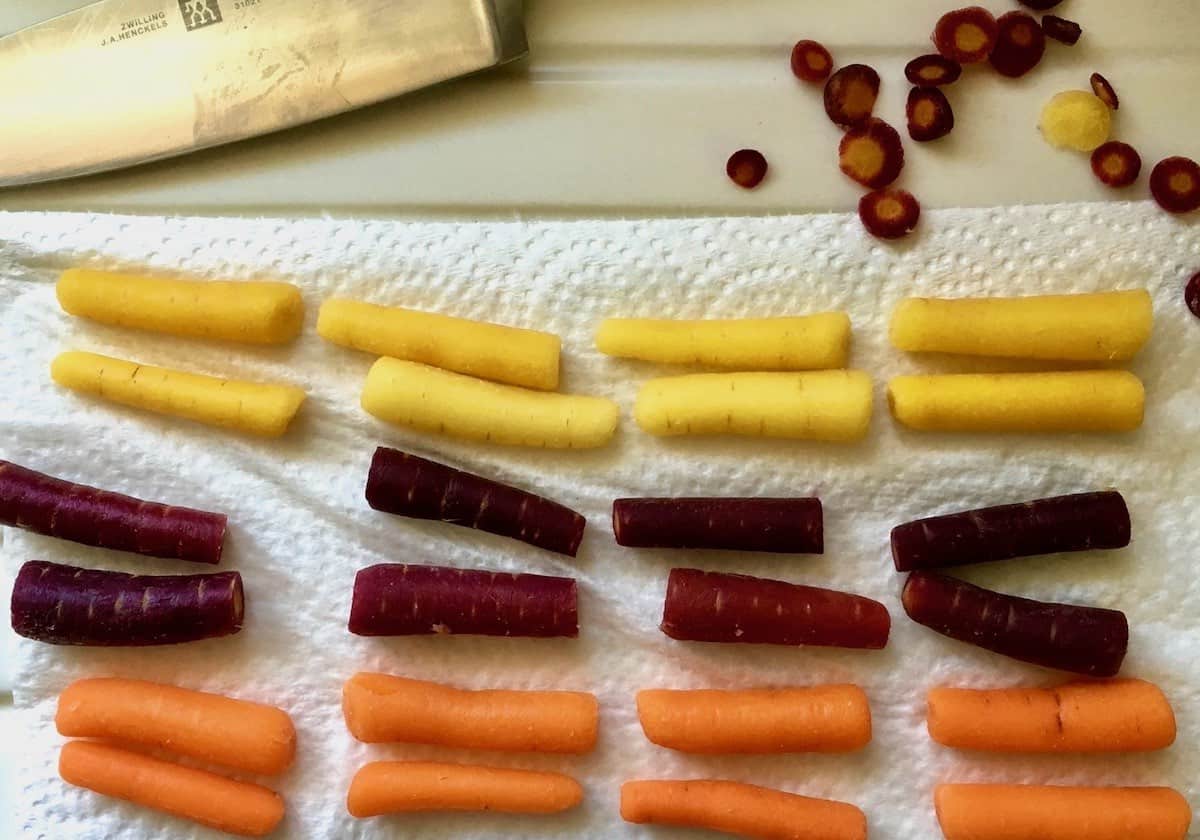 Make the quick bread batter. Have you tried avocado oil? I found it at Costco. With a high smoke point, avocado oil is perfect for grilling, frying and roasting. Its mild flavor makes it very good for baking, too. This heart healthy fat is high in Vitamin E plus it helps the body absorb other good nutrients like carotenoids. Think antioxidants like beta-carotene. Yay-there are carrots in the bread. This quick bread is so super moist and tender. I suspect the avocado oil has a lot to do with that.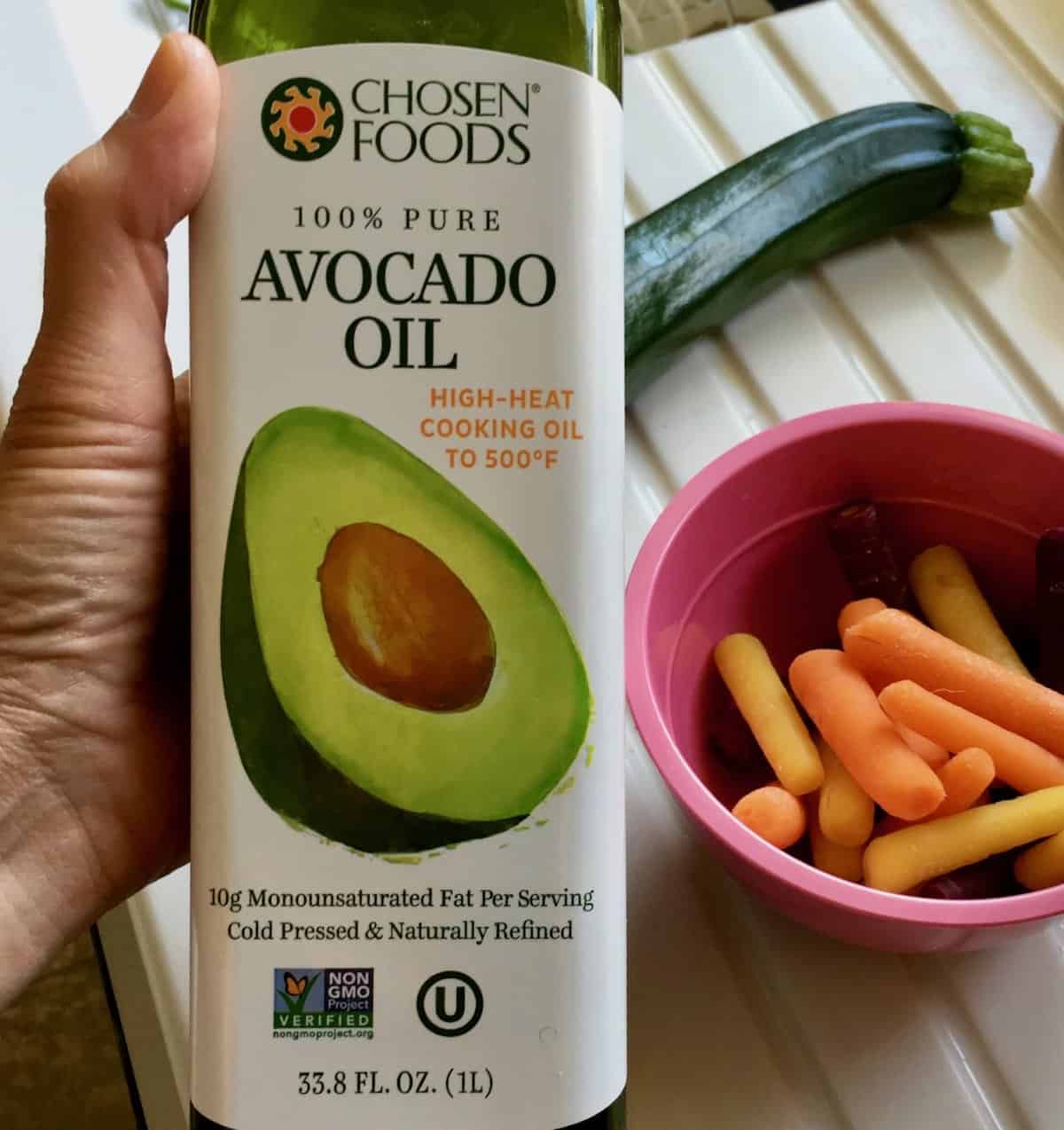 Next, layer in the vegetables. I dusted the veggies with dried ginger for some flavor, but also to prevent them from sinking. It worked!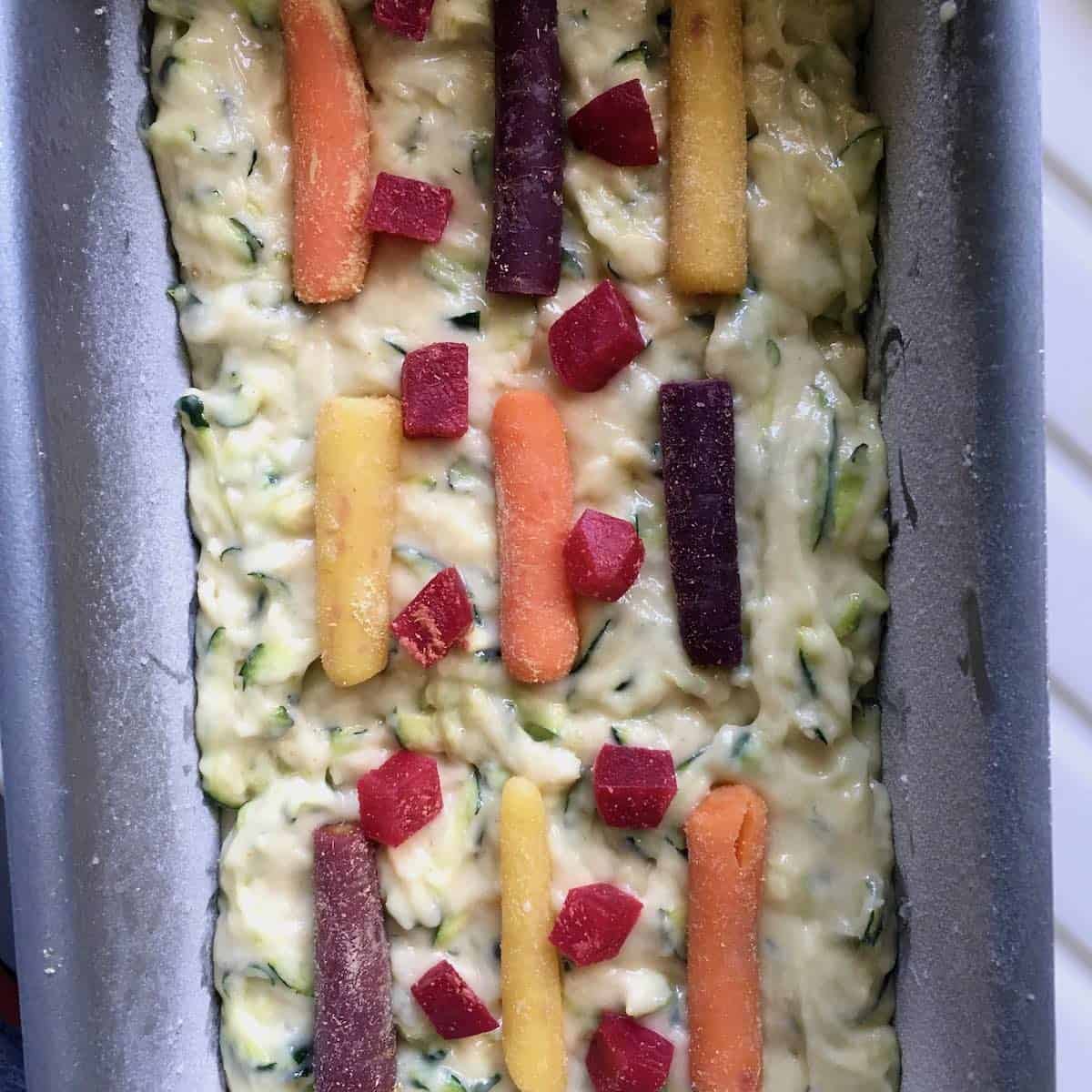 Bake it for an hour (turn your pan half way through for more even baking) or until you see the tell-tale crack down the center and an instant read thermometer inserted in the center registers around 205F.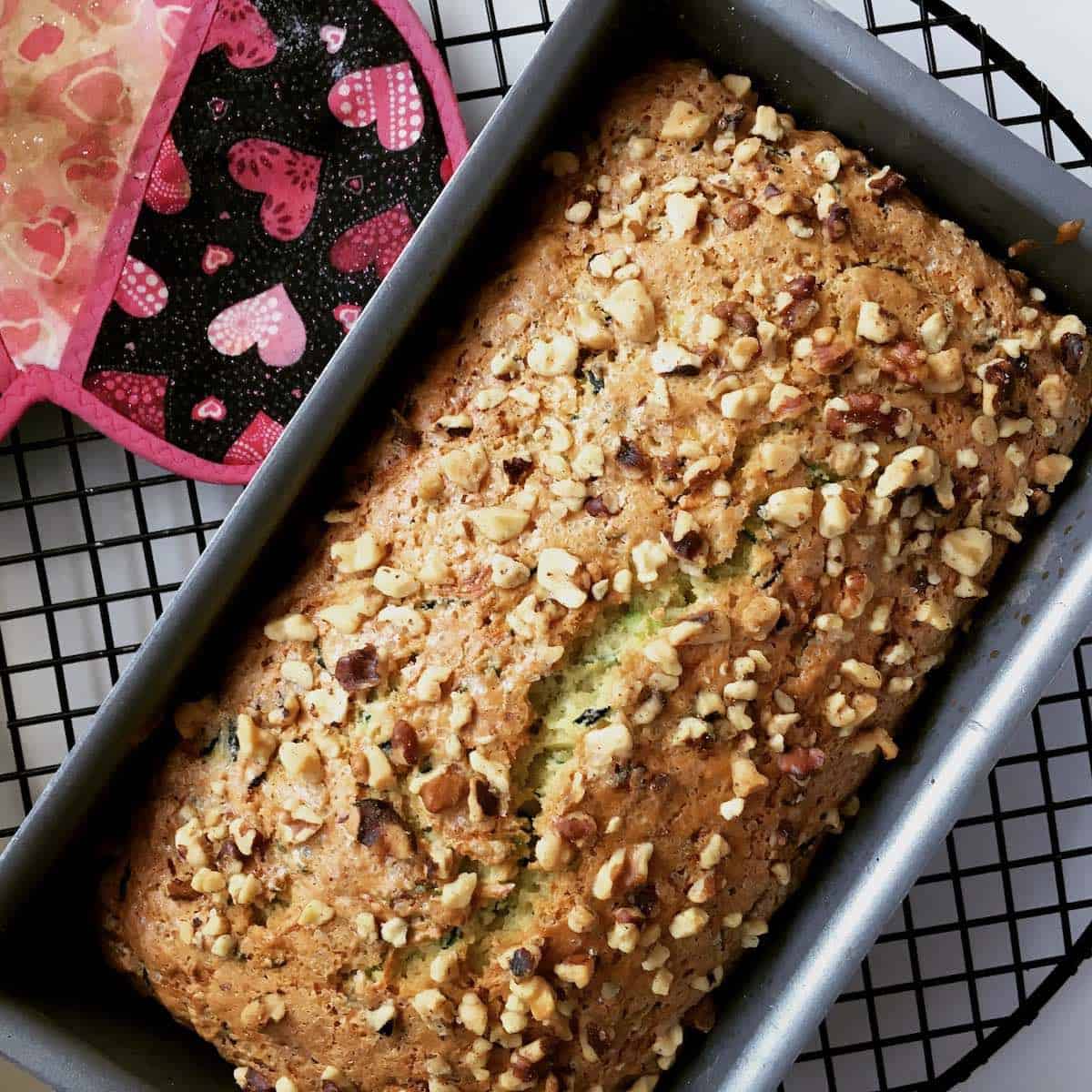 Let it cool for 10 minutes in the pan. Turn it out and let it cool completely. Don't be tempted to slice it while still warm. In fact, it's best served the next day. Enjoy those crunchy sugar coated walnuts on top and then marvel at the pretty colors inside.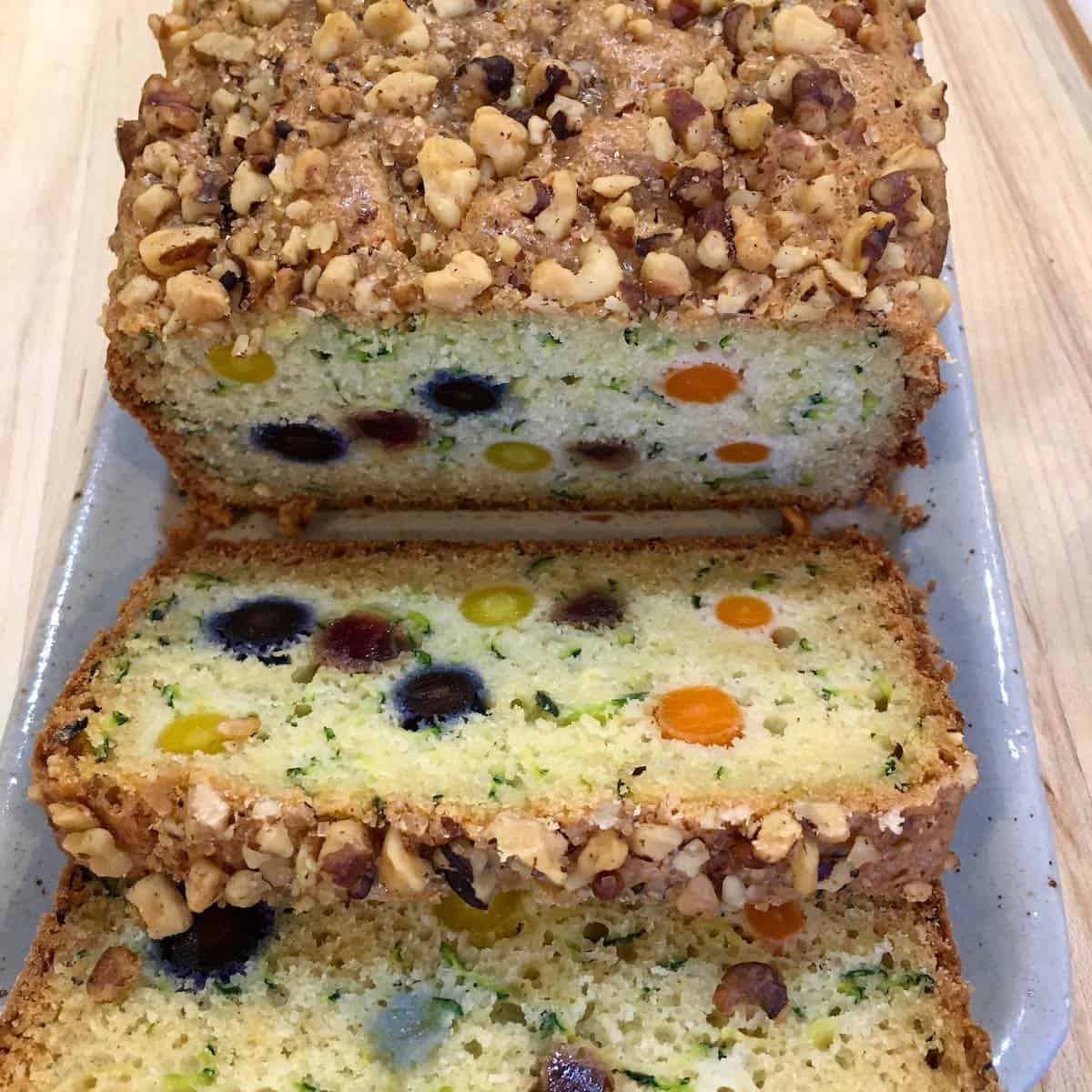 Print
Fresh "Funfetti" Zucchini Bread
---
Author:

Total Time:

1 hour 30 minutes

Yield:

1 loaf
Description
My version of funfetti is so much better than sprinkles
---
3 small to medium zucchini (12 oz. after you trim the ends)
⅔-cup sugar, divided
1-teaspoon salt, divided
3 colorful carrots, peeled, sliced in half crosswise then lengthwise
1 beets, roasted or boiled until just tender, peeled and diced
½ teaspoon ground ginger
2 cups all purpose flour
1-teaspoon baking powder
1-teaspoon baking soda
2 eggs
¼ cup sour cream
½ cup avocado oil
½ lime, juice and zest
⅓-cup chopped walnuts
2 teaspoons turbinado sugar 
---
Instructions
Heat oven 375F. Coat a 9x5-inch loaf pan with baking spray (or grease and dust with flour).

Shred zucchini on the large hole of a box grater. Toss zucchini with 1 tablespoon of sugar and ½ teaspoon of salt. Transfer zucchini to a sieve sitting over a bowl. Press a plate on top of zucchini and weight down for 20 to 30 minutes to drain.

Meanwhile, cook carrots in boiling water until just crisp tender; drain and let cool.

Dust carrots and beets with ginger; set aside.

In large bowl, whisk flour, baking powder, baking soda and remaining ½ teaspoon salt; set aside.

 In another bowl, whisk eggs, remaining sugar, sour cream, avocado oil, lime juice and zest; set aside.

Squeeze fistfuls of zucchini draining out more liquid then pat dry with paper towels. (I ended up with ½ cup of liquid which could go into a smoothie or gazpacho).

 

 

Using a rubber spatula, stir zucchini and egg mixture into flour mixture until blended and dry ingredients are moistened.

Layer ⅓

rd

 

of batter over bottom of prepared pan. Top with some carrots and beets in a single layer.

Top with another ⅓

rd

 

of batter smoothing into an even layer. Top with remaining carrots and beets. Cover with remaining batter smoothing the top.

Sprinkle evenly with walnuts and then sugar.

Bake 55 to 60 minutes or until golden brown and wooden pick inserted in center comes out clean. There should be the classic quick bread crack down the center.

Cool on wire rack for 10 minutes before turning out to cool completely. 
Prep Time:

30 minutes

Cook Time:

60 minutes

Category:

quick bread

Method:

baking

Cuisine:

American
Keywords: funfetti, zucchini, beets, pretty food, healthy snack, vegetarian
My garden is a constant source of joy. Sprinkle some seeds in the dirt and grow funfetti.