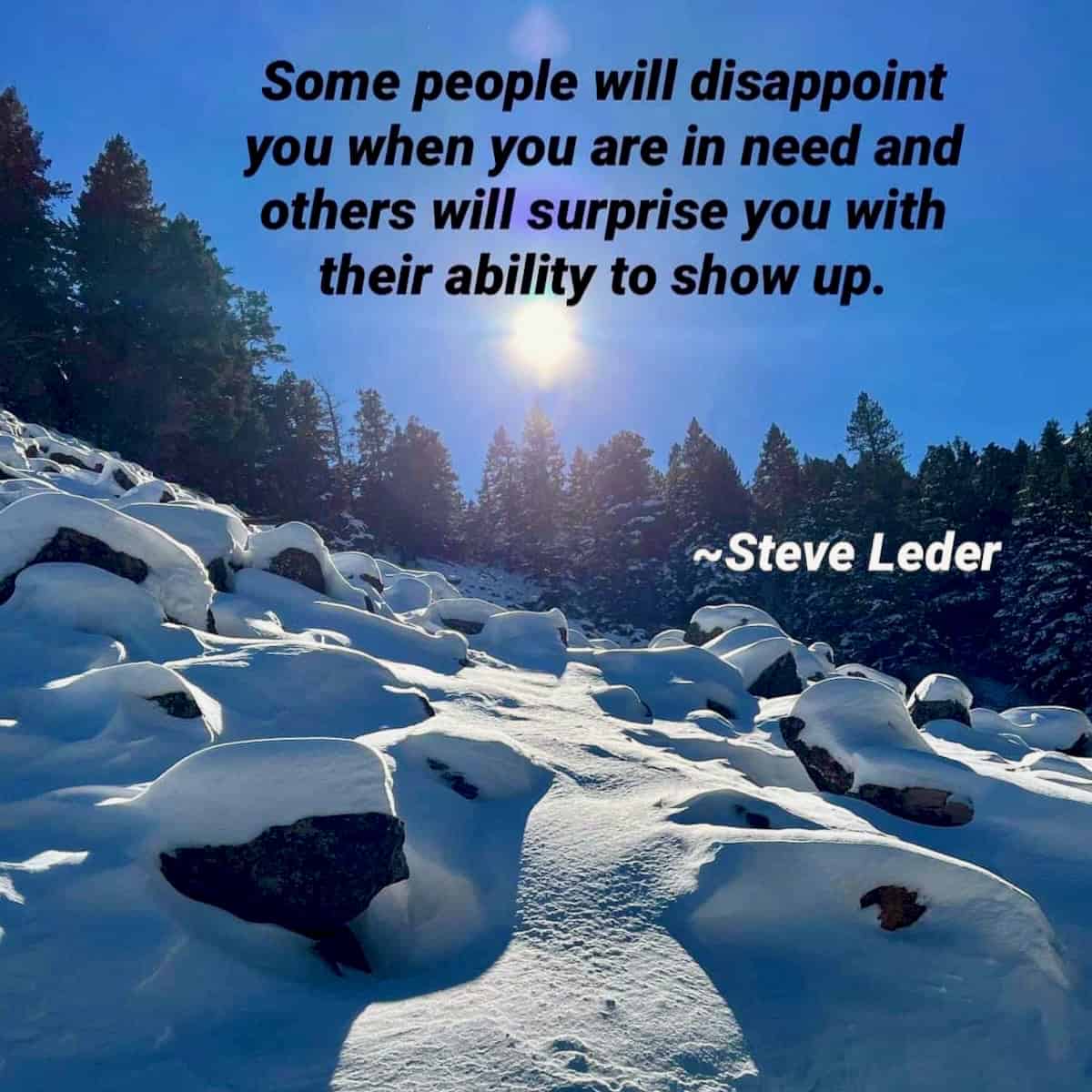 If you have never lost a child, consider yourself lucky. While you can imagine it, you certainly don't want to. You just can't know how it really feels and I hope you never do. So, this, what to say grief tip, is for you. Listen carefully. It is a gift for both you and the griever. I hope you will receive it well. Just know that how you respond matters.
Have you ever been to a party or a meeting where you don't really know people. You see a friendly face and greet them with the usual getting to know you questions. At some point the subject of children may come up. Do you have any? Get ready as you are about to be caught off guard. "I have two children, but one has passed away"....
What you say matters. How you respond matters. Do you have the ability to show up? Ten to one you feel awkward, uncomfortable and want to change the subject. That's normal. Your knee-jerk reaction is to blurt out an "I'm sorry" which is typical. However, if you really want to show some courage, compassion, empathy...you might instead say, "I'm sorry to hear you lost a child, but if you feel like talking, I'd like to hear more about your children."
A griever can be surprised to find that the ones who show up for them are not the ones they expected. All too often it is a stranger rather than the one they absolutely thought would be there for them.
So, I surprised myself by creating an award winning oyster soup. This recipe for Creamy Oyster Potato Leek Soup won first place at the National Oyster Festival held in St. Mary's, MD. Even more of a surprise it won Best Presentation, too.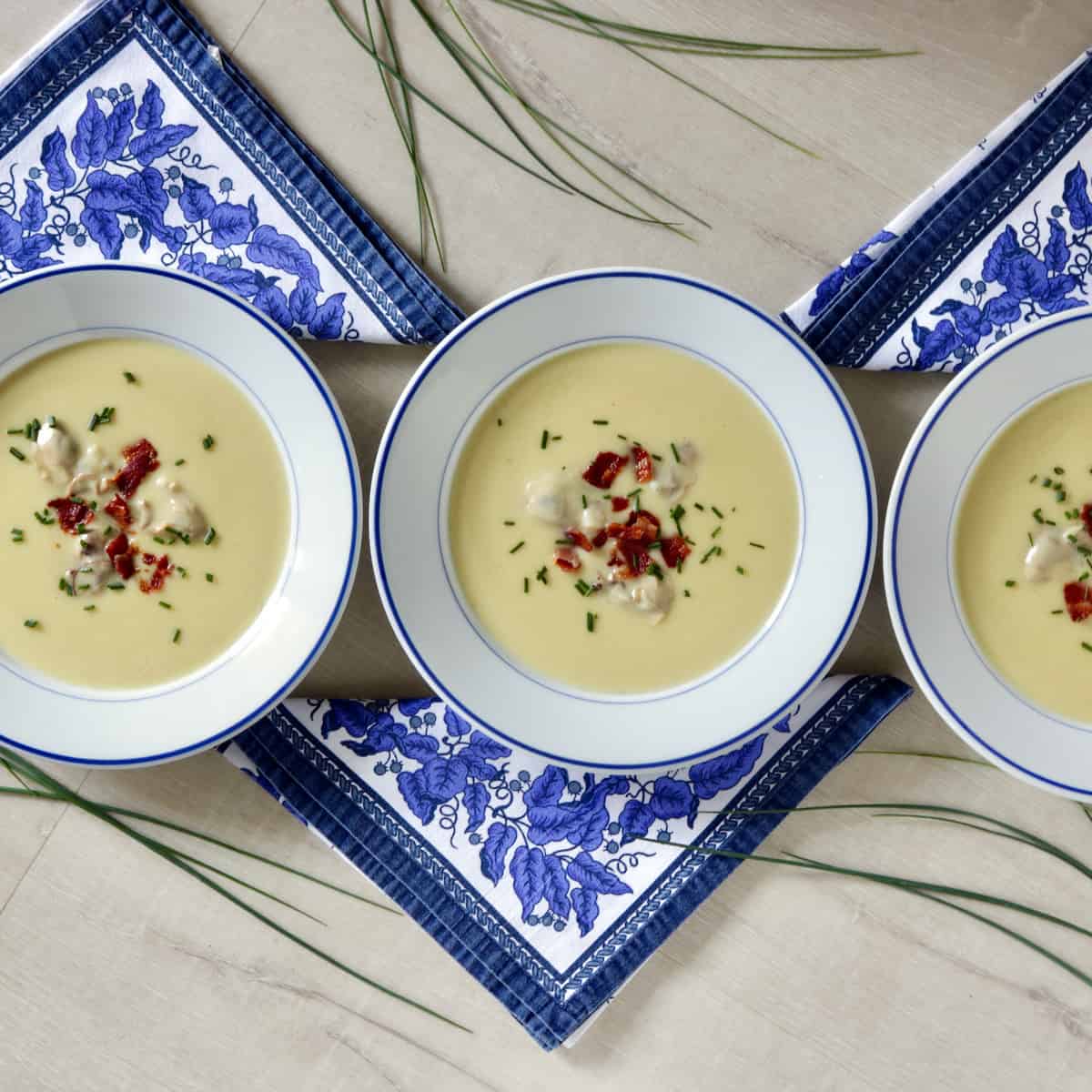 Print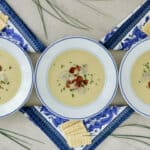 Creamy Oyster Potato and Leek Soup
---
Author:

Total Time:

40 minutes

Yield:

serves 6
Description
Award winning recipe and so easy to make.
---
2 tablespoons unsalted butter                        
4 leeks, thinly sliced including an inch of the green                          
1 medium onion, thinly sliced             
3 medium russet potatoes, peeled, diced     
3 cups chicken stock
1 teaspoon fine sea salt
¼ teaspoon white pepper
⅛ teaspoon nutmeg
½ cup half and half
18 freshly shucked oysters plus their liquor
4 slices crisp cooked bacon, crumbled
Snipped fresh chives
---
Instructions
Melt butter in a Dutch oven or stockpot over medium heat. Add leeks and onion. Cover and cook for 5 minutes or until softened.

Add potatoes, broth, salt, pepper and nutmeg. Cover and simmer for 15 minutes or until potatoes are tender.

Puree in a blender or food processor. Using a fine sieve, strain soup back into pot.

Add half and half and oyster liquor; bring to a simmer. Taste and correct seasoning with salt and pepper, if needed.

Add oysters to hot soup and cook for just 1 minute. Scoop out oysters and place 3 in each serving bowl.

Ladle in hot soup. Sprinkle with bacon and chives. 
Prep Time:

10 minutes

Cook Time:

30 minutes

Category:

soups and stews

Method:

stovetop

Cuisine:

American
Keywords: oyster stew, potato leek soup, main dish, first course