Fresh Tomato Salad with Pesto Grilled Cheese
Croutons
Bessie Anderson Stanley wrote this poem in 1904. She won $250.00 in a poetry contest which paid off the mortgage on her house. This famous poem, titled Success, grabbed my attention just yesterday as my nephew, Jeremy, read it at his grandfather's funeral. Naturally, it had me thinking of my William, too.
He has achieved success who has lived well, laughed often and loved much
who has enjoyed the trust of
pure women,
the respect of intelligent men and
the love of little children;
who has filled his niche and accomplished his task;
who has left the world better than he found it
whether by an improved poppy,
a perfect poem or a rescued soul;
who has never lacked appreciation of Earth's beauty
or failed to express it;
who has always looked for the best in others and
given them the best he had;
whose life was an inspiration;
whose memory a benediction.
At the ripe old age of 90, still living in his own home and cared for by 3 loving sons, my father in-law, Loren D. Keys, Jr. lived a most successful life by any standards. An accomplished banker, world traveler, avid bird watcher and reader of the Wall Street Journal this poem fit him to a tee and made sense.
His death, although sad and painful, made sense, too. The family could see it coming. There was time to put feelings in order. We, along with him, could prepare. It was anticipated. Unlike sudden death and loss, there was a valuable period of time to look into each others eyes and say, "I love you" and good-bye. One has to be grateful for that.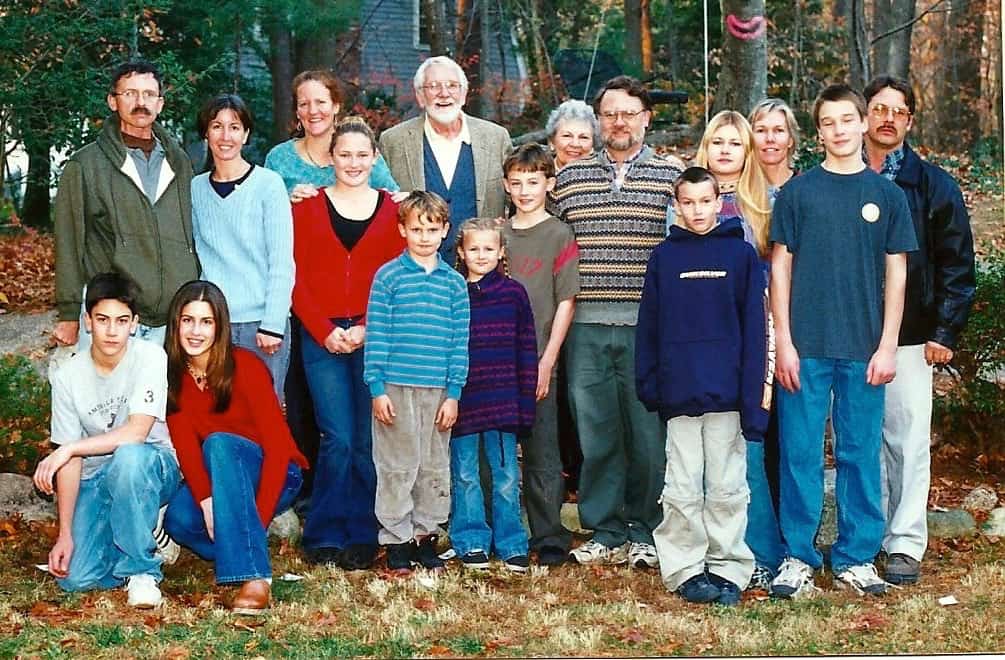 Loren's greatest measure of success is suggested by the line, "the love of little children". He helped raise up 10 grandchildren who loved him dearly. Missing from this photo is grandson #1..the darling Zachary. He along with my William pre-deceased their grandfather.
Success in the kitchen begins with seasonal fresh ingredients. From the backyard garden or a local farm fresh ingredients can't be beat in flavor, color and texture. Cooking in season is the way to roll. Right now my garden is filled with fresh basil, flat leaf parsley and grape tomatoes which brings this award winning recipe to you. The pesto is inspired by Marcella Hazan. The only thing different I do is add a cup of fresh parsley. I think it gives the pesto an extra bright green color and some added sweetness to this pesto grilled cheese.
Print
Fresh Tomato Salad with Pesto Grilled Cheese Croutons
---
Author:

Total Time:

20 minutes

Yield:

serves 4
Description
Pesto grilled cheese croutons need I say more?
---
¼ cup prepared basil pesto
4 slices thinly sliced firm white bread, crusts removed
1 ball fresh mozzarella, sliced
2 to 3 tablespoons extra-virgin olive oil plus additional for brushing on to bread
2 cups (1 pint) mixed cherry or grape tomatoes, halved
kosher salt and freshly ground black pepper
10 fresh basil leaves, thinly sliced plus fresh sprigs for garnish
1 tablespoon balsamic vinegar
1 small fresh chile pepper, seeded, thinly sliced into slivers
2 tablespoons freshly grated parmesan cheese
---
Instructions
Spread pesto over two slices of bread; top with mozzarella in a single even layer.
Cover cheese with another bread slice forming a sandwich.
Brush both sides of sandwich with olive oil. Grill sandwiches until toasted golden brown on both sides; set aside on cutting surface.
Meanwhile, in a bowl, combine all tomatoes; season with salt and pepper.
Sprinkle the basil and chile pepper over the tomatoes. Drizzle with olive oil and vinegar; toss gently.
Divide salad among 4 serving plates. Sprinkle with parmesan cheese.
Slice grilled cheese sandwiches into bite-size pieces; arrange on salad plates.
Garnish with fresh basil sprigs.
Prep Time:

15 minutes

Cook Time:

5 minutes

Category:

salad

Method:

stove top

Cuisine:

Italian
Keywords: pesto, grilled cheese croutons, salad, fresh tomatoes
BLENDER PESTO
(From Marcella Hazan's The Classic Italian Cook Book)
2 cups fresh basil leaves (see note below) 1⁄2 cup olive oil 2 tablespoons pine nuts 2 cloves garlic, lightly crushed with a heavy handle and peeled 1 teaspoon salt
1⁄2 cup freshly grated Parmesan cheese 2 tablespoons freshly grated Romano pecorino cheese 3 tablespoons butter, softened to room temperature
Put the basil, olive oil, pine nuts, garlic cloves, and salt in the blender and mix at high speed. Stop from time to time and scrape the ingredients down toward the bottom of the blender cup with a rubber spatula.
When the ingredients are evenly blended, pour into a bowl and beat in the two grated cheeses by hand. (This is not much work, and it results in more interesting texture and better flavor than you get when you mix in the cheese in the blender.) When the cheese has been evenly incorporated into the other ingredients, beat in the softened butter.
Before spooning the pesto over pasta, add to it a tablespoon or so of the hot water in which the pasta has boiled.
*Note: The quantity of basil in most recipes is given in terms of whole leaves. American basil, however, varies greatly in leaf sizes. There are small, medium, and very large leaves, and they all pack differently in the measuring cup. For the sake of accurate measurement, I suggest that you tear all but the tiniest leaves into two or more small pieces. Be gentle, so as not to crush the basil. This would discolor it and waste the first, fresh droplets of juice. Serves 6.