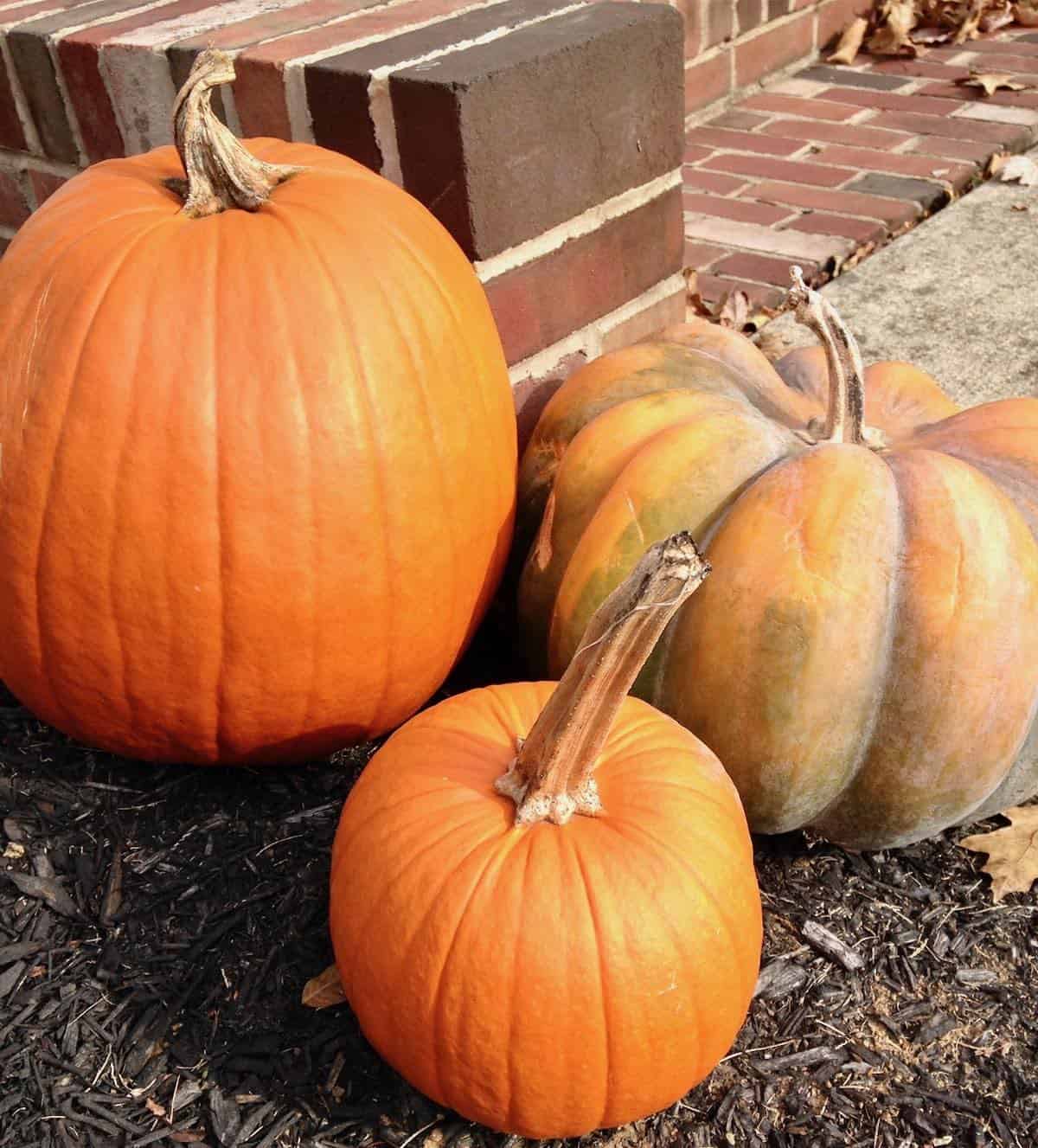 Pumpkin harvest torte is the most flavorful pumpkin mousse surrounded by warmly spiced snap cookies. It's a delightful change from the usual pie served this time of year.
Pumpkin spice. We are obsessed with it. Grocery store aisles are filled with a variety of pumpkin flavored products from coffee to dessert. It brings to mind falling leaves, cool nights and the smell of warm spices wafting through the kitchen. I love this time of year.
What are pumpkin spiced snaps?
Recently, I tried these cookies called pumpkin spice snaps. Made in Pennsylvania, (love the USA) they are brand new to the market and I got a sneak peak taste. Filled with warm spices like cinnamon, ginger and cloves and sweetened with molasses these cookies have the perfect crispy snap that one would expect from the name. While simply delicious on their own I could not help but want to play with them in some dessert recipes. The first recipe I tried was a cookies and cream pumpkin cake. It was a hit with crispy cookie bits adding a textural contrast to the creamy frosting, but I could not stop there.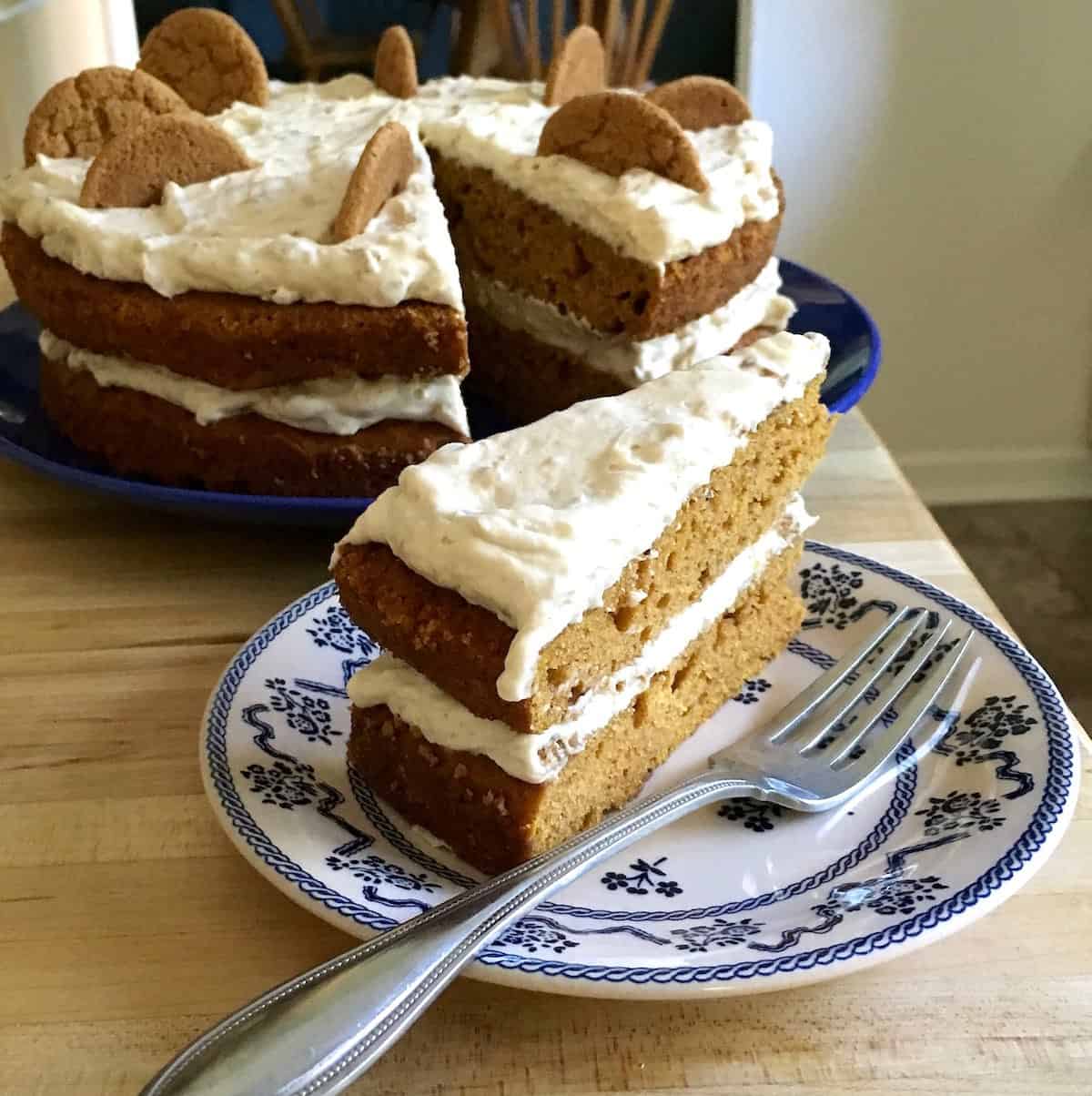 Baking tip cookie hack
See those cookie bits on the edge of the cake above? I greased my cake pans and then dusted them with finely crushed cookies instead of flour. It adds flavor and crunch.
As of today I have harvested 7 sugar pumpkins and there are at least another dozen lying in wait. I only planted 4 seeds! Plant some seeds people! No garden? Pick up sugar pumpkins at the local farmers' market.
How to roast a sugar pumpkin
For fresh pumpkin all one needs to do is roast them whole (400F. for about an hour) on a foil lined baking sheet until they feel soft. Cool, peel, seed and puree the orange flesh in the food processor and then drain for an hour or two in a paper towel lined sieve with a weighted plate on top. It's amazing how much liquid drains out leaving silky concentrated fresh pumpkin behind. It freezes well, so please, completely skip the canned stuff.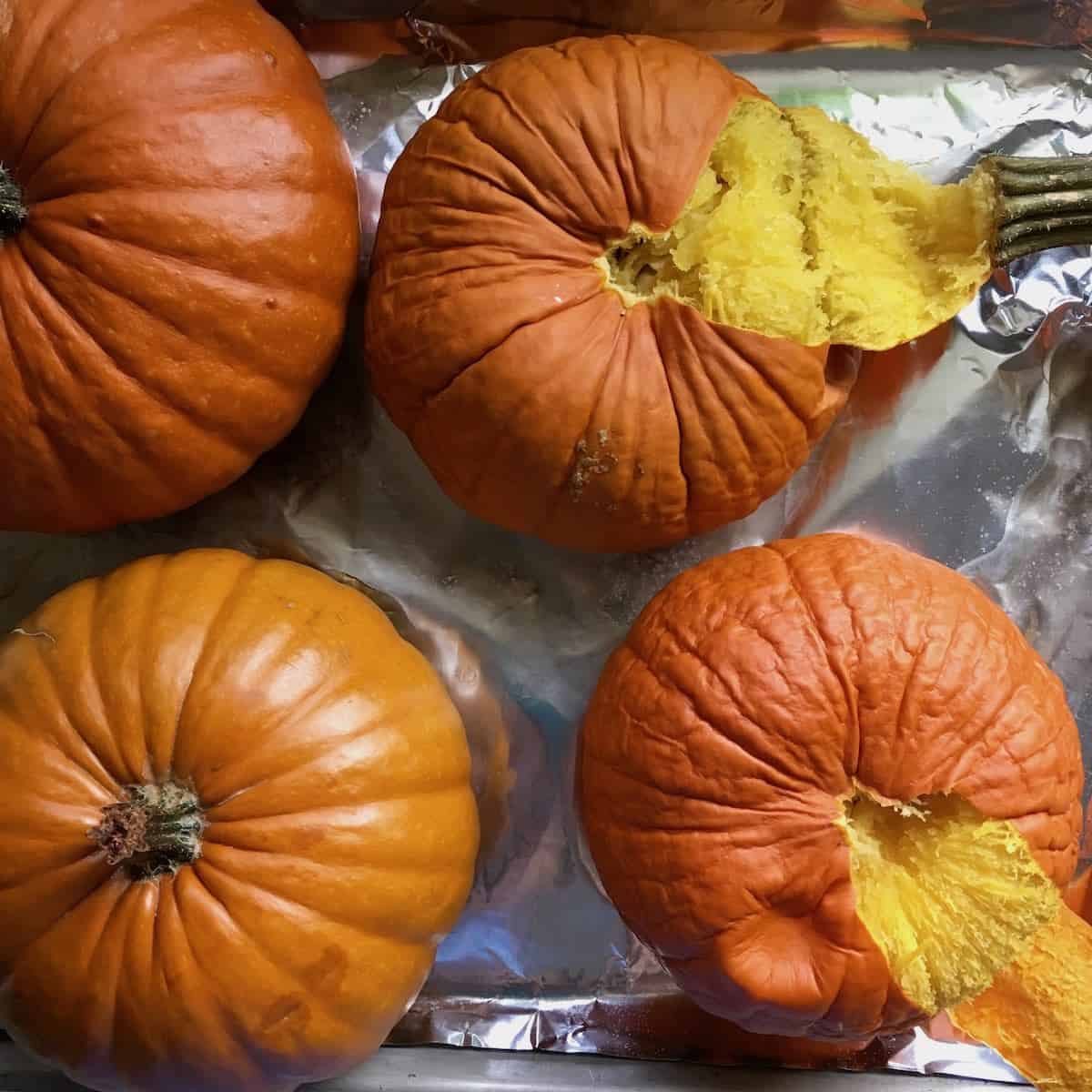 In today's featured recipe I really wanted to show these beautiful cookies off. There is no better way than to share my signature cookie crust. I first featured this idea, many years ago, in a Southern Living Magazine cook-off. It was such a big hit that even a restaurant out in Colorado asked my permission to use it on their menu. It works with any crisp, wafer like cookie and creates a lovely edge to the dessert.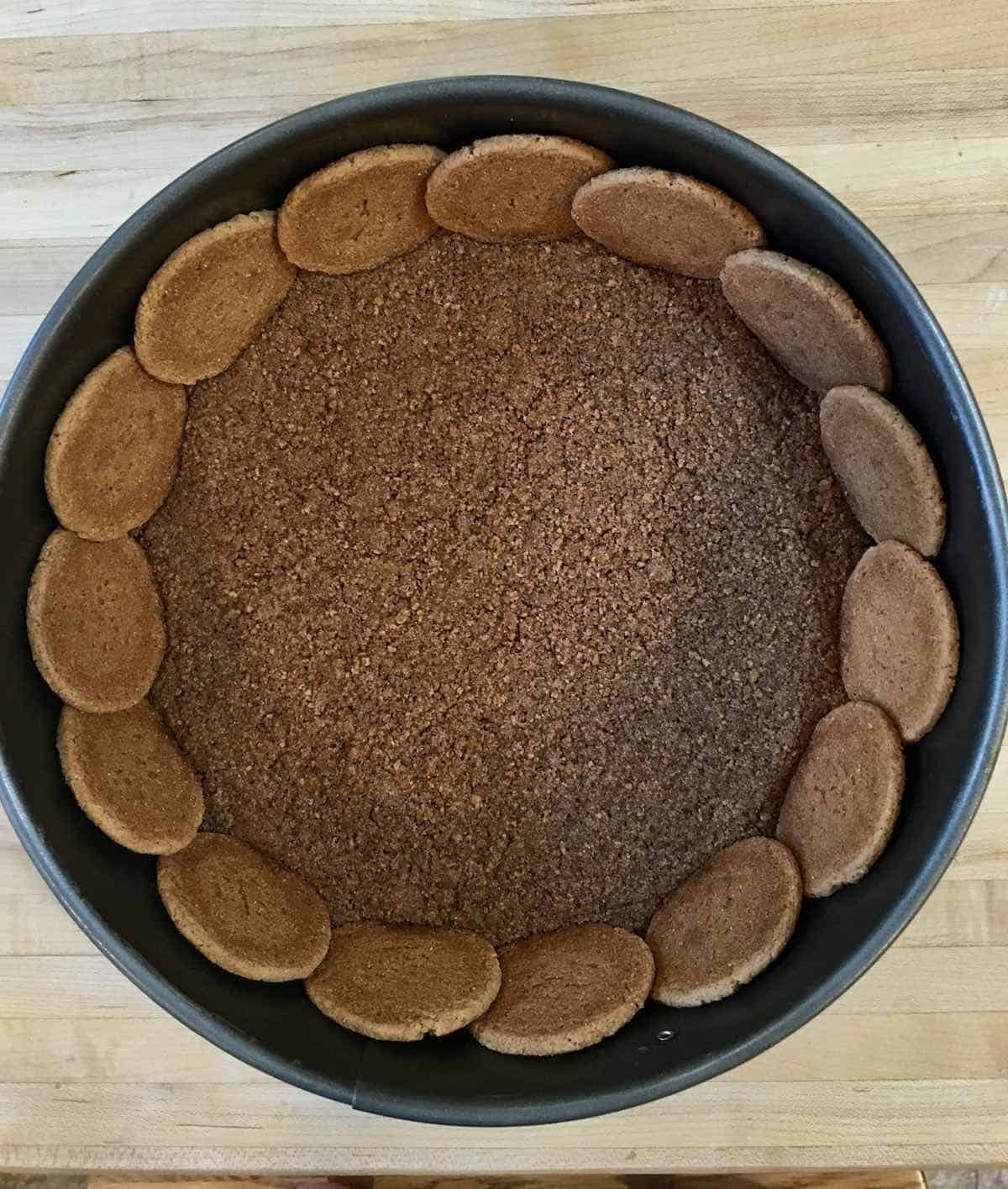 More baking tips
First, bake the crust and let it cool. Then fill it with the most luscious fresh pumpkin mousse which in my case is "spirited" (I love you, William). If you don't like the alcohol feel free to substitute fresh OJ or apple juice or even maple syrup in its place. Feel free to play with the spices too, but for me there is nothing better and easier than a quality pumpkin pie spice mixture like the one from King Arthur Baking Company.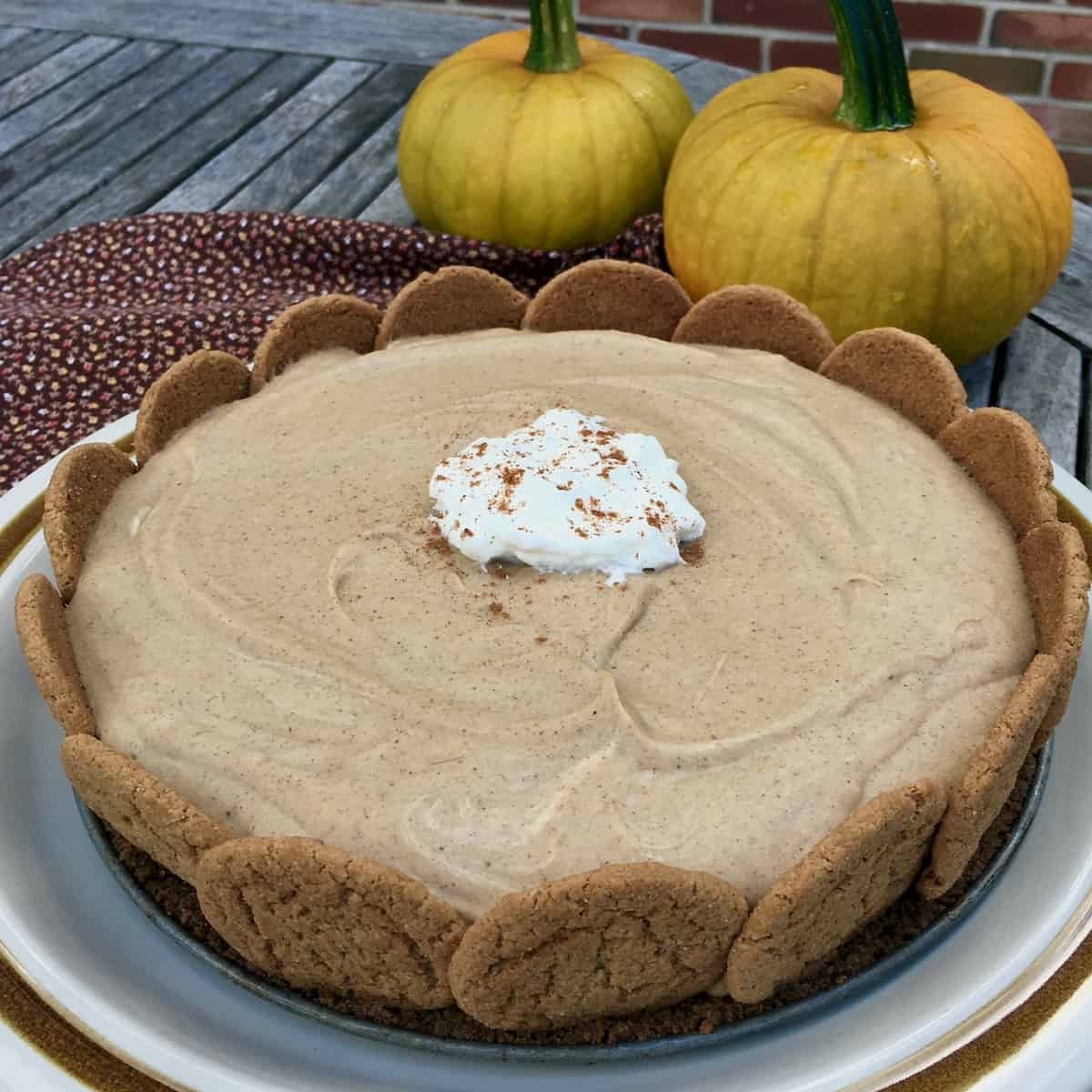 Make this dessert one day in advance, so the cookies will soften slightly for easier slicing. Anything I can make in advance of a holiday like Thanksgiving is a godsend. It really takes the edge off of party planning. In fact, it can even be prepared 2 days in advance. Top it with sweetened whipped cream or Greek yogurt, oh, yes, this recipe is way better than the usual pumpkin pie. You are welcome.
Print
Pumpkin Mousse Torte
---
Author:

Total Time:

35 minutes

Yield:

Serves

10

.

1

x
Description
fresh roasted pumpkin makes the best mousse torte
---
33 Stauffer's Pumpkin Snaps, divided
4 tablespoons (¼ cup) unsalted butter, melted
2 tablespoons water
2 tablespoons bourbon or orange juice (for non-alcohol version)
1 (¼-oz) package unflavored gelatin
½ cup packed light brown sugar
¼ cup cornstarch
2 teaspoons pumpkin pie spice (I use King Arthur Flour brand)
¼ teaspoon salt
1 cup heavy cream, divided
2 egg yolks
1 ½ cups whole milk
1 cup unseasoned pumpkin, drained on paper towels
1-teaspoon vanilla
---
Instructions
Heat oven 350F.

Place 18 cookies in food processor fitted with blade. Process until cookies are finely crushed to make 1 cup of cookie crumbs. Add butter; pulse until crumbly.

Press cookie crumbs over bottom of 9-inch springform pan. Place remaining cookies around edge of pan slightly overlapping and rounded side out. Gently press each cookie into the bottom crust. Bake for 8 to 10 minutes or until toasted. Cool crust in pan on a wire rack.

In small bowl, combine water and bourbon or orange juice; sprinkle gelatin over the top. Set mixture aside to let gelatin soften.

In medium saucepan, whisk brown sugar, cornstarch, pumpkin pie spice, salt and ½ cup heavy cream until smooth. Add egg yolks and milk; whisk until well blended. Cook over medium heat, whisking, until mixture comes to a boil. Reduce heat to low and continue cooking another minute being sure to scrape the sides of the pot with a heat-proof spatula.

Whisk in gelatin mixture until it is fully dissolved. Remove from heat.

Whisk in pumpkin and vanilla. Press a piece of plastic wrap to pumpkin mixture to prevent a skin from forming. Chill in refrigerator for 2 hours.

Whip remaining ½ cup heavy cream to soft peaks; fold into pumpkin mixture.

Pour filling into prepared crust; smooth top. Cover and chill at least 4 hours or as long as overnight.

Cut into wedges and top with sweetened whipped cream or Greek yogurt. 
Prep Time:

15 minutes

Cook Time:

20 minutes

Category:

dessert

Method:

baking/stovetop

Cuisine:

American
Keywords: pumpkin, mousse, torte, holiday dessert, special occasion, cookie crust, warm spices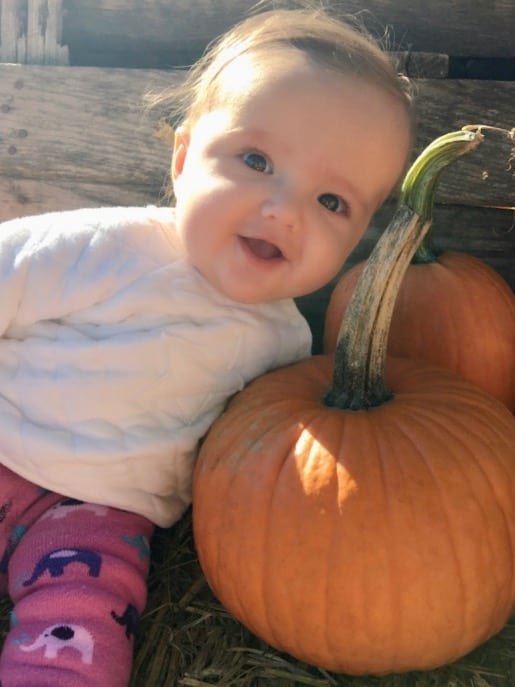 This post was featured by Twinkl in their Best Halloween Desserts Guide
BTW-I receive no compensation for endorsing any products. Last year I won a contest sponsored by Stauffer's and my prize is a monthly cookie gift package for a year.