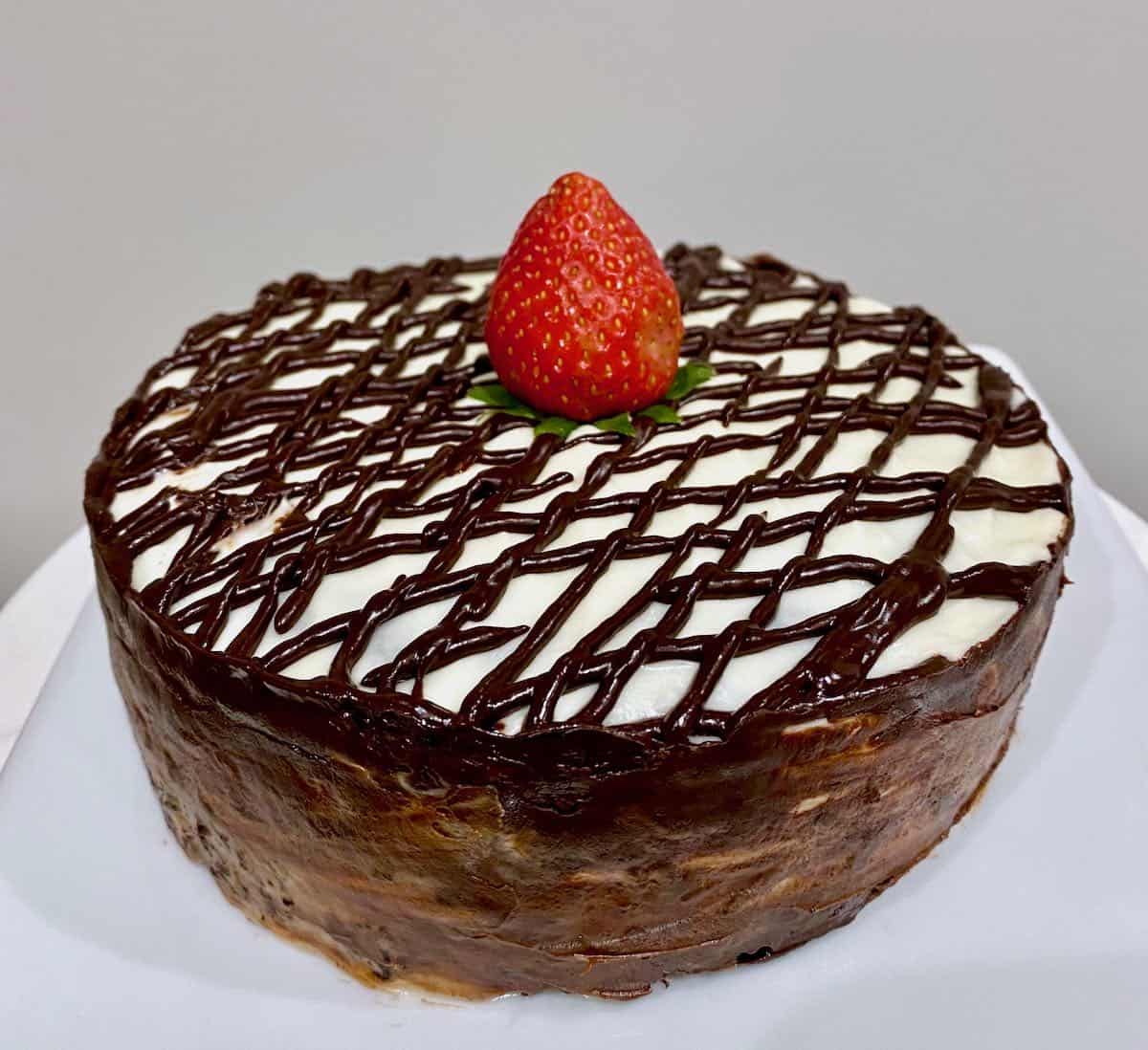 Let us bake a no jars sous vide chocolate cake. Are you ready for this?
One of the most difficult things about baking is getting a consistent result from one kitchen to the next. Nothing illustrates this better than the baking competitions held at local and state fairs. I remember judging a cake contest sponsored by King Arthur Flour and was amazed how given the exact same recipe 50 cakes from 50 bakers could be so drastically different in taste, texture and appearance. From one kitchen to the next and from one baker's technique to the next the variables are infinite. What if you could take the guesswork out of baking? What if we could eliminate improper measuring technique? How about eliminating the worry of oven hot spots or an oven that's too hot or too cool? And what if we could choose the exact baking temperature and time and have it never fail no matter the kitchen?
Best tips for sous vide cake making
Say "Hello" to baking using weight measurements and the sous vide method of cooking. Now baking by weight is nothing new, but here in the old US of A some are slow to grasp the concept. In all it's creativity baking is still an exact science, so get on board with weighing ingredients for consistent results.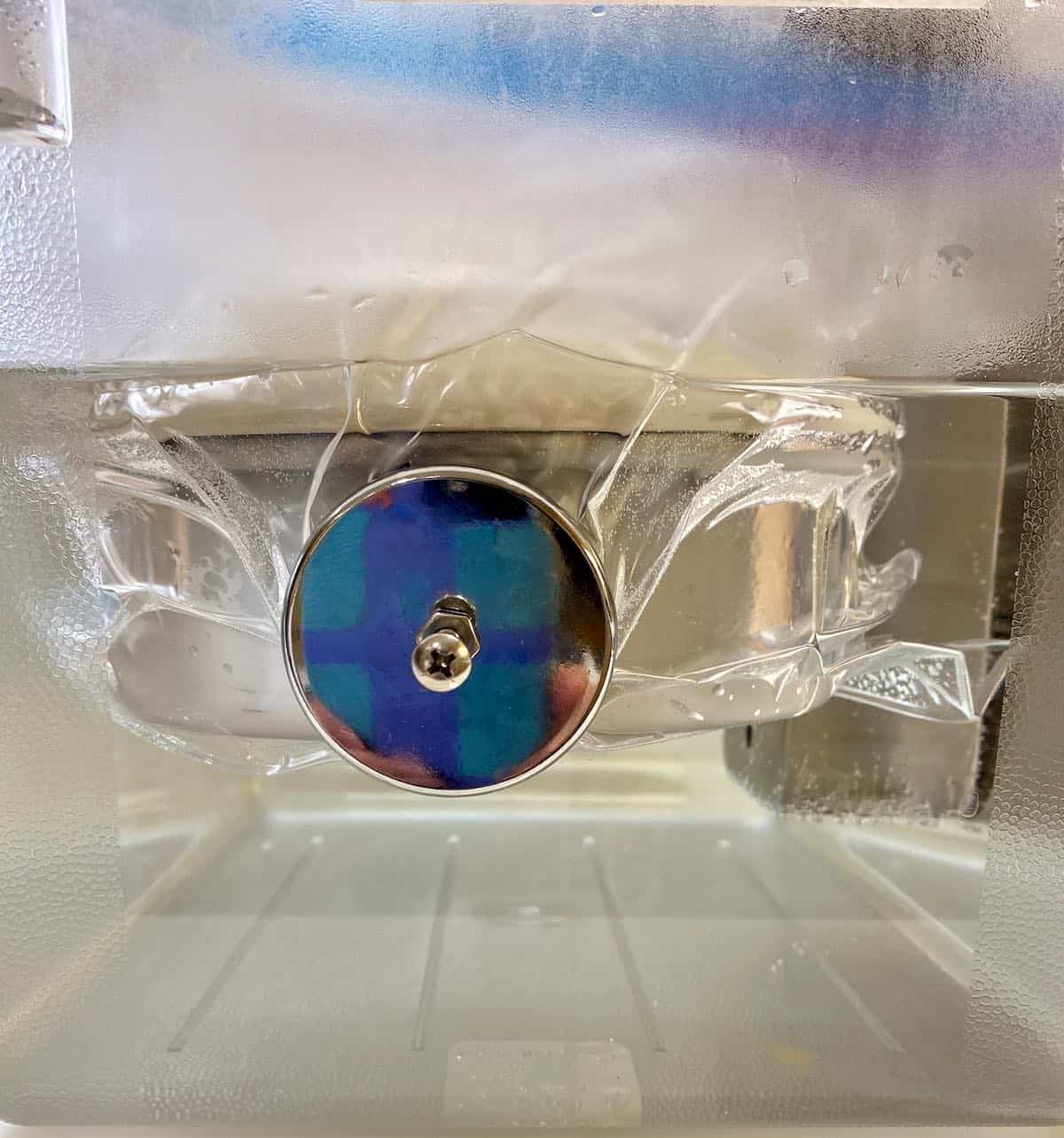 Lots of desserts are made with the sous vide method of cooking, but typically they are cooked in canning jars and not cake pans. The jars work great for creme brulee and other custard type preparations, but I have yet to eat a sous vide jar cake that I like. First, most of them take up to 3 hours to get fully cooked. Second, I find the dumpy, cylinder shape of a jar cake off-putting. To their creative credit, some bakers like to crumble the cake into modernist clumps for better appearance, but, well, that's just not a luscious layer cake in the way a cake is meant to be.
What you need
Now let's measure out all our ingredients and bake a no jars cake sous vide style (a time and temperature controlled water bath). In addition to your sous vide equipment, you will need:
a 6-inch cake pan
a 1-gallon Ziploc brand freezer bag (the only brand recommended for sous vide cooking)
a set of at least 25 pound strength magnets
a heat proof plate that is same diameter as your cake pan.
As far as the filling and frosting for this deliciously moist and full-flavored chocolate cake you can use what I suggest here or pick and choose your own favorites. I think a peanut butter filling and frosting or black forest version would be fantastic, but simply dusted with powdered sugar and a dollop of whipped cream is just as good.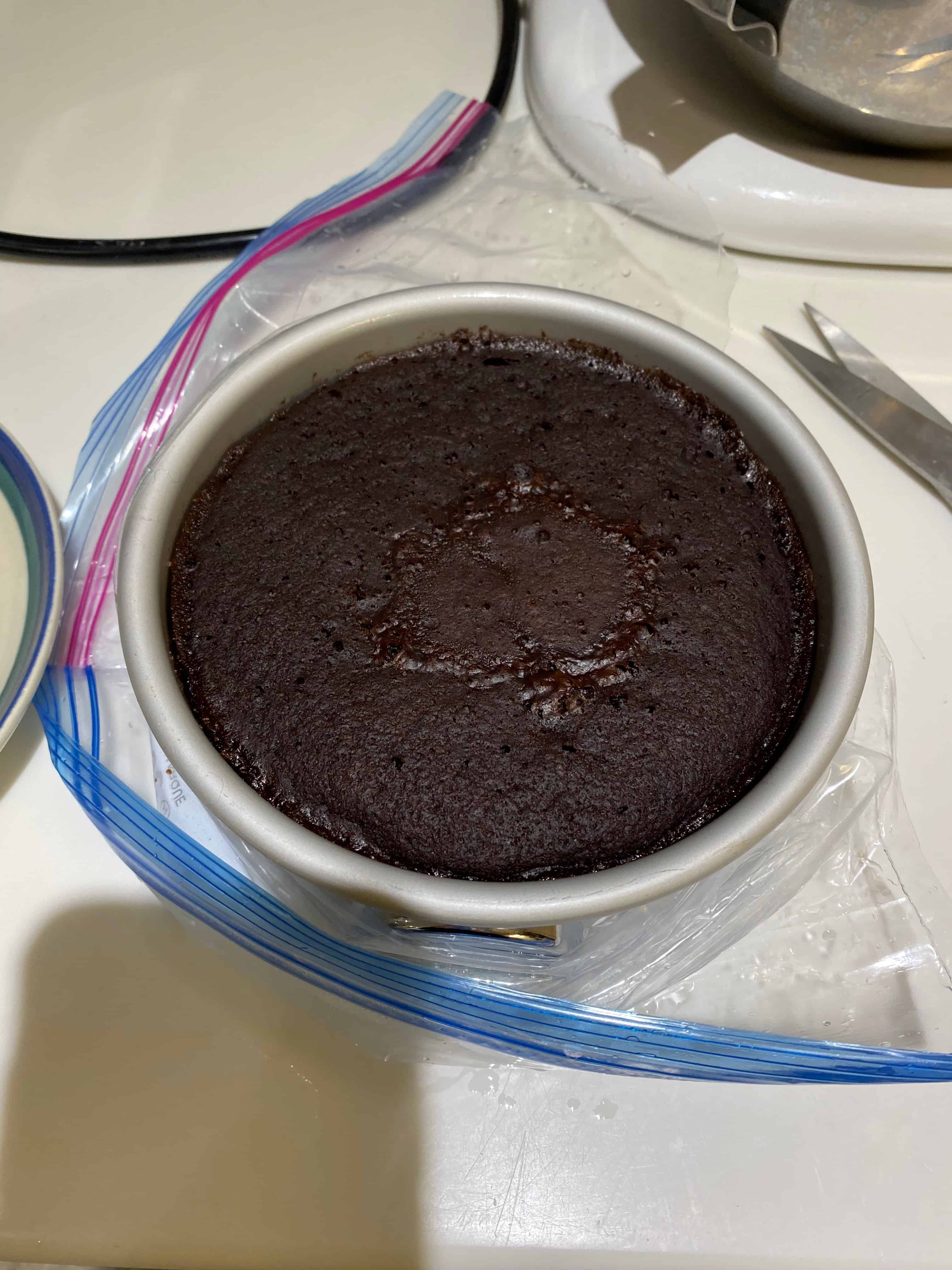 Print
No Jars Needed Sous Vide Chocolate Layer Cake
---
Author:

Total Time:

1 hour 15 minutes

Yield:

serves 6
Description
A delicious chocolate cake and a new technique that works in every kitchen.
---
71 grams (½ cup) all-purpose flour
15 grams (2 ½ tablespoons) unsweetened cocoa powder
½ teaspoon baking soda
¼ teaspoon kosher salt
99 grams (½ cup packed) light brown sugar
1 egg
¼ cup strong black coffee
¼ cup buttermilk
3 tablespoons melted butter
1 teaspoon vanilla
1-2 cups Cream cheese frosting 
½ cup diced fresh strawberries 
3 tablespoons strawberry jam
¼ cup chocolate ganache
---
Instructions
Set up your water bath and immersion circulator according to your equipment. Heat water bath to 198F and set cook time for 1 hour.
Lightly coat a 6-inch round cake pan with non-stick spray. Line bottom of pan with parchment paper and spray with no-stick spray.
In medium bowl, whisk flour, cocoa powder, baking soda and salt; set aside. In another bowl, whisk brown sugar and egg, about 30 seconds, making sure there are no lumps. Add coffee, buttermilk, butter and vanilla; whisk until well blended.
Add flour mixture; gently whisk until dry ingredients are just moistened.
Pour batter into pan. Insert pan into a 1-gallon Ziploc bag centering pan over bottom of bag. Add a magnet, facing out, from side of pan.
Cover pan with a heat proof plate. Seal bag pushing out as much air as possible. Drop sealed cake into water bath attaching magnet to side of container making sure cake pan is submerged to its rim or slightly below water. Make slight adjustments, if needed, to be sure cake pan is level.
Cook cake for 1 hour. Remove from water bath and open bag to let heat escape. Carefully remove cake from bag and remove plate.
Let cake cool in pan for 10 minutes. Run a thin knife around the edge and invert on to cooling rack. Remove parchment paper. Cool completely.  
Cake is delicious on its own served with whipped cream, but I like slicing it in half, horizontally, and turning it into a layer cake. I filled this one with a mix of fresh strawberries and jam and then frosted it with cream cheese frosting. I then swirled chocolate ganache (melted semisweet chocolate and heavy cream) through the frosting. 
Prep Time:

15 minutes

Cook Time:

60 minutes

Category:

dessert

Method:

sous vide

Cuisine:

american
Keywords: chocolate cake, sous vide, birthday, no jars
You saw it here first and I couldn't be more excited! Now us bakers who also sous vide can consistently make the same cake from one kitchen to the next. Give it a try and let me know how it goes.
<3