Last weekend, I enjoyed the pleasure of my daughter's company. Selfishly, I love having her all to myself. As we roam around Chester County in search of treasures at the local antique shops it's obvious she has an impressive decorator's eye. She inherited that most likely from her Grandma Keys.
Back home, in my kitchen, we cook a fabulous crab cake salad with a buttermilk ranch dressing. We used recipes from the latest edition of Cooking Light. She likes cooking healthy and has creative mad skills in the kitchen, too. It brings me back to younger days when the two of us would enter our art and baking projects at the Bethlehem Fair. It's actually how we were first introduced to King Arthur Flour who sponsored the state level competitions. What I love about these fairs is NOT everybody gets a ribbon. The win actually means something. It signifies learning and that hard work pays off. It's a joyful and proud moment to see the blue ribbon on your kid's entry.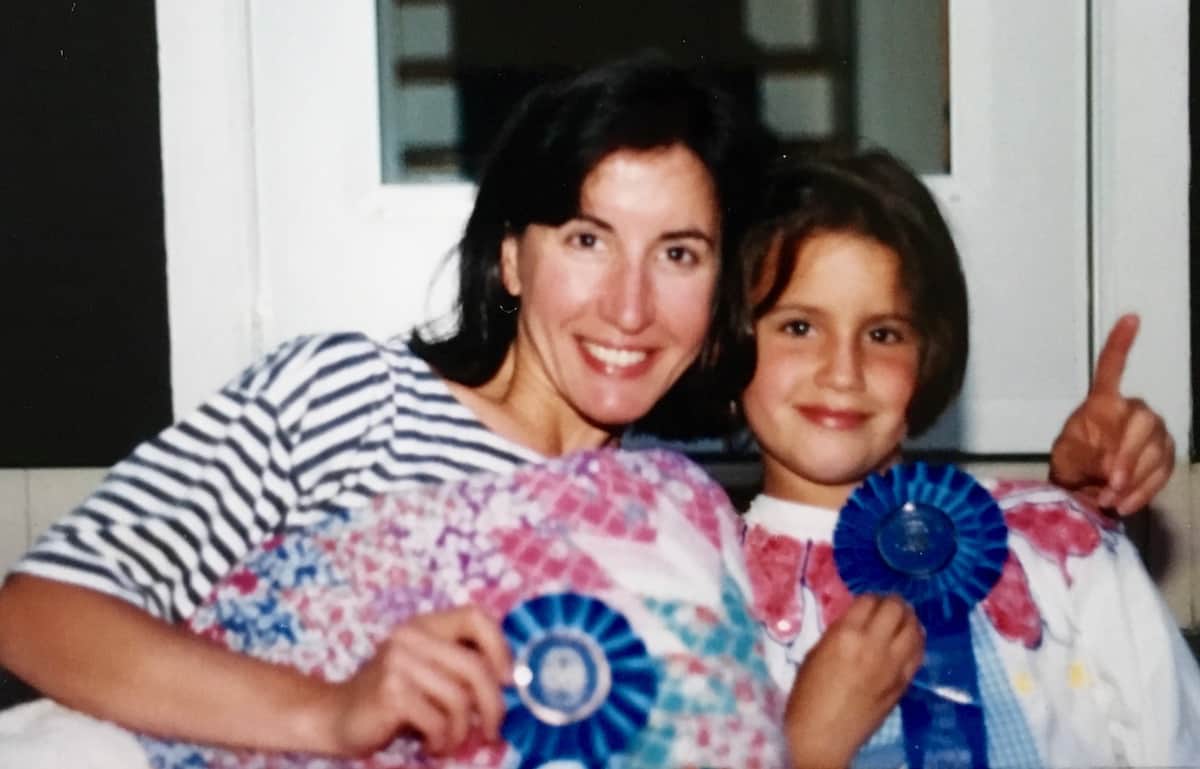 As we discuss the merits of buttermilk and value of USA wild-caught seafood, Caitlin mentions that she has been craving pancakes. However, not enjoying them as she has cut back on carbs. Hmmmm, I tuck that thought into the back of my brain. But, pull it out this week with the caveat...life's too short not to enjoy delicious pancakes.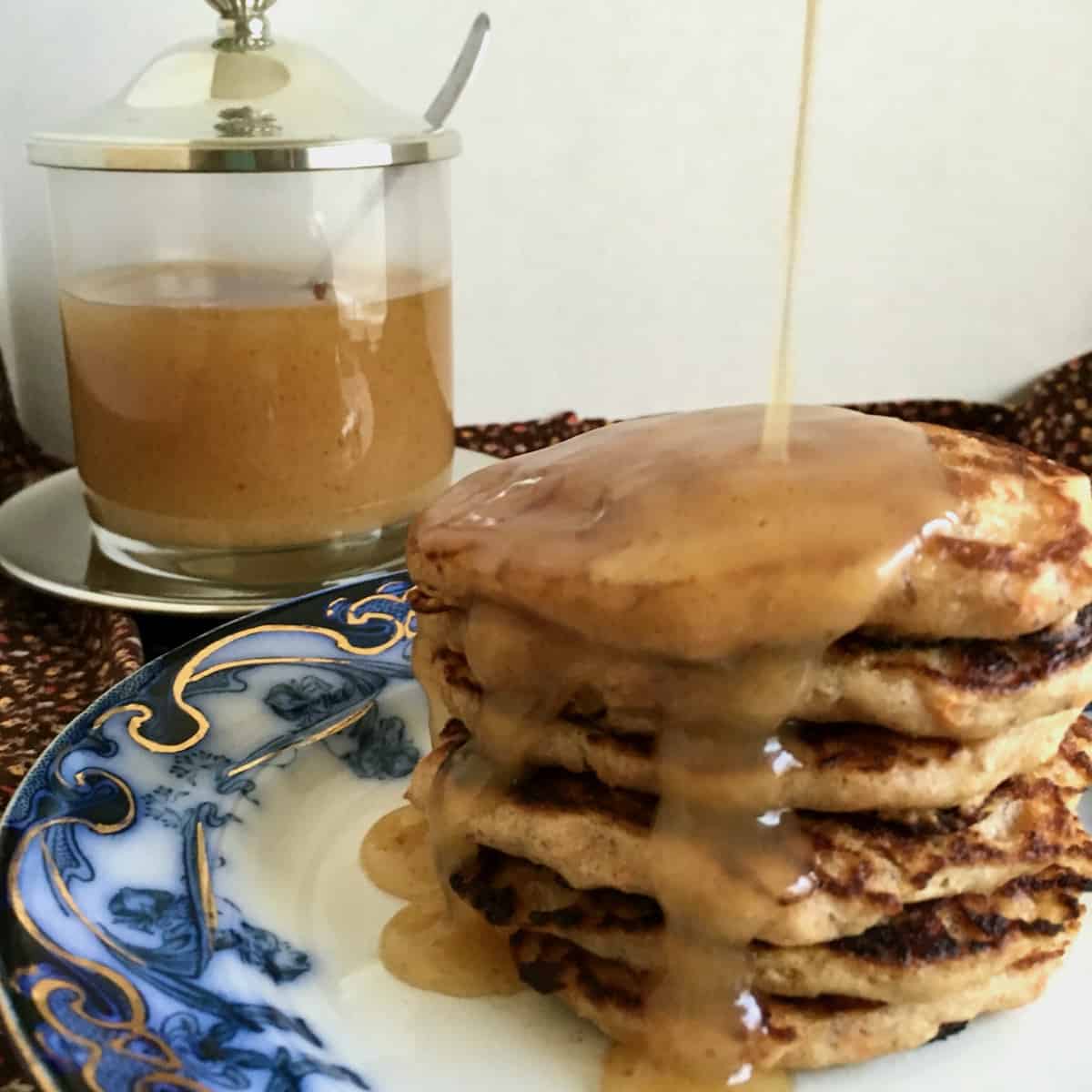 Easter Sunday brunch is on its way and I thought I could come up with a holiday inspired menu that included healthy pancakes. I won't lie...I was looking for a way to use up the rest of the buttermilk, too. Dear daughter, thanks for ever inspiring me. I'm very proud of the woman you have become. Joy and love to you always.
So, I never order pancakes unless the restaurant is offering real maple syrup to go on top. I am a syrup snob and refuse to eat the maple "flavored" stuff. However, this brown butter buttermilk syrup is a fabulous something different to pour over pancakes and French toast, as well as, ice cream or a cake. It's like a luscious buttery light caramel.
Print
Whole Grain Carrot Pancakes with Brown Butter Buttermilk Syrup
---
Author:

Total Time:

19 minutes

Yield:

12 pancakes
Description
Take a break from the usual breakfast with this buttery syrup over whole grain carrot pancakes
---
½ stick (¼ cup) unsalted butter
½ cup buttermilk
½ cup sugar
1-tablespoon corn syrup
⅛-teaspoon fine sea salt
½ teaspoon vanilla
¼ teaspoon baking soda
¾ cups white whole wheat flour (I use King Arthur)
1-tablespoon ground flax seed meal (Bob's Red Mill)
½ tablespoon baking powder
½ teaspoon ground cinnamon
½ teaspoon fine sea salt
½ cup grated carrots (use medium hole on box grater)
¾ cups buttermilk
1 egg
2 tablespoons melted unsalted butter
2 tablespoons light brown sugar
½ teaspoon vanilla
---
Instructions
Melt butter in medium saucepan over medium-low heat. Cook butter, swirling pan occasionally, for about 5 minutes or until it begins to brown.

Whisk in buttermilk, sugar, corn syrup and salt; bring to a boil. Reduce heat and simmer for 8 to 9 minutes, stirring occasionally, or until mixture is a golden brown.

Whisk in vanilla and baking soda (it will foam up). Remove from heat and keep warm while making pancakes.

In medium bowl, whisk flour, flax, baking powder, cinnamon and salt; set aside.

Spread carrots over a paper towel. Top with a second towel and gently press together.

Microwave carrots on HIGH for 2 minutes to remove moisture and soften.  

In another bowl, combine carrots, buttermilk, egg, butter, brown sugar and vanilla.

Add wet ingredients to dry; mix just until dry ingredients are moistened. Do not overmix.

Spoon batter (about a heaping tablespoonful for silver dollar style pancakes) onto a lightly greased non-stick skillet or griddle over medium-low heat.

Cook about 2-3 minutes per side or until golden brown. 
Prep Time:

5 minutes

Cook Time:

14 minutes

Category:

quick breads

Method:

stovetop

Cuisine:

American
Keywords: syrup, buttermilk, pancakes, brown butter, breakfast, brunch, whole grain, healthy
Lightly spiced whole grain pancakes are a great way to get your little bunnies to eat and enjoy their carrots.