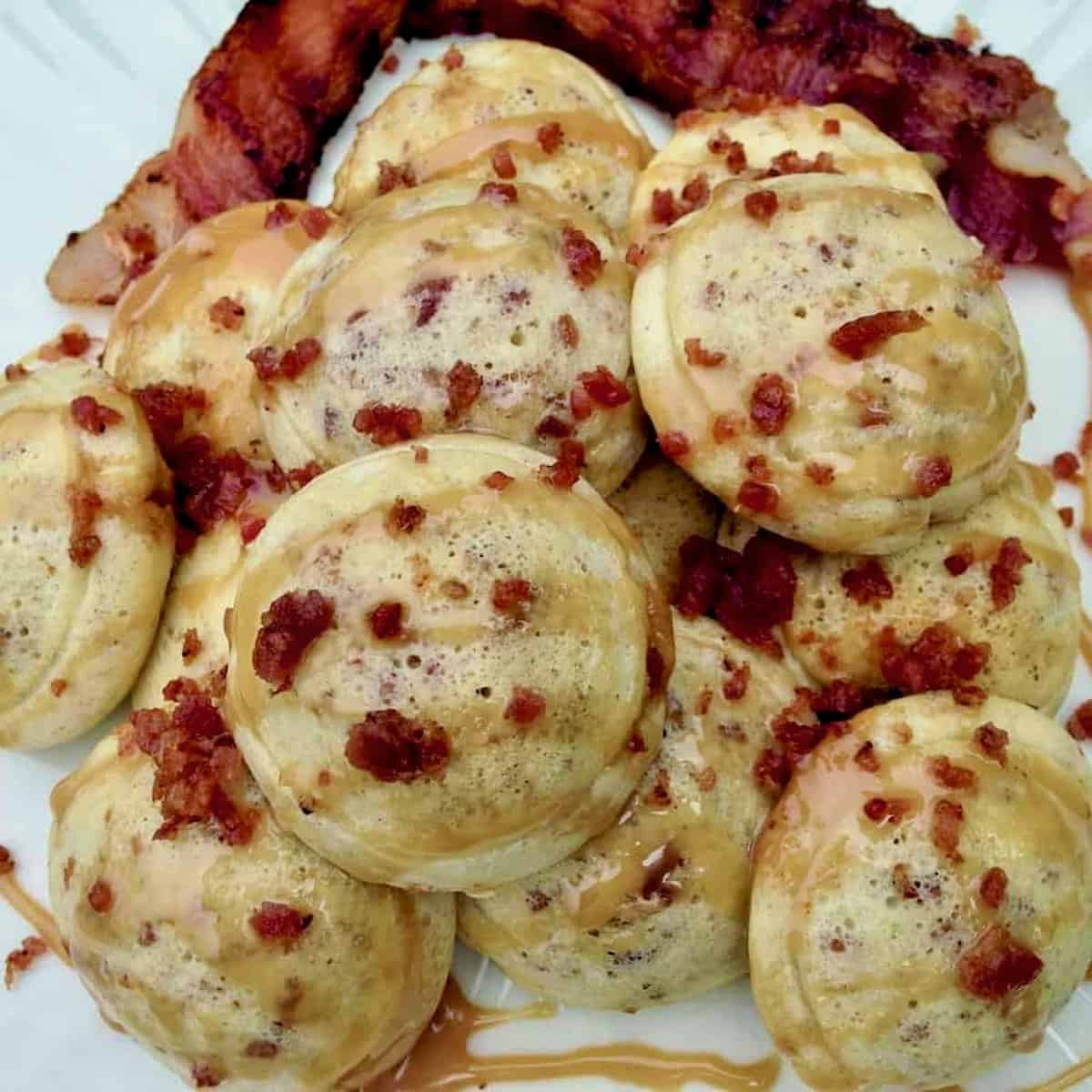 Good days and Bacon ebelskivers with salted caramel
I spent a significant part of my day creating this recipe for a contest only to realize I had missed the deadline. It has been that kind of week or should I say month. It is embarrassing to say, but not only did I have an episode of putting my shorts on backwards, bit I did not realize it until many hours later. Then, an episode of trying to get into a car in the parking lot that did not belong to little old me. Clearly, I am distracted.
Brain misfires like these make me feel like I am taking a few steps backwards. It is an upsurge in grief. I know why it is happening. It is June and there are lots of graduation parties going on. Some of my proudest moments in life were seeing my children graduate from high school and Caitlin from college. I so looked forward to William going to college, too.
I don't know about you, but as a parent I marked my life by the events and accomplishments of my children. From the time they took their first step, to getting a good report card, to making the team or not, graduating, getting married....all these things reinforced my role as a parent. I love nothing more than being a mom.
There are times I yearn for William. Truly, I am happy to see his friends graduate or getting engaged or having children, but at the same time it can be excruciating. I am growing up with a loss. I have a lot to learn, but I know I will survive these brief upsurges of grief. And you will, too.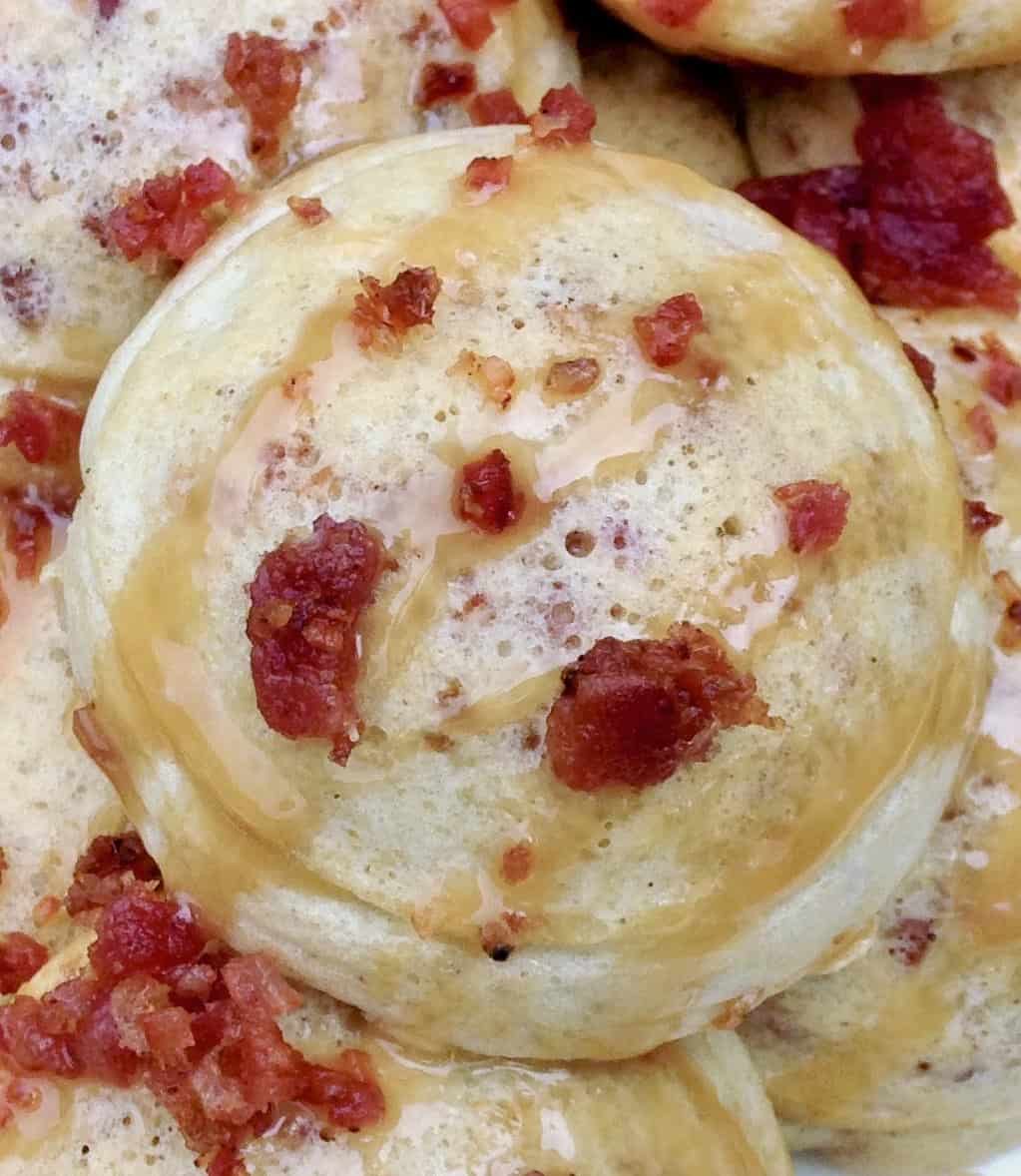 Now it's time for the good days and bacon recipe. It is far from a misfire and rather far out of my comfort zone. Puffy little pancakes with caramel and bacon; the perfect balance of salty, sweet and savory. I think it is a winner. The ebelskiver pan can be yours from where else but Williams-Sonoma.
Print
Salted Caramel-Bacon Ebelskivers
---
Author:

Total Time:

38 minutes

Yield:

14

pieces

1

x
---
6 slices thick cut apple wood smoked bacon
20 caramel candies, unwrapped*
¼ cup heavy cream
pinch of kosher salt
½ cup all purpose flour
1 teaspoon sugar
¼ teaspoon baking powder
1 egg, separated
½ cup milk
1 tablespoon melted butter
½ teaspoon vanilla extract
---
Instructions
Heat oven to 200F.
Cook bacon until crisp. Transfer bacon to paper towel to drain; reserve bacon grease. Crumble bacon into bowl of a food processor; pulse until finely chopped.
In small saucepan, over low heat, stir caramel candies, cream and salt until melted and smooth; keep warm.
In small bowl, whisk flour, sugar and baking powder.
In another bowl, whisk egg yolk, milk, butter and vanilla. Pour wet ingredients and ½ cup bacon into dry ingredients; blend well with a spoon. The batter will look lumpy.
Beat egg white until stiff peaks form. Fold ⅓ of egg white into batter to lighten it up. Fold remaining egg whites in until fully incorporated.
Brush the wells of an ebelskiver pan lightly with the reserved bacon grease; place over medium-low heat
 When the bacon grease is hot, spoon 1 tablespoon of batter into each well.
Working quickly, spoon ½ teaspoon of warm caramel into center of each pancake. Top each with another tablespoonful of batter.
Cook for 3 to 5 minutes or until the bottom of the pancakes are golden brown and crisp. Using two wooden skewers or chopsticks, turn the pancakes and cook for 3 more minutes or until golden brown.
Transfer pancakes to an oven-safe platter and keep warm in oven while making the second batch.
Arrange pancakes on platter. Drizzle with some warm caramel and sprinkle with 1 tablespoon bacon.
Serve passing remaining caramel sauce. 
Notes
 ½ cup of high quality prepared caramel sauce may be substituted for this homemade sauce
Prep Time:

30 minutes

Cook Time:

8 minutes

Category:

dessert

Method:

stovetop

Cuisine:

American
Keywords: puffy pancakes, caramel, brunch, bacon, ebelskiver