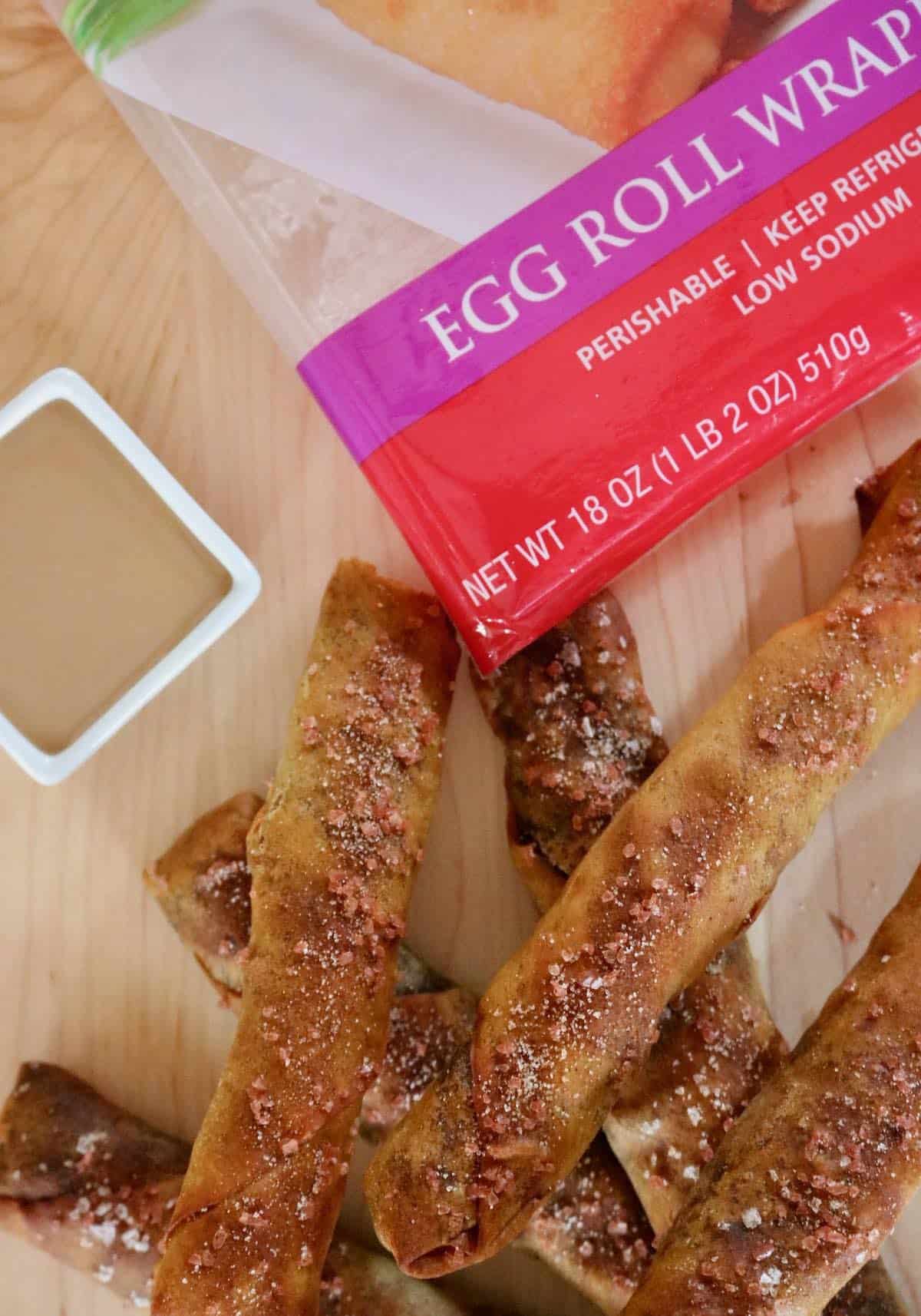 Let's get ready for the Big Game! It's time to cheer for our favorite team, enjoy a half-time show and share delicious snacks and appetizers. When it comes to game-day food, the hottest trend is using egg roll wrappers to transform popular party flavors into finger foods. Everything from chili to pizza can be stuffed into an egg roll and then baked, fried or boiled. I'm gearing up for the game with Twin Dragon Egg Roll Wrappers. How about you? Together, we can be the MVP of the party with my innovative recipe for Spiced Apple Egg Roll Pretzel Sticks. With a spicy-sweet filling these egg roll pretzel sticks are a tasty mouthful. Besides, in my home state of Pennsylvania it's not a party unless there are pretzels. In addition, if they are warm soft pretzel sticks even better. Give them a try.
Culinary challenges are a favorite activity of mind, so I was delighted when JSL foods invited me to participate in a recipe contest. The company sent me Twin Dragon Asian Wrappers "looking for recipes that completely change how you envision and present "Game Day" finger foods that will leave us saying "TOUCHDOWN."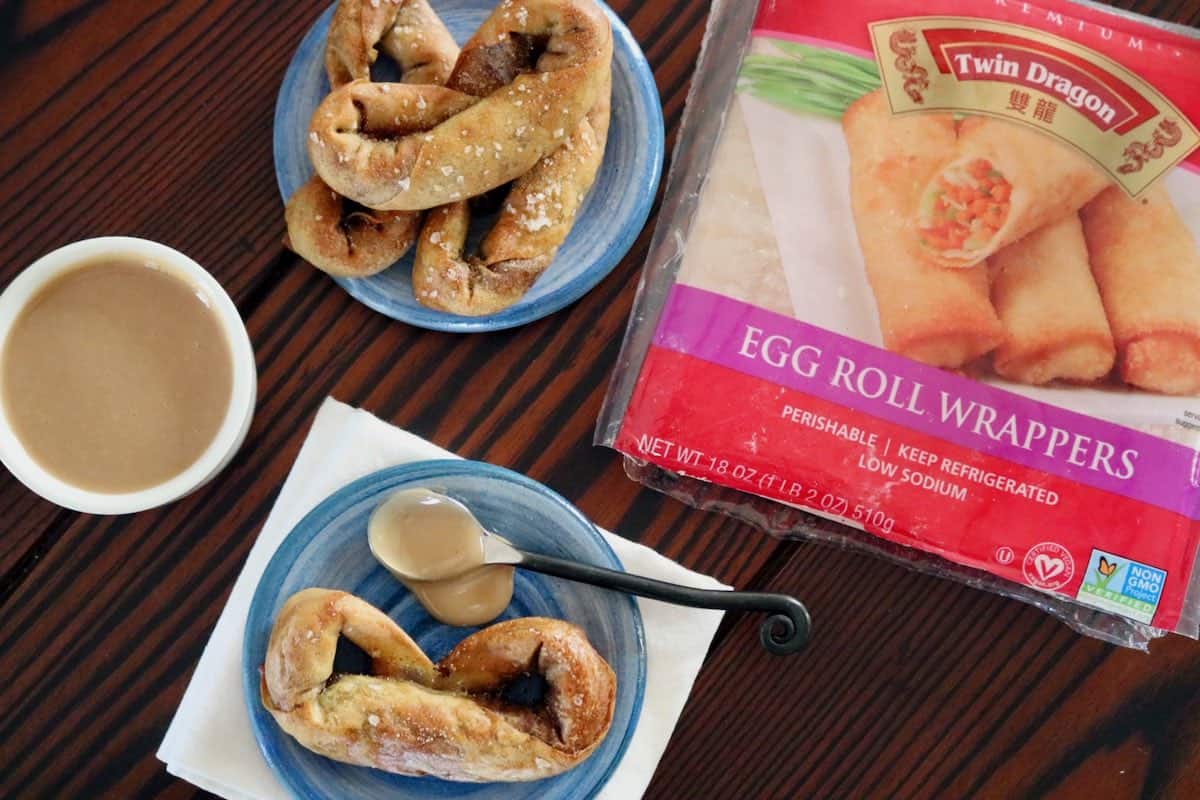 Recipe Inspiration
It was game-on as my brain went into overdrive to create a completely original, never-seen-before, unexpected appetizer. Being Italian, living outside of Philadelphia and a military mom, it is no wonder why these fun pretzel facts inspired my big game day recipe for egg roll pretzel sticks:
Legend has it that the pretzel was invented by an Italian monk in the year 610 A.D. To reward young children for learning their prayers, he supposedly folded strips of bread dough to resemble the crossed arms of praying children. He called his creation pretiola, which meant "little rewards."
Pretzels were among the treats sold in Philadelphia in 1864 at the Great Central Fair, which raised money "for the aid and comfort" of Northern soldiers.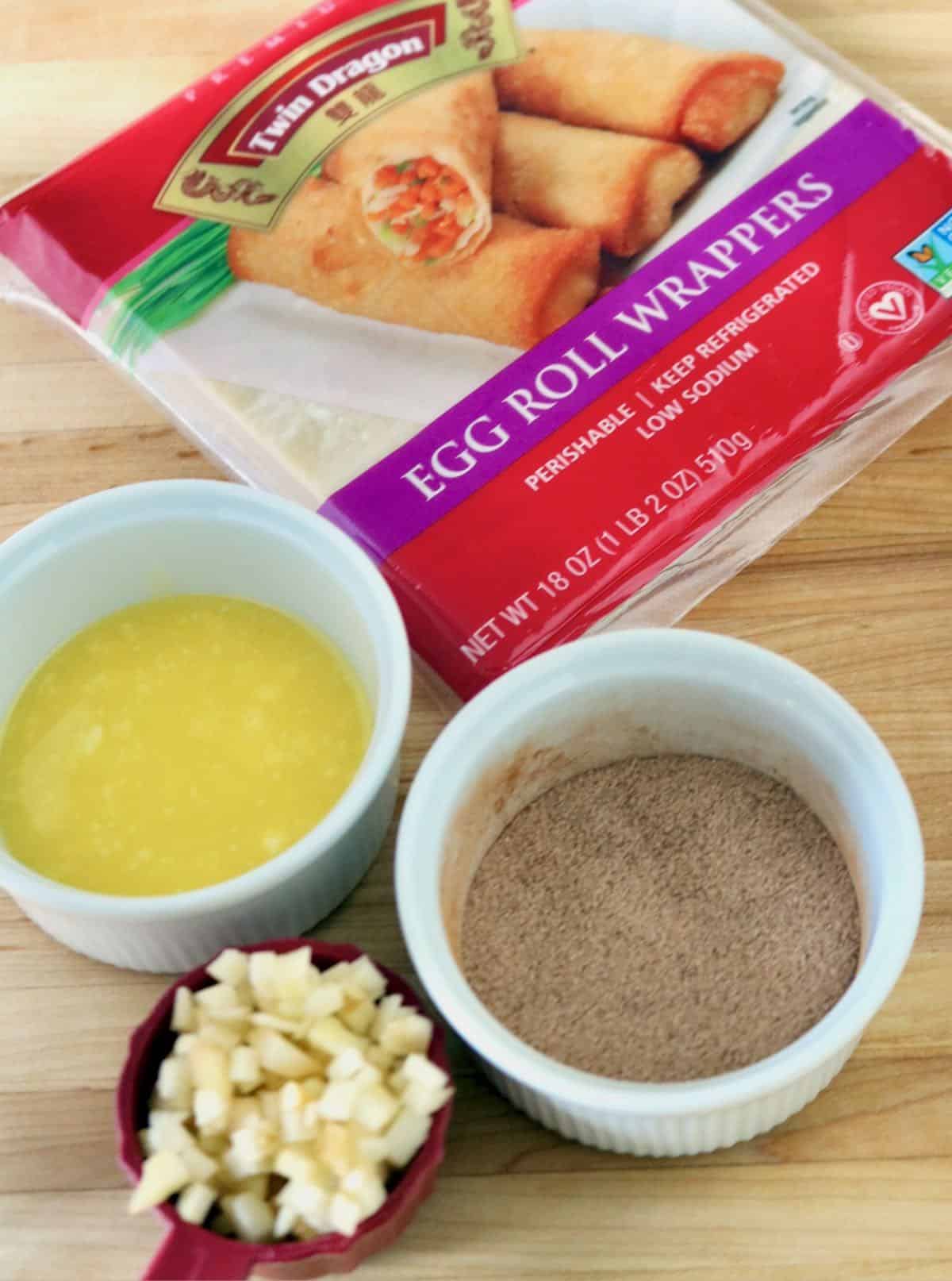 What makes it a soft pretzel stick?
Dipping the egg roll wrappers in the alkaline baking soda bath gives the soft pretzel sticks the beautiful burnished crust and the unique indelible pretzel flavor. Further, it creates the crisp texture on the outside and soft on the inside.
Stuffed Egg Roll Pretzel Sticks Prep
First, to make the egg roll pretzel dough, the wrappers take a dip in a hot baking soda bath.
The wrappers are then brushed with ghee (clarified butter), sprinkled with spicy cinnamon-sugar and dotted with fresh apples.
Finally, I roll them up jelly roll style and either pinch the ends under for pretzel sticks or twist them up into that familiar pretzel shape.
Brush on some more buttery flavor, sprinkle with flaky salt and bake.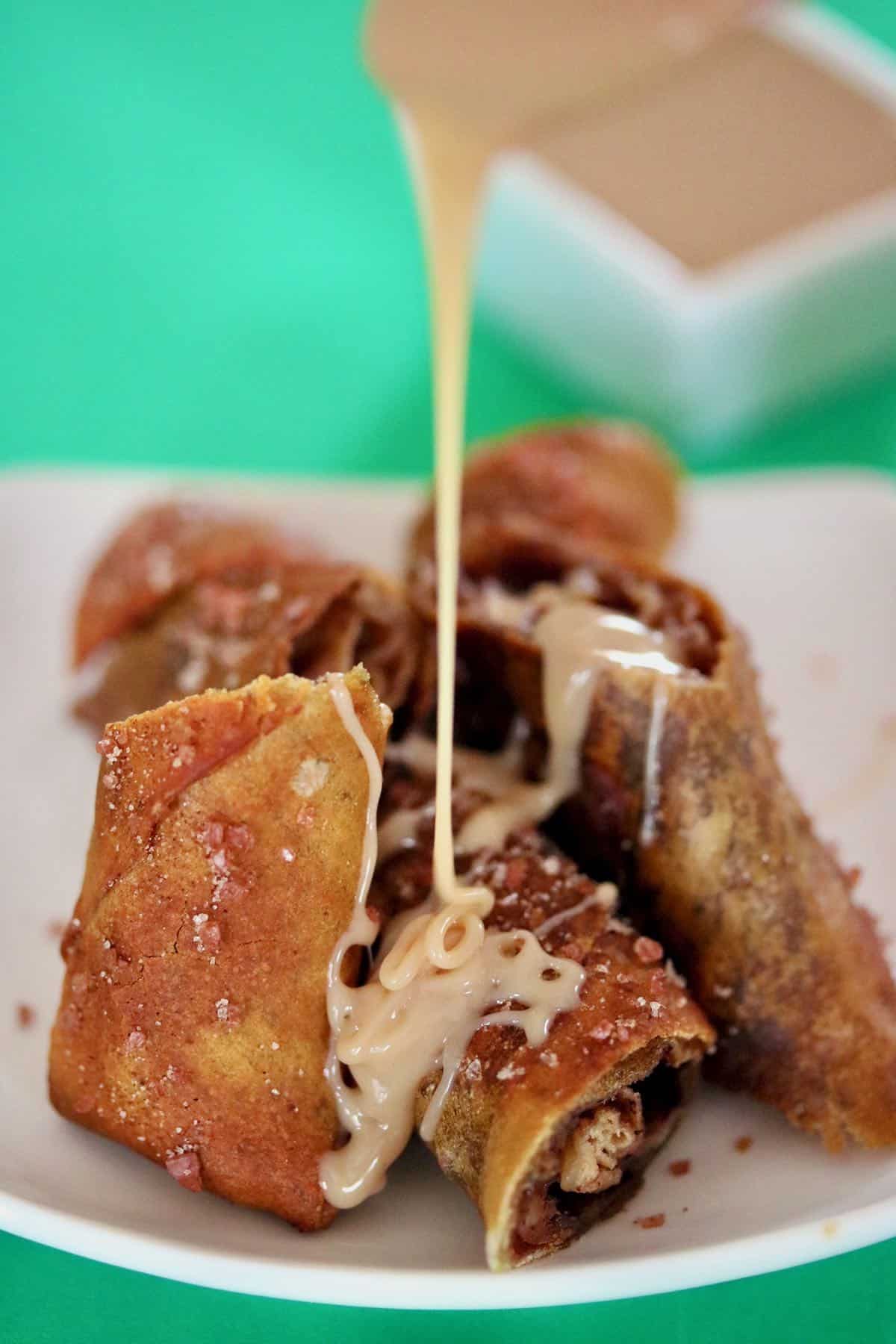 Crispy on the outside and soft on the inside these egg roll pretzel sticks are filled with spicy sweet apples. Warm from the oven try dipping them in caramel. Touchdown! For the savory extra point try substituting cheese sticks or hotdogs for the apples and sweet spices and serve with your favorite mustard or pub spread. Enjoy the game.
Print
Spiced Apple Egg Roll Pretzel Sticks
---
Author:

Total Time:

30 minutes

Yield:

12 pieces
Description
Stuffed with sweet 'n spicy apples these egg roll pretzel sticks served warm will have your guests cheering 
---
2 tablespoons sugar
1 teaspoon cinnamon
¼ teaspoon cayenne pepper or to taste
4 cups of water
3 tablespoons baking soda
12 Twin Dragons Eggroll Wrappers
2 tablespoons ghee (clarified butter)*
1 cup small dice apple
Finishing salt of your choice
---
Instructions
Heat oven 425F. Line a sheet pan with a single layer of paper towels. Line a second sheet pan with parchment paper.

In small bowl, mix sugar, cinnamon and cayenne pepper; set aside.

In a deep skillet, bring 4 cups of water to a low boil. Add baking soda to water stirring until dissolved.

Working with 1 egg roll wrapper at a time, submerge wrapper in simmering water. Cook for 20 to 25 seconds.

Using a slotted spoon, lift wrapper from skillet letting excess water drain back into skillet. Lay wrapper flat on paper towel lined surface.

Leaving ½-inch edge on all sides, brush wrapper lightly with ghee.

Sprinkle evenly with a heaping teaspoon of sugar mixture.

Sprinkle 2 generous tablespoons of apples evenly on top.

Starting at 1 corner point, roll wrapper tightly, jelly-roll style, to opposite point. Fold sides under to seal and place on baking sheet.

Brush lightly with ghee and sprinkle with finishing salt.

Repeat with remaining wrappers to make 12 pretzels.

Bake 10 minutes or until brown like a pretzel.

Serve warm with caramel for dipping.
Notes
For a savory pretzel stick, try filling the egg roll pretzel dough with a cheese stick or a hotdog in place of the spiced apple filling 
*Ghee also known as clarified butter has a high smoke point and tolerates baking at 425F without burning
Prep Time:

20 minutes

Cook Time:

10 minutes

Category:

appetizers

Method:

stove top/bake

Cuisine:

American
Keywords: pretzel sticks, wontons, potstickers, eggrolls, twindragonwrappers, chefyaki, apples, cinnamon-sugar, game day
You might also like: Wonton Caramelle
You can purchase Twin Dragon Wrappers at: Walmart, Albertsons, Shaw's, Von's, Stater Bros, Fred Meyer, QFC, Safeway, Associated Stores, Giant Stores, Shop N Shop, Winco, and Price Chopper!