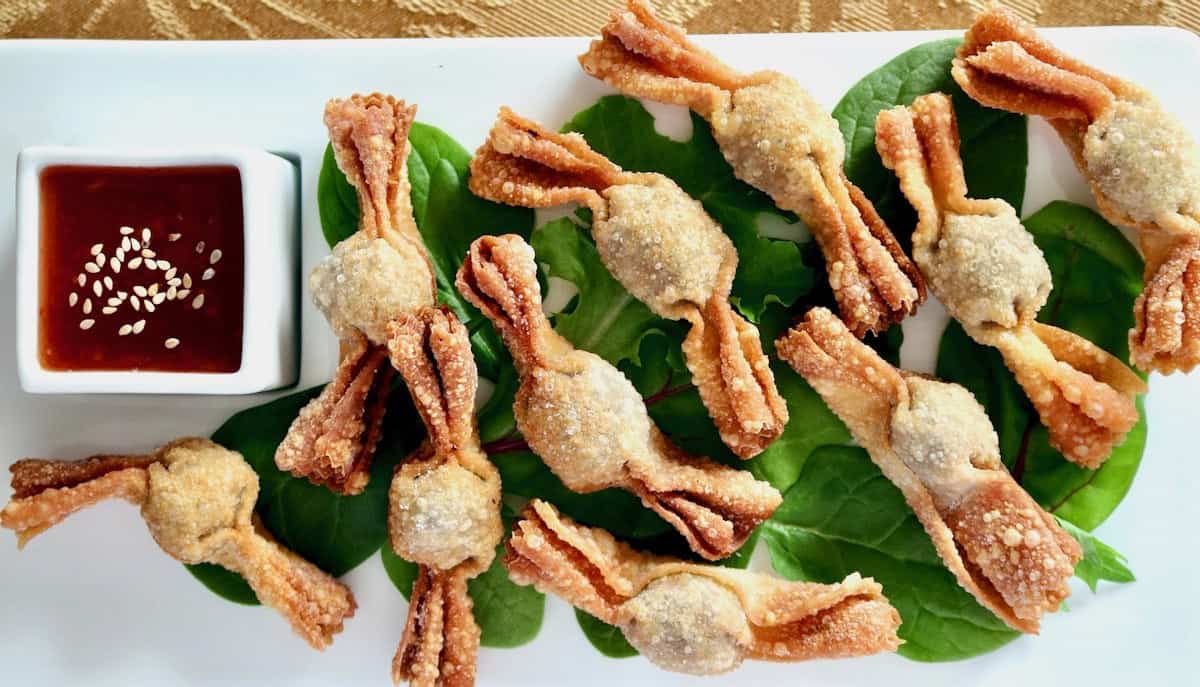 We are making mushroom wonton caramelle.
Let's face it 2021 can't come soon enough. We are all looking to celebrate a new beginning. Our guest list may be smaller, but our appetites for creating new and delicious appetizers will always remain. So grab a glass of your favorite sparkling beverage and let's make some fun and festive crispy mushroom wonton caramelle.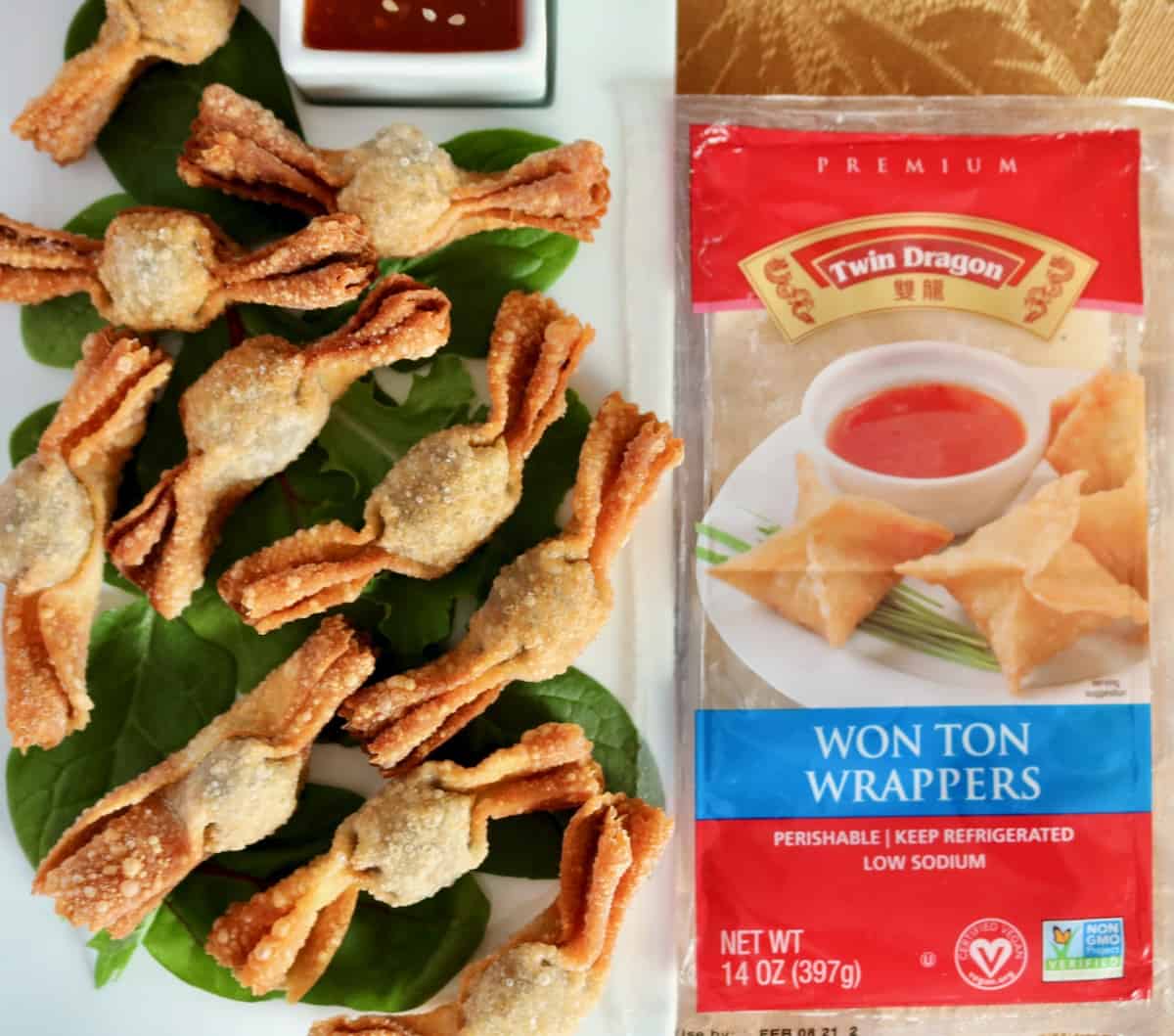 This is my holiday appetizer entry for the Twin Dragon Wrapper Recipe Challenge. Bringing in the New Year is such a fun occasion. In honor of that my recipe is a playful take on a pasta known as caramelle. The shape looks like a wrapped piece of candy, but the deep-fried wonton wrapper is filled with a savory Asian inspired mushroom mixture that is perfect for picking up and dipping. These wontons are guaranteed to have your tastebuds dancing.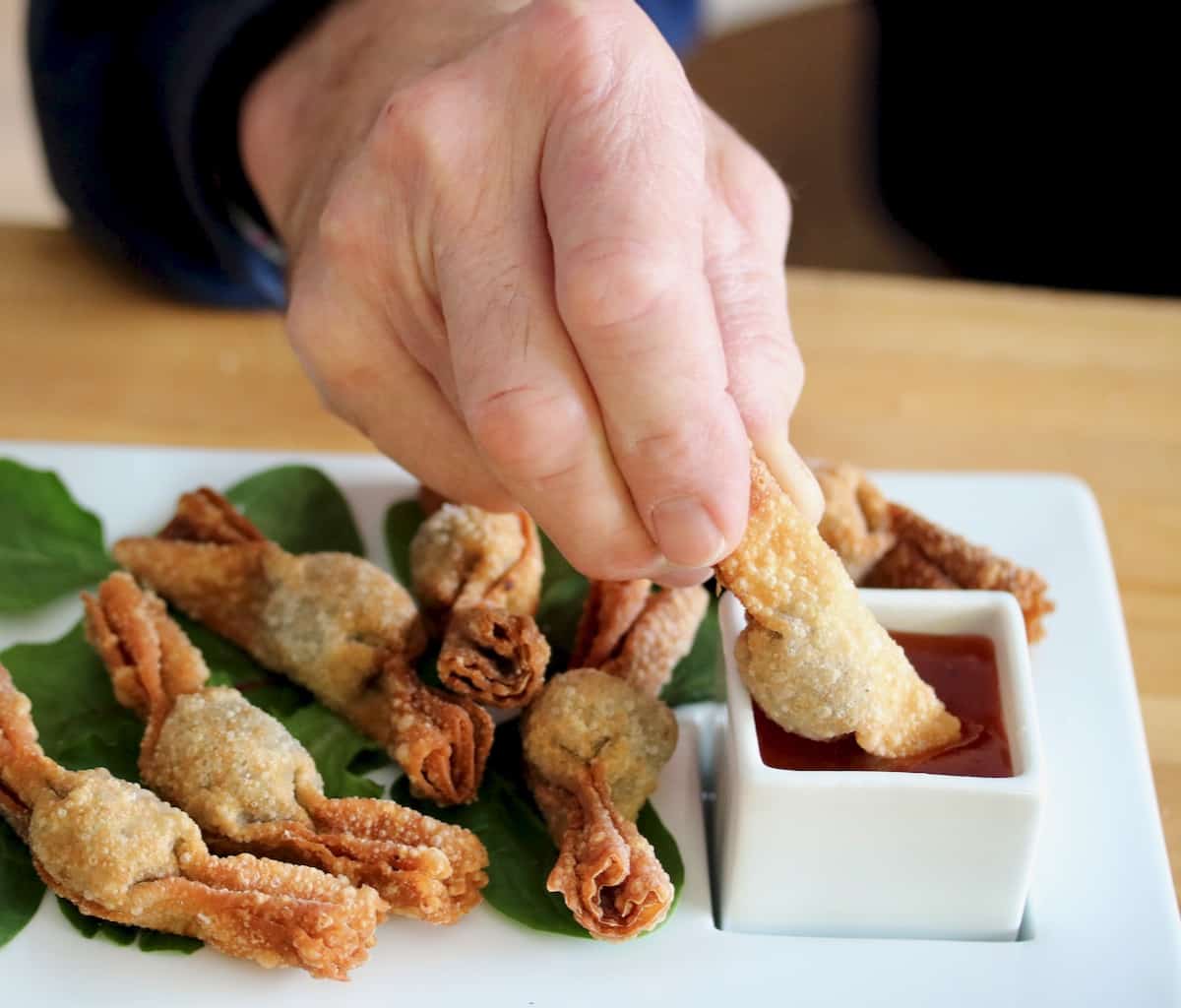 Twin Dragon Wrappers is hosting this holiday/game day appetizer contest and were kind enough to send me packages of their Won Ton and Egg Roll Wrappers. These wrappers are vegan, non-gmo and contain no artificial preservatives. They store well in the freezer and I simply thawed them overnight in the fridge. The individual wrappers separated easily. I kept them moist under a damp towel while I worked with them. I'm thrilled to say that they fry up perfectly crisp absorbing virtually no oil and still holding this delightful shape. And the shape is so easy to form enclosing a cooked and cooled mushroom filling in the wrapper and pinching it together with just a bit of water.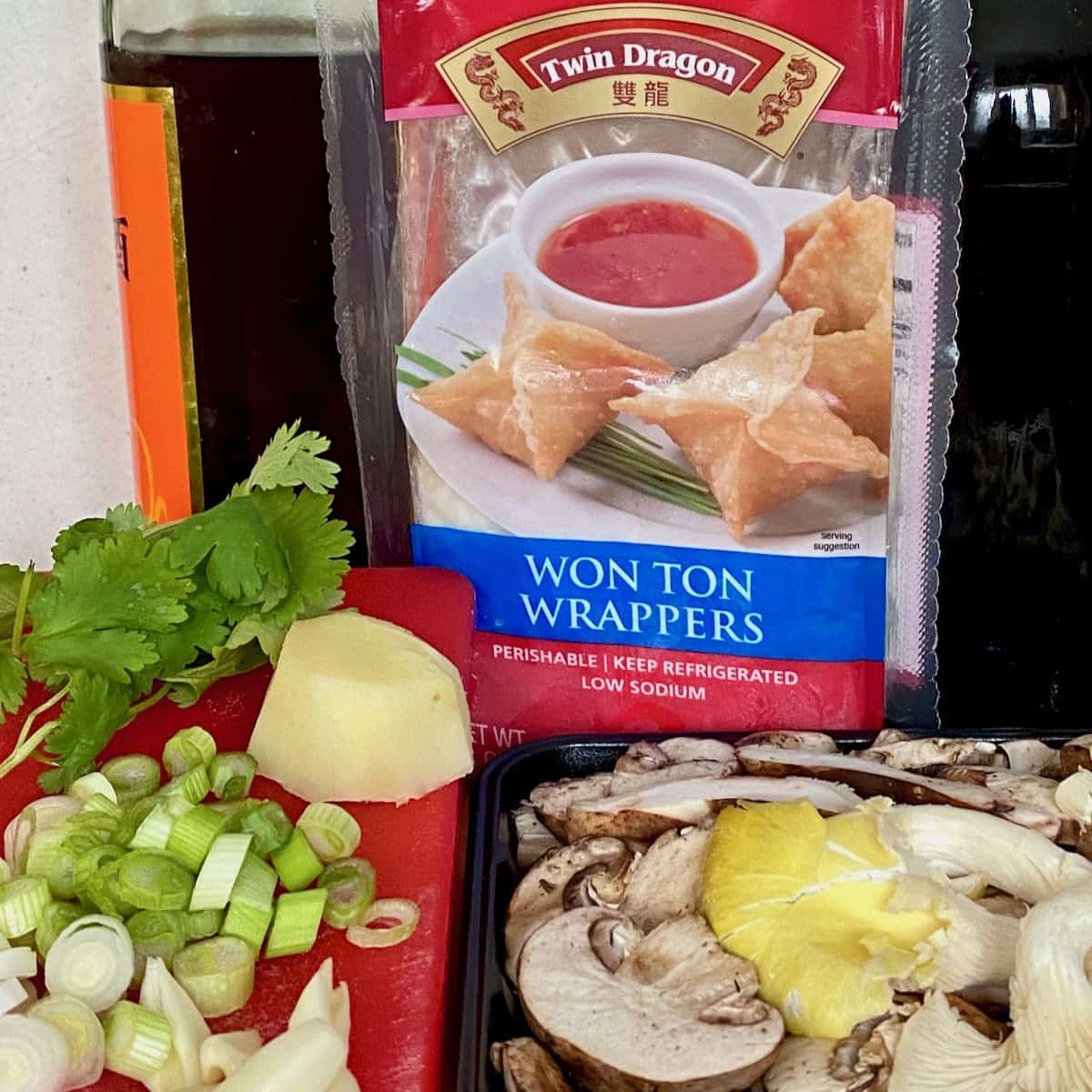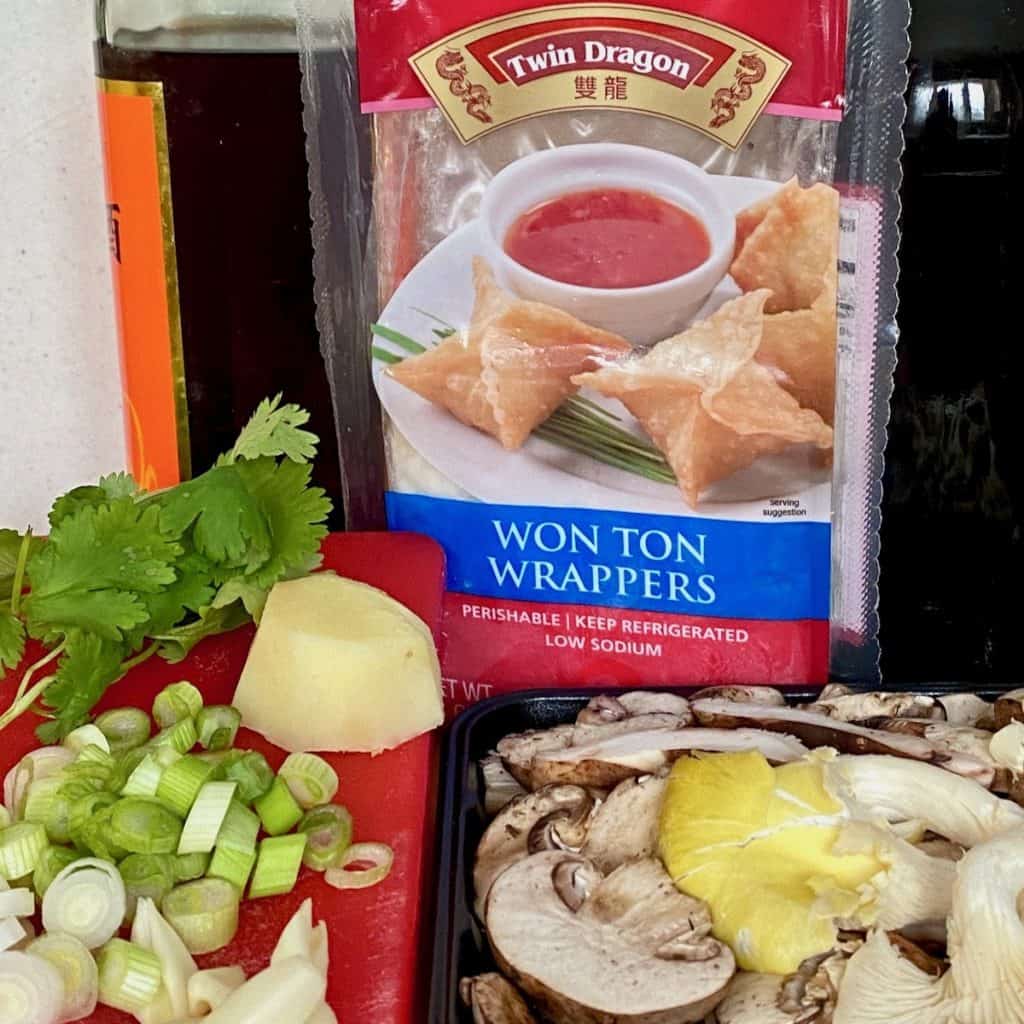 How to shape wonton caramelle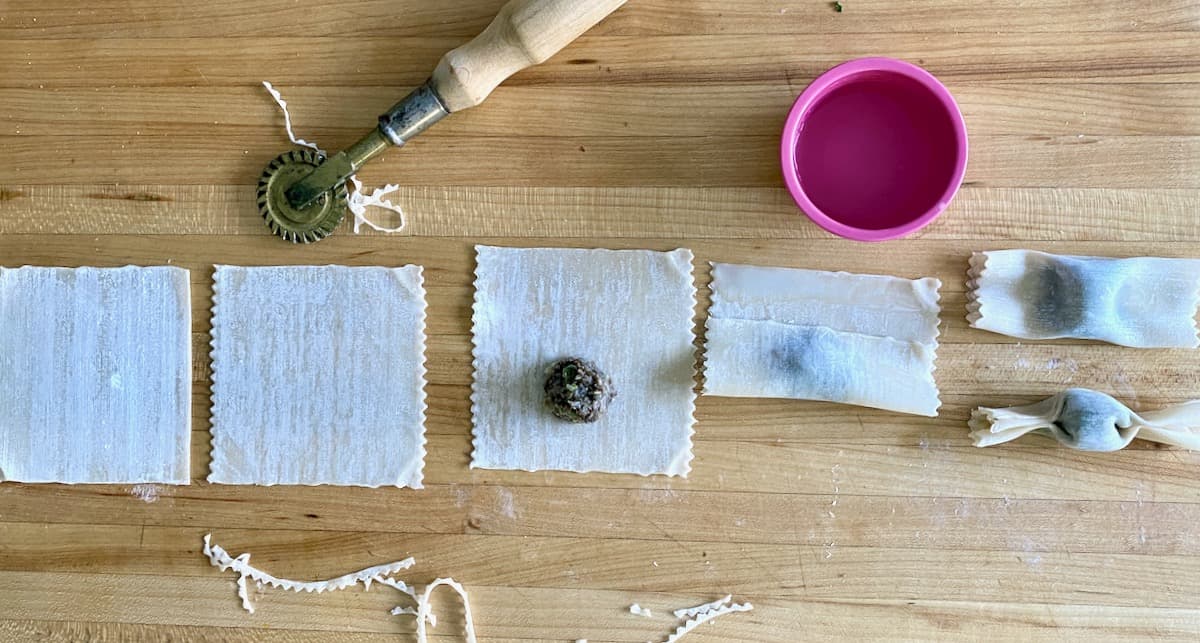 Here is a video of me making one just so you can see how easy and creative it is. Cutting the ruffled edge is totally optional, but I think it is so cute. It's like an Italian pasta shape and an Asian filling had a baby.
I hope you ring in the New Year with my fun and delicious holiday appetizer. Please let me know if you try it. Wishing you the very best in 2021 and may you always be surrounded by those you love most.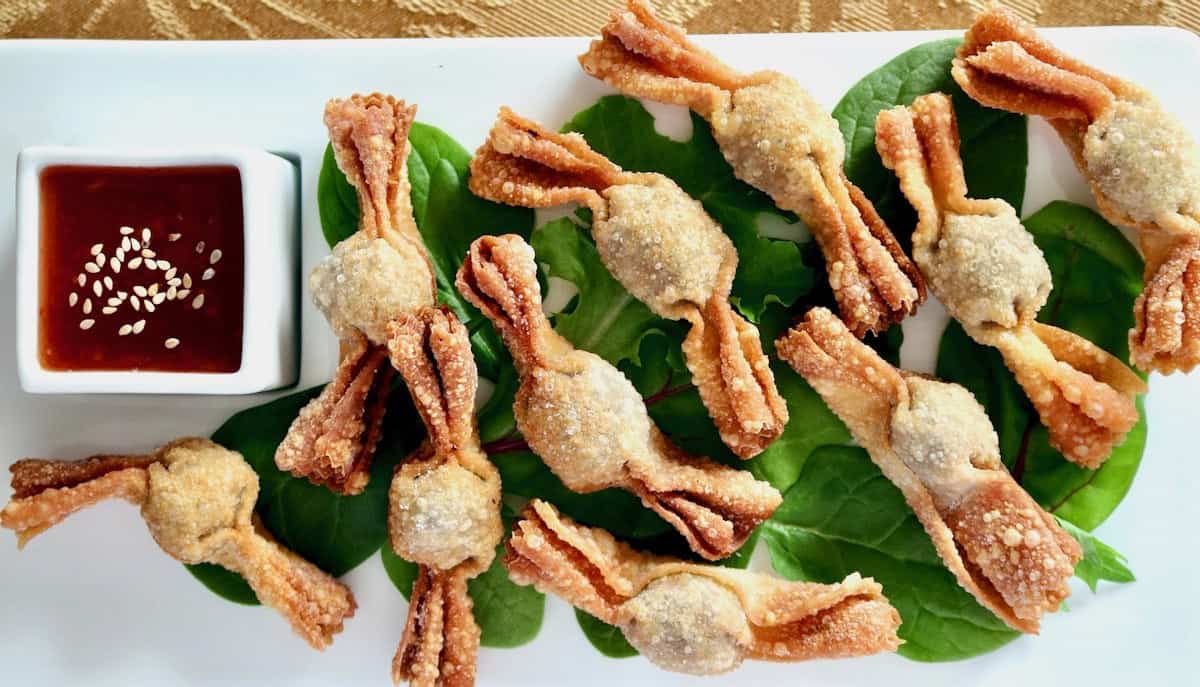 Print
Best Mushroom Wonton Caramelle
---
Author:

Total Time:

35 minutes

Yield:

30

pieces

1

x

Diet:

Vegetarian
Description
Asian inspired mushroom filling in a crispy wonton caramelle pasta shape perfect for dipping and your holiday entertaining
---
1 tablespoon butter
1 (6 oz.) package assorted fresh mushrooms
2 green onions, thinly sliced
2 cloves minced garlic
1 tablespoon freshly grated ginger
½ teaspoon kosher salt plus additional for garnish
¼ teaspoon ground black pepper
2 tablespoons Asian rice wine or sherry
1 teaspoon soy sauce
¼ cup loosely packed grated parmesan cheese
1 tablespoon chopped cilantro
1 (14 oz.) package Twin Dragon Won Ton Wrappers (you will need 30 wrappers)
Peanut oil for deep frying
Sweet Asian chili sauce for dipping
---
Instructions
Place mushrooms in food processor; pulse 6 to 8 times to chop into small pieces.
Melt butter in skillet over medium heat. Add mushrooms; cook 3 to 5 minutes or until they begin to release their liquid. Add green onions, garlic, ginger, salt and pepper. Reduce heat to medium-low. Cook, stirring every 3 to 5 minutes, until mixture is dry and starting to brown, about 15 to 20 minutes.
Add wine and soy sauce. Increase heat to high and stir until all the liquid has evaporated, about 1 minute.
Transfer mushroom mixture to food processor. Add cheese and cilantro. Process until smooth. Spread mixture into a thin layer on a plate to cool. Chill in the refrigerator.
Lay 1 won ton wrapper at a time on work surface. Trim side edges with decorative cutting wheel, if desired. Place 1 rounded teaspoon of cooled mushroom filling in lower third center of wonton. Lightly moisten top and bottom edge with water using your finger or pastry brush. Fold bottom edge over filling and then fold over again to other side pressing gently around filling (to expel any air) and edges to seal. Pinch sides at filling to form shape.
Repeat with remaining wrappers and filling.* 
Heat peanut oil for deep frying to 350F.
Fry wontons, a few at a time, for 3 to 4 minutes or until golden brown.
Transfer to a cooling rack. Sprinkle with salt while still hot.
Arrange on platter with dipping sauce. 
Notes
Wontons can be frozen and transferred to a zipper-lock freezer bag for up to 2 weeks at this point

Filling can be made a day or two in advance and kept chilled in the fridge
Prep Time:

30 minutes

Cook Time:

5 minutes

Category:

appetizer

Method:

stove top

Cuisine:

Asian-Italian
Keywords: appetizer, wontons, eggrolls, twindragonwrappers, jslfoods, potstickers, chefyaki, asian, caramelle, twindragon
And just for fun here is a little wonton candy for your Valentine. Simply stuff a frozen mini chocolate or caramel square into the wonton wrapper and fry until golden. And because it is love made edible dip those edges in melted chocolate and sprinkles.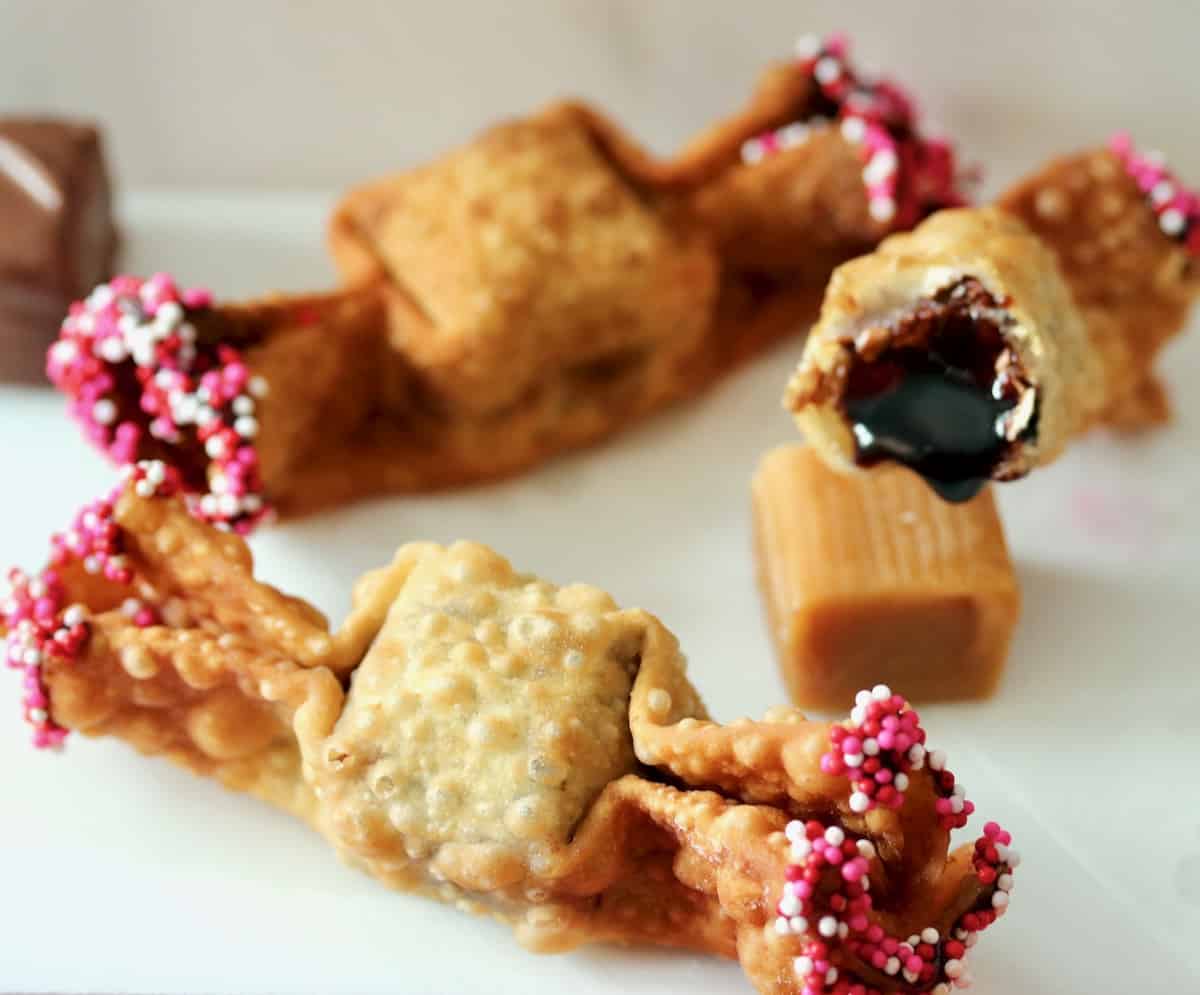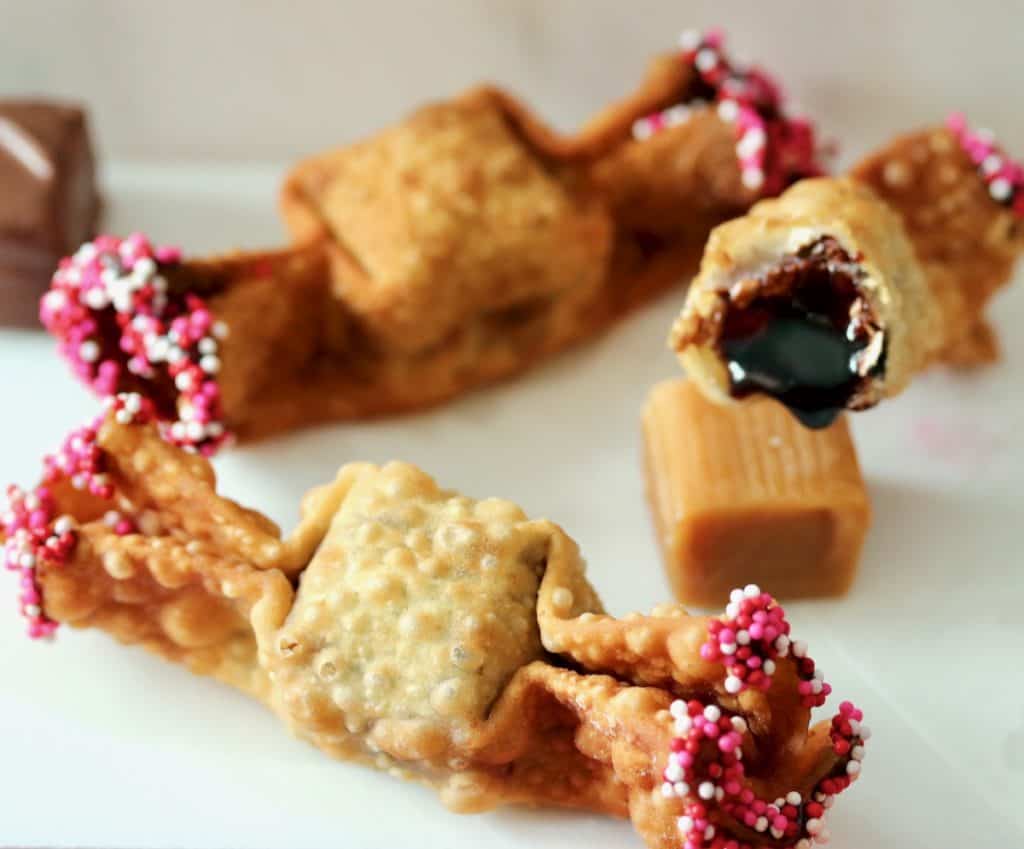 You might also like: Egg Roll Pretzel Sticks and Egg Roll Arancini
You can purchase Twin Dragon Wrappers at: Walmart, Albertsons, Shaw's, Von's, Stater Bros, Fred Meyer, QFC, Safeway, Associated Stores, Giant Stores, Shop N Shop, Winco, and Price Chopper!