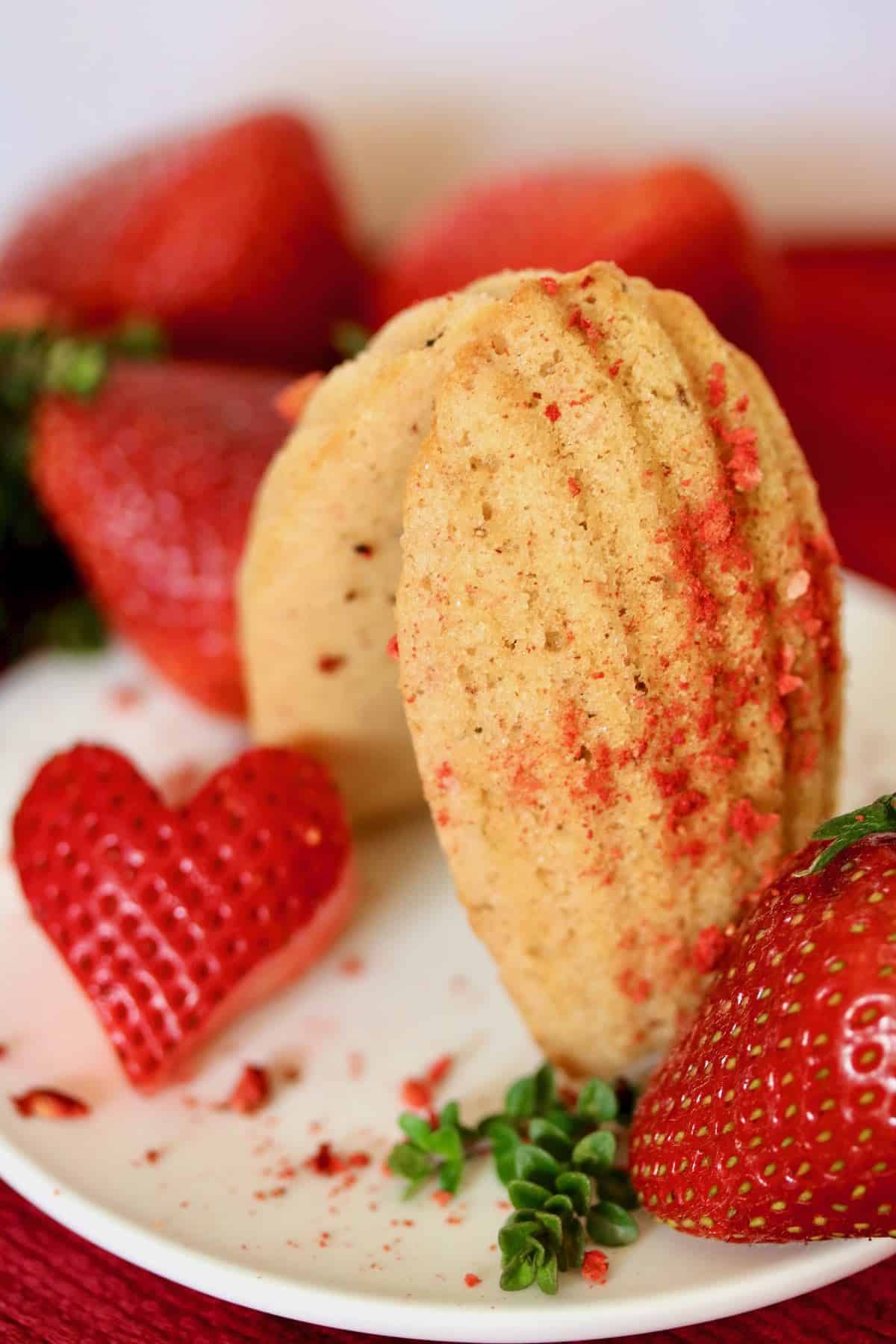 Thyme For A Change and Strawberry Madeleines
There is a language, little known,
Lovers claim it as their own.
Its symbols smile upon the land,
Wrought by nature's wondrous hand;
And in their silent beauty speak,
Of life and joy, to those who seek
For Love Divine and sunny hours
In the language of the flowers.
–The Language of Flowers, London, 1875
Made popular in Victorian times many flowers have been given meaning and often used to send unspoken messages. For instance, and the obvious, red roses symbolizing love and Forget-me-nots, well, don't forget me. Did you know Kate Middleton carried sweet William in her bridal bouquet as a symbol of gallantry along with myrtle (love in marriage), lily-of-the-valley (trustworthiness, purity) and ivy (continuity)? It was a meaningful bouquet filled with hopes of a long and happy marriage with her Prince. So far so good there.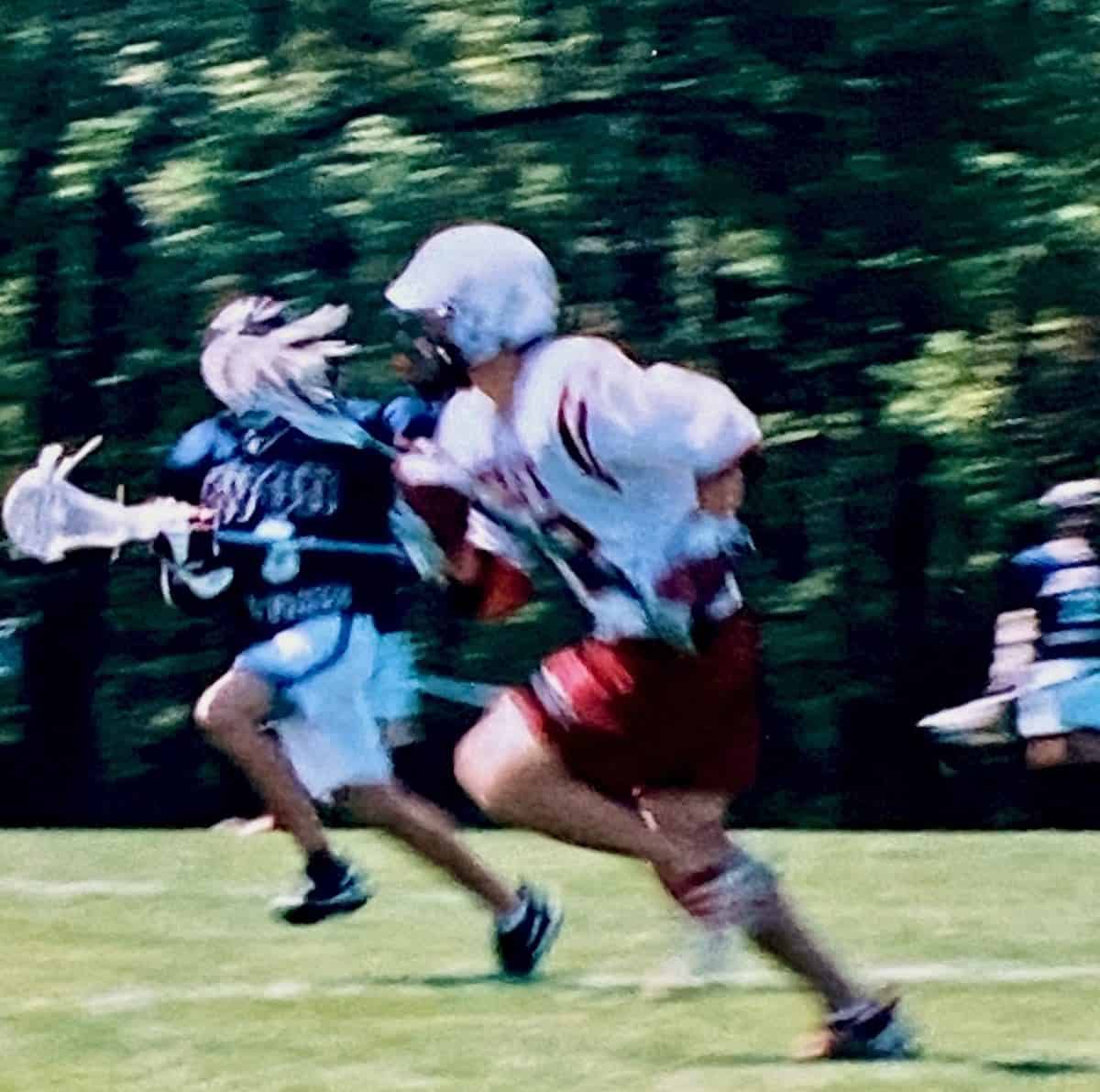 As we head into April and my bittersweet (truth and honesty) gardening season I'd like to focus on all the goodness of William's birthday (April 22) rather than the day (April 16) the Navy Chaplain knocked on the door delivering tragic news. It's a much needed change. The garden, specifically getting my hands into the dirt, has been a great source of strength, joy and now fun with my grandchildren. Garden therapy is a thing. Plant some seeds.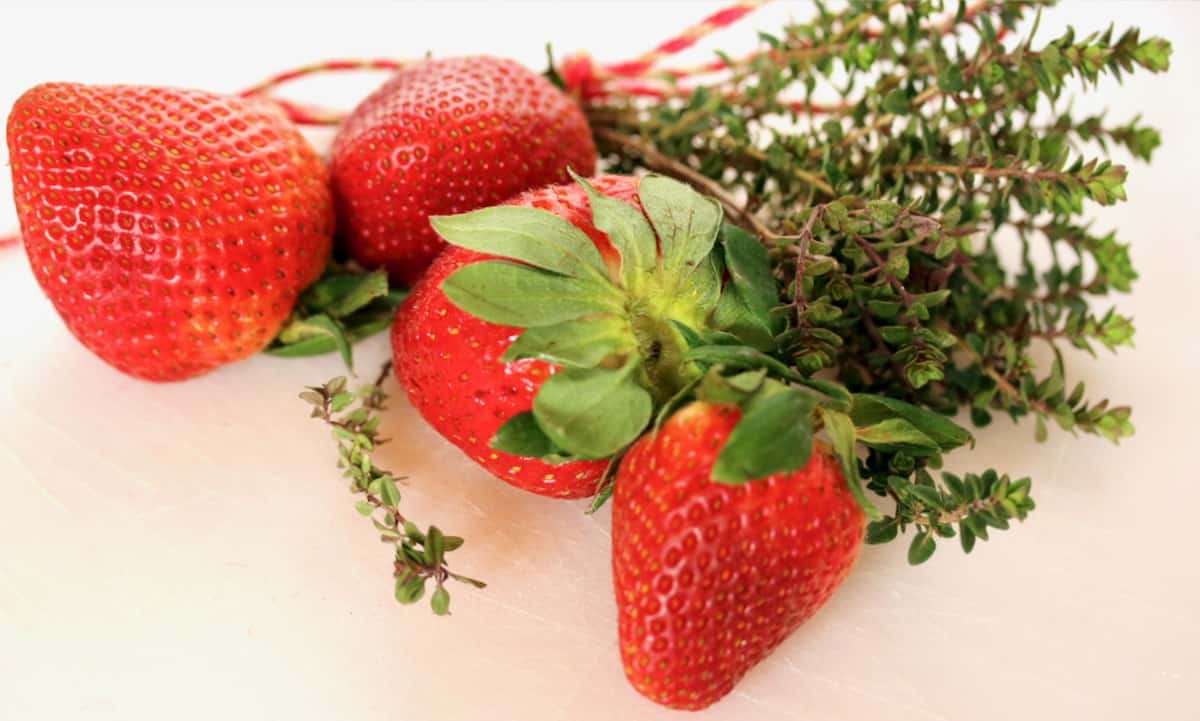 Thyme For A Change and Strawberry Madeleines
If there ever is a plant that reminds me of William it is thyme. Thyme is the symbol of courage and strength. I saw William at his strongest following a season-ending knee injury his senior year in high school. Lacrosse was his thing. Team co-captain with his best friend, Whit, running the game made him feel successful. Imagine the devastating loss, in the first game of the season, when an opposing player clipped him from behind blowing out his knee. In the blink of an eye, it was all over. Not only that, the surgical repair and 9 months of rehab that followed could effectively dismiss him from the Navy. While others would have crumbled, his hard-work at physical therapy and his ability to lead his team while on crutches was nothing more than courageous and inspiring. I know because so many of his teammates told me.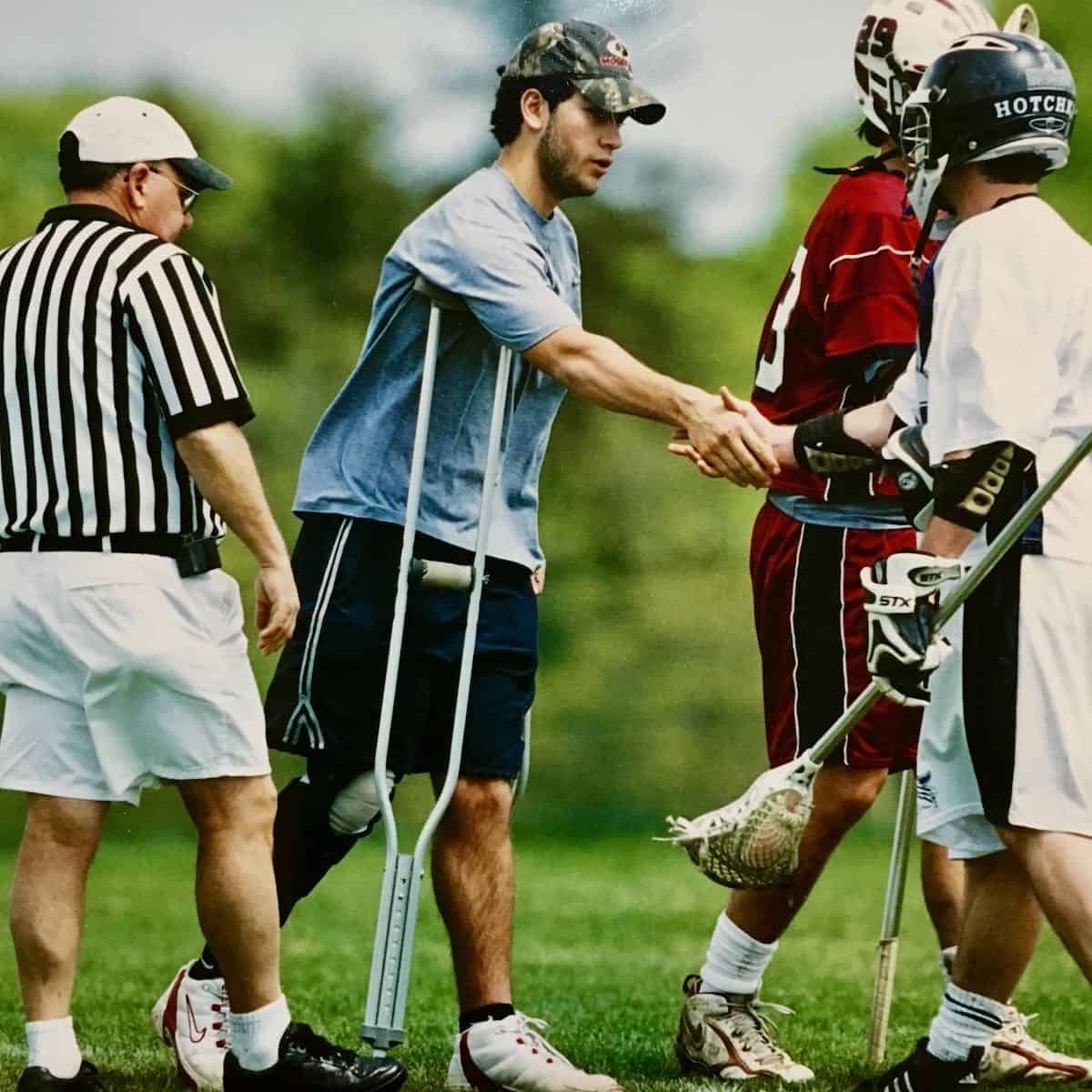 Next week I will share why he is like dill and nasturtiums. I know he'd be so mad if he knew I was comparing him to flowers, but trying to have a good laugh here rather than a good cry. Let's get to this recipe before I change my mind...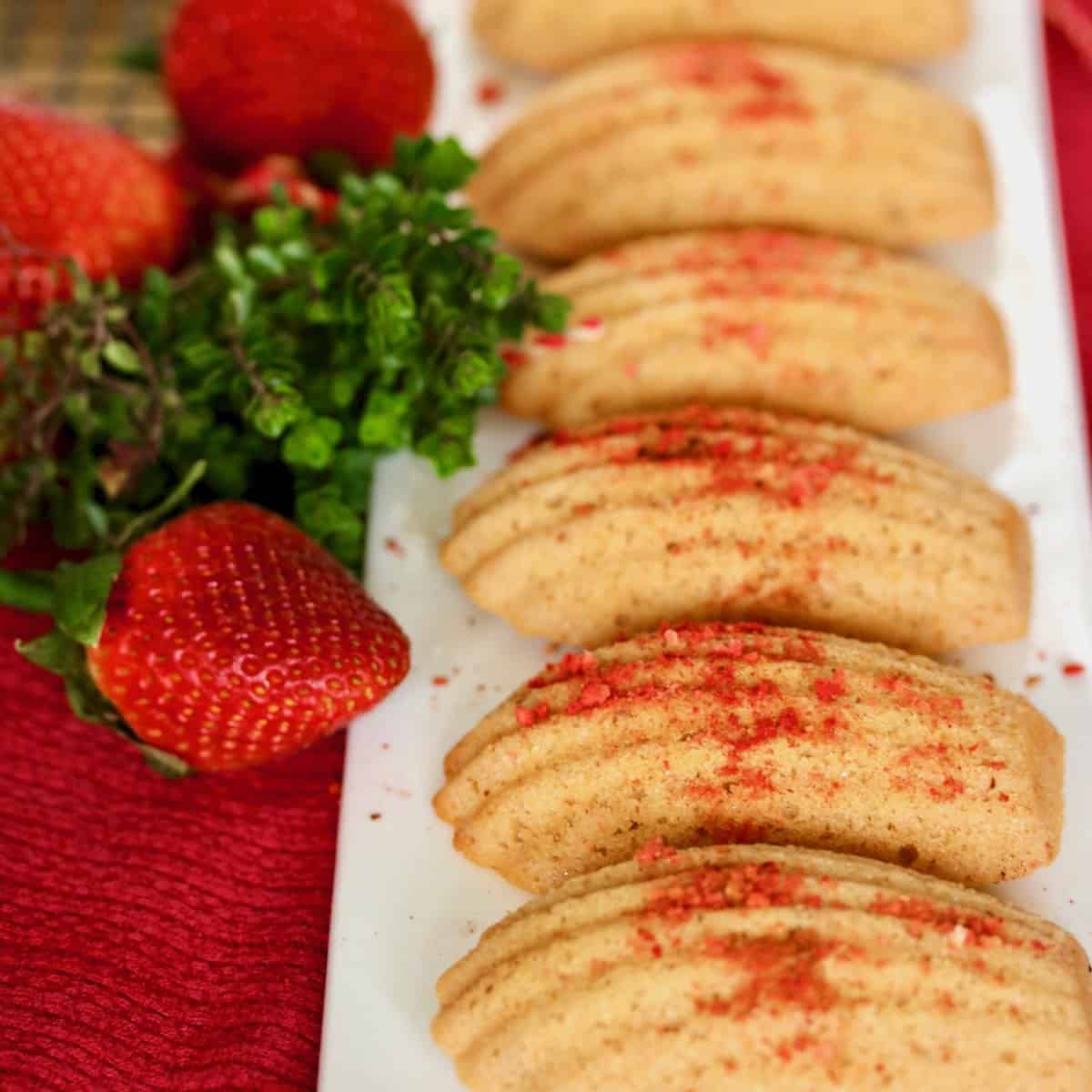 Grow herbs! Herbs are an essential part of the landscape both outside and inside the kitchen. Cost effective, easy to care for, beautiful and delicious if you are not growing herbs I can't tell you enough how much I want you to. And if you have yet to pair herbs like thyme or basil with strawberries then you are in for a real treat with this recipe.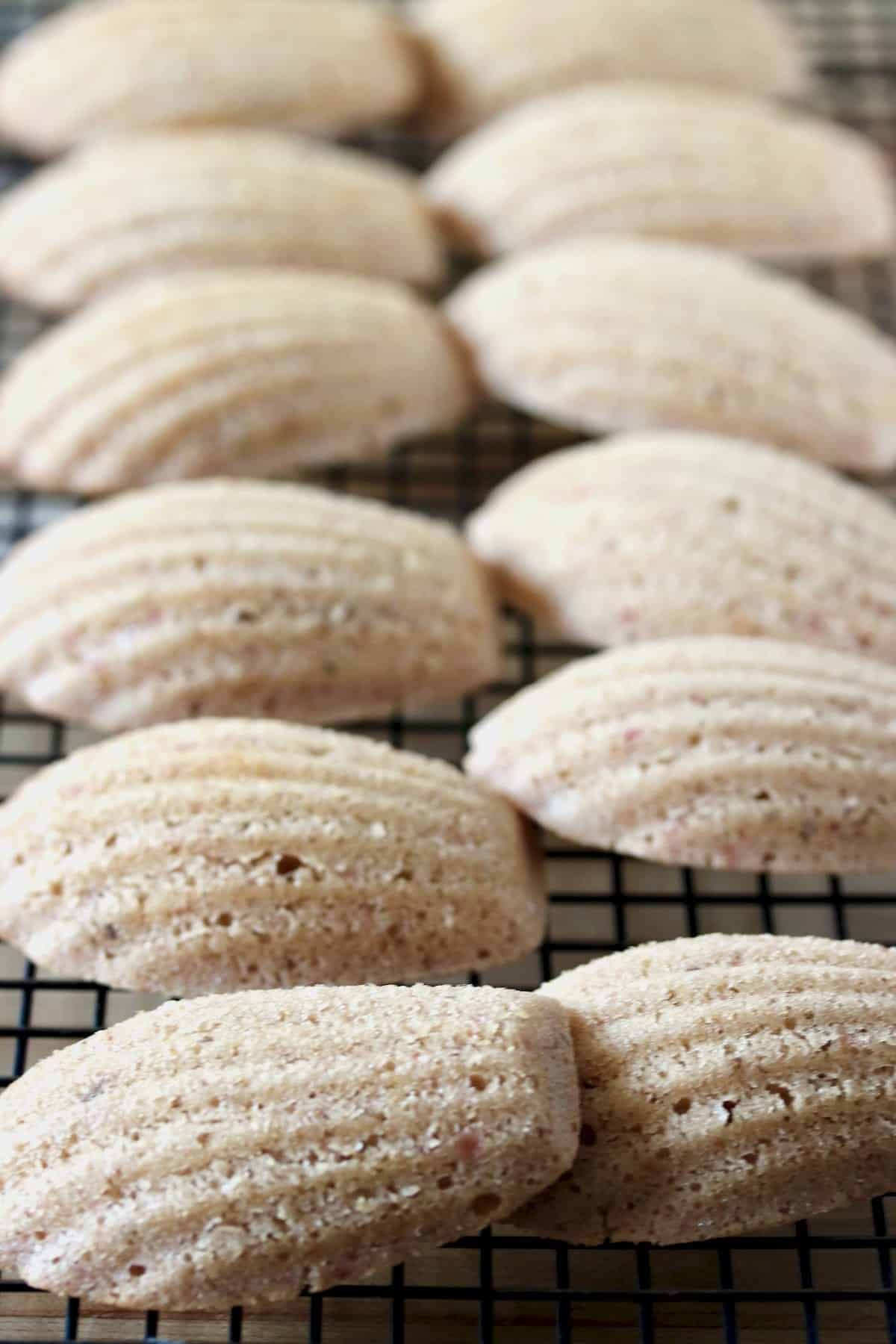 Madeleines are like little bite-size pound cakes. I just love them with a cup of tea for a mid-afternoon snack. Super easy to make these fresh strawberry infused lovelies also call for freeze-dried strawberries as they punch up the strawberry flavor and color. Crushing freeze-dried fruit into any recipe eliminates the need for artificial colors and flavors. You can find it at Trader Joe's or near the fresh produce section of your grocery store.
Print
Strawberry Thyme Madeleines
---
Author:

Total Time:

22 minutes

Yield:

Makes

18

.

1

x
Description
delicate cookie with lovely strawberry thyme flavor
---
1 cup (128 g) cake flour
½ teaspoon baking powder
¼ teaspoon fine sea salt
6 tablespoons plus 2 teaspoons sugar
1 teaspoon fresh thyme leaves
2 tablespoons freeze dried strawberries plus additional for garnish
½ chopped fresh strawberries
2 eggs
4 tablespoons unsalted butter, melted, cooled
Powdered sugar, optional
---
Instructions
Heat oven to 375F. Place oven rack in middle. Spray madeleine pan with baking spray.
In small bowl, whisk flour, baking powder and salt; set aside.
In small food processor or spice grinder, combine 2 teaspoons sugar, thyme and freeze-dried strawberries; process to a fine powder with bits of thyme.
Add strawberries and process to a puree; measure and set aside ¼ cup of puree.
In a medium mixing bowl, with an electric mixer, beat eggs with remaining 6 tablespoons of sugar for 3 to 5 minutes or until thick and pale in color.
Add reserved strawberry puree and flour mixture blending just until dry ingredients are incorporated.
With a rubber spatula, gently fold in melted butter until well blended.
Spoon or pipe batter into prepared pan just below each rim.
Bake 7 to 8 minutes or until madeleines spring back with a touch of your finger.
Turn out to cool on a rack.
Dust with crushed freeze-dried strawberries or powdered sugar. 
Prep Time:

15 minutes

Cook Time:

7 minutes

Category:

cookies

Method:

baking

Cuisine:

French
Keywords: madeleines, tea cakes, strawberries, dessert